United Kingdom   Gilbert & Sullivan, The Mikado: National Gilbert & Sullivan Company / David Steadman (conductor), Royal Hall, Harrogate, 16.8. 2015 (RJW)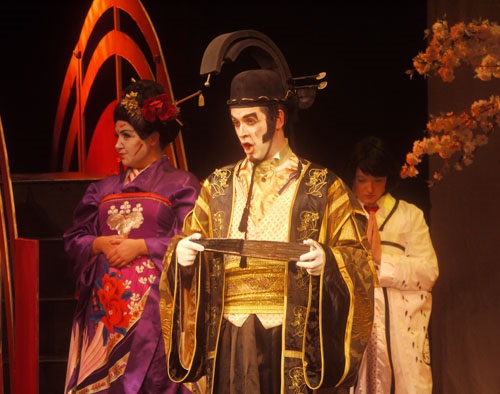 Cast:
The Mikado: John Savournin
Nanki-Poo: Robin Bailey
Ko-Ko: Richard Gauntlett
Pooh-Bah: Bruce Graham
Pish-Tush: Kevin Greenlaw
Go-To: Matthew Kellett
Yum-Yum: Claire Lees
Pitti-Sing: Nichola Jolley
Peep-Bo: Una McMahon
Katisha: Amy Payne
Production:
Director: John Savournin
Choreographer: Phillip Aiden
This new production by John Savournin has been devised in complete contrast to last year's Mikado production by the Company which had been spoilt by portraying Gilbert's deliciously feminine Japanese young ladies as St Trinian's act-a-likes. In this presentation, the reading is more traditional and the only way-out element is the visual portrayal of the gentlemen of Japan with bowler hats and waistcoats to mimic white-collared gents of the City class. New kimono gowns, in striking black and white, were seen for the first time as were new and magnificently embroidered costumes for Katisha and the Mikado. (Interestingly, Tony Brett's costume design for the Mikado is modelled on that elegant black and gold illustration that graced the cover of Rupert D'Oyly Carte's 1920s Souvenir booklet. The strikingly lit yet sparse scenery was overcome by varied group formations and choreographic detail by Phillip Aiden. The girls' movement, their poise and good deportment (using vermillion parasols) was attractive and provided added interest. The timing of intricate routines was slick and much admired by the audience.
Nanki-Poo (Robin Bailey) was played with strength and charisma: "A Wandering Minstrel" being sung with gusto. His chemistry with Yum-Yum was excellent and both performers interacted with tender feeling. Bruce Graham made the most of his supercilious role, both in singing and in his discussions with Ko-Ko. Richard Gauntlett as Ko-Ko was full of energy and delivered his 'Little List' with amusing and topical variations to the lyrics. He and Katisha interacted well in their Act II wooing scene.
In this production, Amy Payne gave Katisha a more believable character: at first, an elegant lady of the court who for me was a better portrayal than the horrific pantomime ogre normally seen when she first sets eyes on Nanki-Poo. This portrayal I rather enjoyed and it made perfect sense. Her Act I finale was contrastingly powerful with tsunami impact where it mattered. The tableau at the end was superbly set with vivid and effective cross-lighting in saturated reds, set against an intense blue cyclorama. I only wished that the cues changes came on the music mood change rather than when the chorus sing their interruptions. The Mikado (John Savournin) appeared stunningly dressed, his towering height matching his station of character. "My object all sublime" was well sung with a novel sneering laugh, quite different from the Fancourt and Adams styles, yet equally effective to bring broad smiles from the audience.
The Mikado plays again at Harrogate on 23rd August  (with Donald Maxwell as the Mikado) before it starts touring with The Gondoliers and HMS Pinafore to Truro, Southsea, Malvern, Darlington, Croydon, Rhyl, Gravesend, Cardiff, Hastings and Blackpool between 31st August–14th November.
Raymond J Walker