Sweden Janáček, Jenufa: Soloists, Chorus and Orchestra of the Royal Opera, Stockholm / Lawrence Renes (conductor). Royal Opera, Stockholm, 18.3.2017 (Premiere). (GF)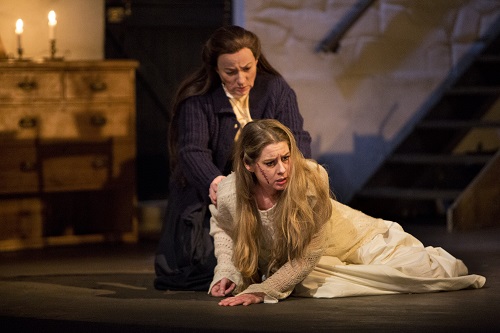 Production:
Director – Annilese Miskimmon
Sets, costumes and masks – Nicky Shaw
Lighting – Mark Jonathan
Choreography – Kally Lloyd-Jones
Cast:
Jenůfa – Malin Byström
Kostelnička – Lena Nordin
Laca – Jesper Taube
Števa – Andrea Carè
Grandmother Buryja – Marianne Eklöf
Stárek, the Mill foreman – Luthando Qave
Mayor – John Erik Eleby
Mayor's wife – Susann Végh
Karolka – Lina Hägerström Kindblad
Barena – Karin Andersson
Jano – Vivianne Holmberg
A maid – Marie-Louise Granström
A lady – Kristina Martling
Few operas in the standard repertoire is as psycologically deep and humanly understanding as Jenůfa. The moral/religious complication may on the surface belong to times gone by, but Annilese Miskimmon, who is Irish, explains in the programme booklet that the generation of her parents lived in a world in which all important decisions were made based on traditions and religion. Kostelnička is not an evil person who murders a child, she is deeply religious and believes in Heaven and Hell. She relinquishes Heaven to save her daughter's reputation and give her the possibility to lead a happy life.
The story as it develops is deeply emotional and this is underlined by the music, which makes its own comments on the proceedings, as a kind of counterpoint. It is so closely interwoven with the Czech language that it is practically impossible to perform in another language without becoming watered down, and today it is virtually always performed in the original. I was deeply impressed that a non-Czech cast was able to sound so idiomatic. Language coach Lada Valesova had done a good job!
The stage set is simple and attractive in the first act: A two-storey white house with two entrances. The second and third acts take place in the house, which seems far bigger than the exterior lets on. Costumes are early twentieth-century. There is little to distract the on-lookers from being involved in the drama.
Jenůfa hasn't been seen in Stockholm since the Götz Friedrich production in the early 1970s, featuring Elisabeth Söderström in the title role and Kerstin Meyer as Kostelnička. I saw that production in December 1972 and I still have vivid memories of it. Söderström became one of the leading Janáček interpreters of her generation, Finnish Karita Mattila in due time stepped into her shoes and, judging from this eagerly awaited premiere, Malin Byström has all the attributes to become the next link in the royal line of outstanding Nordic Janáčekians. Not only does she have a wonderful voice, beautiful, smooth and even in production, she is also expressive and an excellent actress. And she wasn't alone in vocal excellence. Lena Nordin, a pillar of strength at the Royal Opera since the late 1980s, retired a few years ago but was now back as a guest, giving us a Callas-like Kostelnička. Another veteran, mezzo-soprano Marianne Eklöf was ideally cast as Grandmother Buryja.
In the male department tenors Jesper Taube and Andrea Carè were utterly convincing as the half-brothers Laca and Števa and in more peripheral roles the magnificent Luthando Qave as Stárek and John Erik Eleby as the Mayor impressed greatly. The latter impersonated to perfection how bored his character was at the pre-wedding ceremony in the last act. Lawrence Renes and his Royal Orchestra were on brilliant form and not least the leader, Jannika Gustafsson, is worthy of great praise for her violin solo in the second act.
This production was originally a co-production between the Scottish Opera and Den Jyske Opera in Jutland, Denmark. Three years ago I saw it in Helsinki with Karita Mattila, who then sang the title role for the last time. She has since adopted the role of Kostelnička and Malin Byström sang her first Jenůfa opposite her not long ago in San Francisco. A change of generations, if you like.
Stockholm's new Jenůfa goes directly to the heart and can be wholeheartedly recommended.
Göran Forsling