Switzerland Beethoven: Tonhalle Orchestra Zurich / Herbert Blomstedt (conductor), Tonhalle Zurich, 18.5.2017. (JR)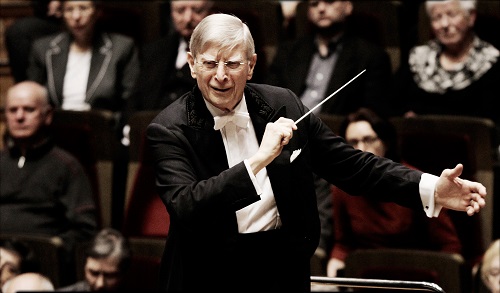 Beethoven – Symphony No.8 Op.93; Symphony No.7 Op.92
Herbert Blomstedt will turn 90 in July and there are no signs whatever of him slowing down, let alone retiring. He clearly keeps himself agile and trim (no need for a chair on the podium), favours a vegetarian diet, does not drink or smoke (he is a fervent Seventh Day Adventist); music clearly keeps him young. (There are lessons here for all of us.) If one could bet on which present-day conductors will be still be around at 100 (even if, perhaps, not still conducting – though who knows even that), Blomstedt would have short odds. Blomstedt maintains close links with the Tonhalle Orchestra, aided no doubt by having had his home on the shores of Lake Lucerne for the last 30 years, not far from Zurich. The players know him affectionately as "Blomi" which says it all: they hold him in high esteem, particularly as he is not an authoritarian. A book, in the form of a series of interviews, which commemorates his 90th birthday will be appearing soon, in which he says that "orchestral players are like angels and you have to treat them accordingly; they are ambassadors of something divine" – Blomstedt certainly knows how to make the angels sing.
Blomstedt, forgivably, now (usually) sticks to known repertoire and well-trodden paths. His Beethoven cycle from the 1980s with the Staatskapelle Dresden is one of the great cycles, showing off his effortlessly musical interpretations and his views have not radically changed. He opted for the antiphonal (or "German") seating plan with second violins on the right.
The orchestra followed Blomstedt's vigorous but economic gestures, with no baton, closely and effectively. He had unopened scores on the podium stand to which he did not refer to once – they were only there to hold high after the applause had subsided to show his devotion to Beethoven.
Beethoven's Eighth Symphony may be small in scale but it does not lack intensity or content. Blomstedt and the players smiled throughout, particularly in the witty Allegretto scherzando; it was a joyous and vigorous affair throughout, Blomstedt highlighting details that many other conductors would just gloss over. Tempi and dynamics were perfect and true to the score (Blomstedt pays special attention to that, putting the scores on the same level as the Bible). A couple of players stood out, Michael von Schönemark (principal bassoon) and Ivo Gass (principal horn).
By the end of the symphony, Blomstedt looked younger, remarkably, than when he first came onto the stage, it was a life-affirming performance for all concerned.
After the interval, a meatier Beethoven offering, his Seventh Symphony. This was perfectly paced, Blomstedt never let the tension sag (with the many repeats, there are times when other lesser conductors can bore). The dance-like rhythms had swing; the attacks – when they came – were vicious. Blomstedt was once more in total command of the dynamics, again highlighting phrases and notes that added to the colour of the work. Tempi were swift, Blomstedt tapping out the tempi on his lapel for the Presto before he launched into the movement. Special mention must go to Simon Fuchs (oboe) and Sabine Poyé Morel (flute) for their perfect and lyrical ensemble in the slow movement. The finale was full of vitality and the two horn players contributed with distinction.
At the end, my neighbour – who told me he had interviewed Blomstedt – turned to me and asked whether I had ever heard better interpretations of the two symphonies. We thought for a minute, mulled over some names of great conductors and some performances we had heard over the years but agreed that Blomstedt had been simply perfect. He certainly elicited some of the loudest applause and "bravi" I have heard for some while, and the orchestra almost refused to stand to share in any of the acclamation.
Blomstedt is scheduled to return to Zurich next season (June 27-29, 2018 with Mahler's First Symphony and Mendelssohn's Violin Concerto with Julia Fischer) and I look forward to it already.
John Rhodes