United States Tchaikovsky, Saariaho, Scriabin: Nikolaj Znaider (violin), San Francisco Symphony / Susanna Mälkki (conductor), Davies Symphony Hall, San Francisco. 7.6.2018. (HS)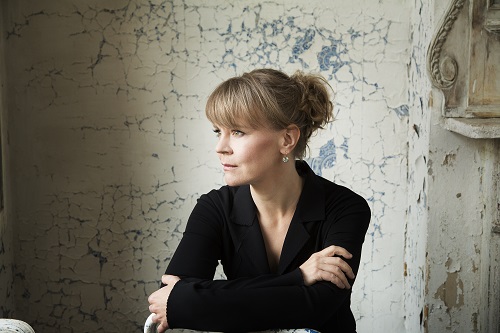 Tchaikovsky — Violin Concerto in D major
Saariaho — Laterna Magica
Scriabin — The Poem of Ecstasy
In a San Francisco Symphony program of two radically different halves, conductor Susanna Mälkki scored biggest when she drew out the sonic expansiveness in works by her Finnish compatriot Kaija Saariaho and the Russian expressionist composer Alexander Scriabin. The Tchaikovsky Violin Concerto, which occupied the first half, came off as a vehicle for violinist seemingly more concerned with showing off than with channeling Tchaikovsky.
Mälkki was in her element with Saariaho's 2008 Laterna Magica, a rumination on the parallels between the way film manipulates projected images and how composers tinker with sound. A key to much of Saariaho's work is her uncanny ability to conjure extraordinary and distinctive timbres from harmony and instrumentation. Using a big orchestra, Laterna Magica begins with a foundation of background harmonies, then sprays gestures of a few measures each to play on different resonances and shifting rhythms. Over 20 minutes these ideas coalesce into bigger and longer moments, finally erupting into a broad and majestic finale.
The piece showed off this orchestra's penchant for tailoring its sound at any given moment to fit the music—pristine and precise here, rich and muscular there. That same capability paid huge dividends in the exultations that lie at the heart of Scriabin's Poem of Ecstasy, which concluded the program with a similarly outsized cast of musicians.
Over the course of its 22 minutes, the Poem traces an emotional arc from a quiet languor to a delirious climax—a word that could seriously apply in both its meanings. A yearning erotic undertone runs through, inspired by Wagner's Tristan und Isolde. Mälkki, in complete control, drew out rich harmonies and the slow, pulsing rhythms that gradually gain momentum. Principal trumpet Mark Inouye's piercing outcries and the kaleidoscopic colors of the orchestration gathered momentum, culminating in a final several minutes of glorious, intoxicating sound and power.
Nikolaj Znaider – the Danish-Israeli violinist who has been developing a career as a conductor himself – took charge of the Tchaikovsky concerto, which opened the program. He took a big-boned approach to the familiar work, drawing strength and richness of tone from the low register of his Guarneri del Gésu instrument. He attacked every phrase with formidable technique, and favored loud, louder and loudest throughout, interspersing occasional moments of silken delicacy.
Slightly slower tempos in the opening movement highlighted precise passagework through the dynamic range. A breakneck pace in the Allegro vivacissimo finale breathlessly brought the proceedings home. Mälkki harnessed the orchestra, maintaining a sense of freshness and vitality.
What was missing was overall finesse from the soloist. There was lovely detail in a few delicate moments. The second movement Canzonetta: Andante flowed lyrically and revealed Znaider's capacity for long-limbed melodic arcs. But the mood swung from one extreme to the other rather than finding a through-line that made sense.
Taken at a slower-than-usual pace, his solo encore, the Sarabande from Bach's Partita No.1 in B minor, was beguiling in its quieter moments, even as Znaider's penchant for full-throated sound often ran counter to Bach's intentions.
Harvey Steiman