United States 2018 Opera Saratoga Summer Festival [3] – Lehár, The Merry Widow: Soloists and The Opera Saratoga Orchestra and Chorus / Anthony Barrese (conductor), Opera Saratoga, The Spa Little Theater, Saratoga Springs, 8.7.2018. (RP)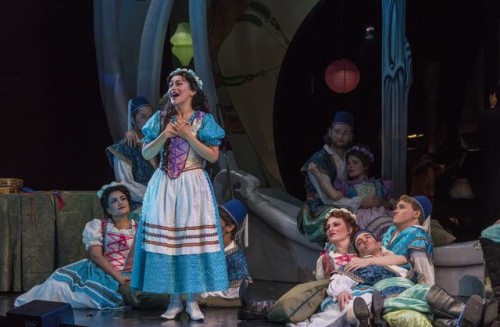 Cast:
Hanna Glawari – Cecilia Violetta López
Count Danilo – Alex Lawrence
Valencienne – Megan Pachecano
Baron Zeta – Andy Papas
Camille de Rosillon – Scott Quinn
Raoul de St. Brioche – Quinn Bernegger
Olga – Laura Zahn
Sylviane – Rachel Mikol
Vicomte Cascada – John Tibbetts
Kromov – Garrett Obrycki
Bogdonovitch – Nate Mattingly
Njegus – Bradley Bickhardt
Production:
Director and Choreographer – John de los Santos
Scenic designer – Cameron Anderson
Costume designer – Glenn Avery Breed
Lighting designer – Brandon Stirling Baker
Wig and Makeup designer – Sondra Nottingham
Chorus master – Laura Rogers
Opera Saratoga's The Merry Widow is a crowd pleaser, no doubt about that. 'Sold Out' must have been music to the ears of Lawrence Edelson, the company's artistic and general director, to say nothing of its board of directors. The production is a high-spirited affair full of color, broad humor, a lively cancan and some pretty fine singing, especially from Cecilia Violetta López as Hanna Glawari and Mega Pachecano as Valencienne.
John de los Santos stuck to the book with this production. Early twentieth-century Vienna was evoked by a portrait of a woman straight out of an Alphonse Mucha poster, creating an opening through which the conductor and orchestra could be seen. A huge staircase took up the other half of the stage. The costumes provided the visual excitement – the jewel-toned gowns of the women at the reception in the embassy, the colorful Pontevedrian national costumes for the party at Hanna's villa and, of course, the garish, flouncy dresses of the Grisettes singing and dancing at Maxime's.
The spoken dialogue was spiced up with some witty word plays and a few pointed political jabs, but it was all in good fun. Muddled foreign accents, however, were hit-and-miss and should have been nixed.
Cecilia Violetta López was delightful as the mysterious heiress, charming the audience from her first entrance in a glittering black gown with ostrich feathers in her hair. For an artist who is just starting out on her career, López can command a stage. She floated lovely high notes in 'Vilja' and sang a dreamy 'Meine Lippen, sie küssen so heiss', borrowed from Lehár's lesser-known operetta, Giuditta. It is a sizeable voice, yet supple and expressive, and coupled with her exotic beauty made her an irresistible Hanna Glawari.
Megan Pachecano was equally engaging as Valencienne. A deft comedienne, she balanced being a respectable wife and her flirtatious nature with aplomb. She never pushed her sparkling soprano. and it carried with ease in the small theater with its tricky acoustics. She can kick up her heels and dance too.
As her husband, Baron Zeta, the Pontevedrian ambassador in Paris, baritone Andy Papas was a master of comedic timing and physical humor. He's a short, four-square type of guy, capable of roaring one moment and quivering in his boots the next. It's a fine voice that he too had in total command.
There has to be a straight man in every comedy and that role fell to Bradley Bickhardt as Njegus, the embassy's secretary. He had little to sing and not even that much to say, but he was constantly on stage and the grease that made the gears of this production work. Every time there was a missive from the king he blew his whistle, and Zeta, Kromov and Bogdonovitch fell into line and executed a wacko salute to the fatherland. It only got funnier with each repetition.
The two male leads were not quite so convincing. Alex Lawrence was handsome and tall with a ringing baritone, but strangely lethargic as Count Danilo. Granted, Danilo is reluctant to utter the words 'I love you' to the woman who broke his heart the first time around, but blasé just didn't cut it. Scott Quinn's Camille de Rosillon pursued Valencienne relentlessly, but there was no real spark in him either. High notes that should have floated came out forced.
Their rivals for Hanna's affections (and really her money) were Quinn Bernegger as Raoul de St. Brioche and John Tibbets as Vicomte Cascada. Young and handsome, they sang with free and easy voices. Their Pontevedrian counterparts, Garrett Obrycki as Kromov and Nate Mattingly as Bogdonovitch, were cut from the same cloth. Laura Zahn as Olga and Rachel Mikol as Sylviane, their wives, were charming additions to the cast.
Anthony Barrese conducted with a workmanlike proficiency; a little less oompah-pah and more lilt would have been nice. The strings had a few screechy, ill-coordinated entrances, but when the solo violin spun Lehár's melodies to lovely harp arpeggios all was forgiven. The two big song and dance numbers, 'We're the ladies of the chorus' and 'Girls, Girls, Girls', were showstoppers.
A bit further north from Saratoga Springs on Lake George is the Marcella Sembrich Opera Museum. The free museum was the studio of the famous soprano known as 'The Polish Nightingale' and is chock-a-block with photographs and other memorabilia that document her life and career. Visiting there between performances, a photograph of the house where Johann Strauss wrote some of his most famous waltzes caught my eye. It bore the inscription 'No one could sing waltzes like Sembrich'.
Perhaps not, but that mattered little to anyone leaving the theatre after Opera Saratoga's The Merry Widow the next day, especially those humming its beautiful melodies.
Rick Perdian