United Kingdom Various compoers, Barry Humphries' Weimar Cabaret: Barry Humphries (conférencier/voice), Meow Meow (cabaret artist), Satu Vänskä (musical director/voice), Aurora Orchestra, Barbican Theatre, London, 12.7.2018. (JPr)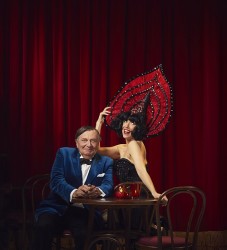 Weill (arr. Grandage) – 'Mack the Knife'; 'Seeräuber-Jenny'; 'Surabaya Johnny'; Tango-Habanera 'Youkali' (after Barry Sacher); 'Benares Song'
Hindemith – Kammermusik No.1, Op.24 (1st mvt)
Krenek (arr. Grandage) – Excerpt from Jonny spielt auf; Selection from Potpourri
Ježek – Bugatti Step
Spoliansky – 'Alles Schwindel' (arr. Grandage); 'Ach, er hasst' (arr. Grandage); 'Wenn die beste Freundin' (arr. Ziegler)
Grosz – Jazzband
Toch – Geographical Fugue
Schulhoff (arr. Tarkmann) – Suite for Chamber Orchestra: III. Tango; VI. Jazz
Abraham (arr. Grandage) – 'Mausie'
Schulhoff – Suite for Chamber Orchestra: III. Tango (arr. Tarkmann); Sonata Erotica
Brand (arr. Tregear) – 'Black Bottom Jazz'
Eisler (arr. Grandage) – 'An den kleinen Radioapparat'
Hollaender (arr. Grandage) – 'Wenn ich mir was wünschen dürfte'; 'The Ruins of Berlin'; 'Benares Song'
Just as when I first heard this thought-provoking and thoroughly-entertaining cabaret evening in 2016 I will return soon to the Bayreuth Festival in Germany where I expect to still see their tribute 'Silenced Voices. The Bayreuther Festspiele and the Jews from 1876 to 1945'. This was first seen there in 2012 and recalls long-passed musicians who once participated in the Bayreuth Festival, but who were persecuted because of their Jewish heritage. 'Silenced Voices' is also the underlying theme for Barry Humphries' Weimar Cabaret selection of songs and other music often regarded as 'degenerate art' by the Nazis. Even before the closing – and deeply poignant – 'Benares Song' (from the 1930 Brecht/Weill Rise and Fall of the City of Mahagonny) we had come to realise about the duality of all the music we had been hearing. On the one hand, it was fun-loving music, full of gaiety and a celebration of sexual licentiousness and liberation; yet it was also reflecting the rise to power of the Nazis and had a constant undercurrent that seemed to foreshadow the impending end of these good times and an imminent war
Humphries has had a love affair with the music of Weimar Germany since discovering some sheet music in a second-hand bookstore as a child in Melbourne in the 1940s. It was from 1919 to 1933 when the arts flourished – almost in an act of desperation – as an antidote to the insidious rise of fascism. Humphries was 'acting' as conférencier (master of ceremonies) but as he said himself 'I stand before you heavily disguised as myself' and there was no hint of his famous alter egos Sir Les Patterson or Dame Edna Everage. There were some illuminating and amusing anecdotes about what we were hearing, plus many of Humphries' typical wickedly witty and frequently irreverent asides. These included musings on the disappearance of words in our current vocabulary, such as, gramophone needles, carbon paper, Filofaxes ('Where are they? Think of all those Filofaxes we used to have'), travellers cheques, bank managers, postage stamps and Gordon Brown. Humphries also asked what has happened to dandruff! He reminded us how second-hand booksellers now call themselves 'Antiquarian Bookdealers' to up their prices by referring to stock as 'rare and scarce'. Later there was a description of Hitler clearly comparing him to a certain US President (coincidentally visiting Britain that very day) which referenced his 'promising the restoration of national pride and wearing a ridiculous combover'. What often seemed like ad libs were mostly heard before in 2016, such as, following an energetic – if amusingly haphazard – dance routine Humphries asks, 'Is there a cardiologist in the house – even a choreographer?'. It still made me laugh.
Humphries was particularly wistful when recalling that through his mother he 'discovered the presence of anti-Semitism before I discovered the presence of Jews' because of the reaction of people he knew to those fleeing persecution and settling in Australia where there was the largest number of refugees outside Israel. He reminded us how at the time the war was on the front pages of the newspapers 'where sport is today'. When he said his mother got some dresses made by Mitzi from Vienna he added she must have regarded her 'as an honorary member of the Church of England.' (A reminder yet again how my own mother – who fled Vienna before WWII to come to England – really did say my Jewish grandmother was a C of E member to get her buried in a particular cemetery!)
Barry Humphries is 84-years-young and his joy of performing and love for the music we heard ran deep through his show which was dedicated 'to the memory of the man who brought it to Australia in a suitcase'. That man was Richard Edmund Beyer and the story of its discovery was in the very informative programme: 'None of the composers were familiar … The bookseller, Mr Evans of Swanston Street, was asking next to nothing for this obscure collection so I bought them all and went home with Ernst Krenek, Erich Korngold, Kurt Weill, Franz Schreker and their colleagues in my weighty Gladstone bag.' Poignantly Humphries later adds how during his first visit to Vienna in the early 1960s he sought out any recordings for the composers he had discovered 'Not only did they not have any recordings, but they had never heard of the composers I mentioned!' Thankfully the efforts of many – including the redoubtable Humphries – means these Silenced Voices have been given those voices back!
Director Nikki Woolaston does the best she can to recreate the Berlin in the 1930s in what Humphries described as a 'brutalist' Barbican setting. The musicians of the Aurora Orchestra – wearing informal dark clothes and with some having fedoras – wander onto the platform playing snatches of Weill's familiar 'Mack the Knife' before the concert proper begins. What we see is at its best when Humphries and cabaret singer Meow Meow are involved. His Australian compatriot showed again why she is one of cabaret's best post-modern artists. Looking like Fenella Fielding in the 1966 'Carry on Screaming!' she has a remarkably flexible voice which can shift easily from a sultry smokiness to clear and agile operatic antics. Some songs were a mixture of German and English and that was ok but otherwise there were no surtitles and it was too dark to read the printed translations. So when singing just in German, Meow Meow often had the ability to dramatize the meaning of any song and overcome this language barrier. This came to the fore in two Weill numbers 'Pirate Jenny' and 'Surabaya Johnny'. In Spoliansky's satirical 'Alles Schwindel' which dwells on the negative social consequence of the post-WWI economy, Meow Meow discovered in it the perfect blend of comedy, cynicism, gravitas, and the heralding of a pending catastrophe. Humphries said how after an initial meeting in London he was 'firm friends' with Mischa Spoliansky until his death in 1985. He said 'I wanted him to compose a song for my friend Dame Edna … I thought it would bookend his career, Marlene [Dietrich] at one end and the "Moonee Ponds Nightingale" at the other!'.
Meow Meow's 'embodiment' of Schulhoff's infamous Dadaist recreation of the female orgasm, Sonata Erotica, is indescribable and alone justifies the cost of a ticket for the show. There was a delightfully playful duet for Spoliansky's Sapphic 'Wenn die beste Freundin' with Satu Vänskä coming out of the orchestra to show she is a fine singer in her own right, as well as, an accomplished virtuoso. Vänskä particularly excelled on the Stroh violin for the excerpt from Max Brand's Maschinist Hopkins. At the start of the second half Humphries had shed his velvet jacket for silk pyjamas and there was the rollicking delight of Paul Abraham's fairly risqué 'Mausie' as – together with a suitably attired Meow Meow – they played a couple discussing what they have got up to the night before. Perhaps appropriately however there was – despite some bittersweet optimism – a very melancholic air to their final two songs: Hollaender's – The Ruins of Berlin from Billy Wilder's film, A Foreign Affair and that rendition of 'Benares Song'.
During their moments in the spotlight the musicians of the Aurora Orchestra showed exemplary versatility from the jazziness of works by Krenek, Schulhoff, Grosz and Brand to beautifully phrased, deeply soulful and expressive tangos from Schulhoff and Weill. In Toch's Geographical Fugue – which Humphries considered is the first occurrence of rap in classical music – the musicians showed their vocal abilities by chanting the place names of John Cage and Henry Cowell's late-twentieth century English version in complex, contrapuntal rhythms. Satu Vänskä's violin was aided and abetted by her excellent ensemble featuring many fine individual performances from the woodwind and brass players, percussion, guitar/banjo, accordion and Ben Dawson's piano.
If you have not seen Barry Humphries' Weimar Cabaret I urge you to go.
Jim Pritchard
For more about Barry Humphries' Weimar Cabaret at the Barbican click here.
For more about the Aurora Orchestra click here.