United States Blossom Music Festival [5] – Liadov, Rachmaninoff, Prokofiev: Simon Trpčeski (piano), Cleveland Orchestra / Vasily Petrenko (conductor), Blossom Music Center, Cuyahoga Falls, Ohio, 11.8.2018. (MSJ)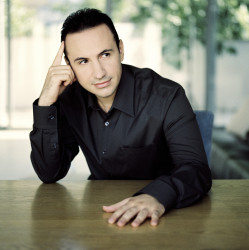 Liadov – Baba-Yaga, Op.56
Rachmaninoff – Rhapsody on a Theme of Paganini, Op.43
Prokofiev – Symphony No.5 in B-flat major, Op.100
On the second of two programs this weekend with the Cleveland Orchestra, Vasily Petrenko demonstrated flair and decisiveness, though not a wide stylistic range. The busy young musician — chief conductor of three orchestras and principal guest of another — knows how to shape performances and find those moments that give perspective and interest. But so far, most of his work in Cleveland comes from 1900-1950, a time of flashy orchestral pyrotechnics. One would like to see what Petrenko can do with, say, a Haydn symphony, a Schumann overture, or a piece by a living composer. But for this concert, the young Russian stayed on his trademark repertory and presented it well.
In a happy return to the orchestra's schedule, Anatol Liadov's short but colorful tone poem Baba-Yaga had not been heard since 1935, when it was last presented by then-music-director Artur Rodzinski (though occasionally appearing in family concerts since then). While nothing Liadov wrote is earth-shattering, his works deserve to be heard more often. The composer was notoriously indolent, though a more sympathetic examination of his life suggests that writer's block due to chronic depression was likely a key factor in his small output.
Only three-and-a-half minutes long, Baba-Yaga took Liadov years to write and polish, because its instrumental details are exquisitely strange. Petrenko gave the work its due, effectively sculpting its sense of sinister mischief.
Macedonian pianist Simon Trpčeski delivered a wickedly witty Rachmaninoff Rhapsody on a Theme of Paganini. Trpčeski is a bit of a character, stomping the stage on fortes and leaning far back from the piano to listen to passages in the orchestra. But his antics were perfectly matched to Rachmaninoff's score, which begins with Paganini's twenty-fourth caprice and then takes it even stranger places.
In the spring of 2014, a stoic Rudolf Buchbinder gave the Rhapsody's previous performance with the orchestra. Trpčeski was a world removed from that approach, mercurial and hyper-alert, sensitive to every twitch of the music's nerves. Petrenko matched the pianist's liveliness most of the time, both of them employing dynamics from whispers to roars. Importantly, Trpčeski pushed Variation XVII's sense of dread, allowing for a magical release into the sweetness of the famous Variation XVIII. Petrenko skillfully shaped the structure, putting an emphasis on the singing line instead of the sheer richness of texture, evoking more of the opera house than the Hollywood movie screen. Trpčeski plunged into the demonic closing pages of the work with relish. Oddly, Petrenko didn't quite unleash the beast near the end; perhaps he was thinking about the demands on the brass players yet to come.
The Prokofiev Fifth held a fine balance between thoughtful shaping and lightness. Best were the first two movements. Petrenko made sense of the composer's abstract dialectic in the opening, giving it flow and direction. In the scherzo, Petrenko's touch gave it a real sting, with Daniel McKelway's clarinet adding to the tang.
Petrenko's broad tempo for the slow movement allowed ample space for Prokofiev's poised and sometimes icy visions to unfold. Yet concentration became an issue, as the movement didn't hold together as compellingly as it can. Perhaps near the end of two back-to-back, demanding programs, fatigue was starting to show. The finale was light and buoyant, sailing on another clarinet solo from McKelway. Again, though, the closing pages weren't quite as rambunctious as they could have been.
It is clear at this point that Vasily Petrenko is a formidable talent. He knows structure and can make music speak anew. His next challenge is to find the personal growth that will allow him to make the leap from the brilliance of his youthful career into that of a mature, soul-searching artist.
He has the potential.
Whether or not he has the patience to stop trying to be music director and guest conductor all over the world remains to be seen.
Mark Sebastian Jordan
Mark Sebastian Jordan's reviewing activity in 2018 is supported by an Individual Excellence grant in Criticism from the Ohio Arts Council.