United Kingdom Puccini, La bohème: Soloists, Tiffin Boys' Choir and Children's Chorus, Chorus and Orchestra of the Royal Opera House, Covent Garden / Emmanuel Villaume (conductor). Royal Opera House, Covent Garden, London. 21.1.2020. (CC)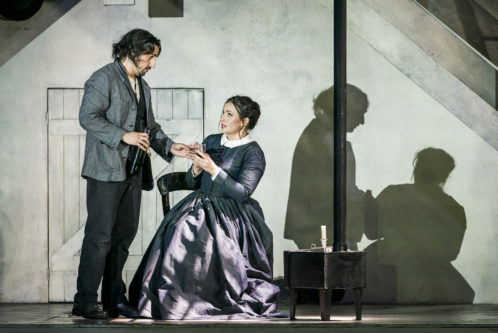 Production:
Director – Richard Jones
Revival Director – Julia Burbach
Set design – Stewart Laing
Costume design – Kaspar Glarner
Lighting design – Mimi Jordan Sherwin
Movement director – Sarah Fahie
Revival Movement director – Danielle Urbas
Cast:
Mimì – Sonya Yoncheva
Rodolfo – Charles Castronovo
Marcello – Andrzej Filończyk
Colline – Peter Kellner
Schaunard – Gyula Nagy
Benoît – Jeremy White
Musetta – Aida Garifullina
Parpignol – Andrew Macnair
Alcindoro – Eddie Wade
Customs Officer – John Morrissey
Sergeant – Thomas Barnard
This is now the third outing of Richard Jones's production of Puccini's La bohème at the Royal Opera. The first was in September 2017, returning quickly in Summer 2018. My colleague Mark Berry writes extensively about the production and his reactions to the 2018 performance here; Jim Pritchard covered the first run here. This is a production that plays with our perception of time and place. It is clearly Winter (the first act is set on Christmas Eve, and there is a lot of snowfall, even as we take our seats, and the snow recurs pretty much throughout) but the garret is, to say the least, sparse, and exudes a whiff of B&Q. The space behind is almost pure black (are we, the audience, actually supposed to see a single blue point of light towards the back of the stage, I wonder?). The second act Momus scenes are deliciously, colourfully busy; plus, they are a technological tour de force, with arcades sliding into view. Something of this mobility of scenery returns in the third act, when the hut that contains the revellers slides backstage, out of the way, as if giving the lovers space. The white walls of the bohemians' room offer a blank space for some graffiti. The contrast between the crowd scenes and those between intimates is clearly drawn by Puccini, and the staging seems to reflect this in its juxtaposition of colourful revelry and stark emptiness.
Sonya Yoncheva pulled out of the first performance of this run; it was good to see her back on fine form. This was, in fact, her finest assumption of a role so far at Covent Garden that I personally have experienced; she inhabited Mimì from the very first phrase, the character's vulnerability immediately apparent. Vocally there were only very rare moments when her voice lost its confidence. She was matched by a splendid Rodolfo in Charles Castronovo, ardent, strong and utterly believable.
It was just as well that Castronovo was in fine fettle, as he was in danger of being upstaged by the excellent Andrzej Filończyk's Marcello. Here is someone whose presence owns the stage and whose fine, resonant voice fills the auditorium (he has previously sung Schaunard for the Royal Opera). The set of male friends in fact sparked off each other beautifully; Gyula Nagy was a strong Schaunard and Peter Kelner a superb ensemble player until he grabbed the spotlight, affectingly, in his 'Vecchia zimara' late in the opera. Reflecting the rhythmic accuracy and sharp edges coming from the orchestra, these vital ensemble scenes carried real energy.
And, to transfer a sentiment over to the female members of the cast, it was just as well Sonya Yoncheva was in fine fettle, because the Musetta, Aida Garifullina, was terrific. A former member of the Vienna State Opera, she has a voice that is perfect for the party girl Musetta. (And she has the moves, too: singing and removing one's panties cannot be the easiest combination. Not that I have ever tried, you understand). Interestingly, when it comes to the final act, the production has her dress demurely, as Mimì had done in the first act, an implied correlation that makes one wonder as to her future in the story after the curtain goes down. It is a maturing of her youthful zest for life? Or will she indeed follow the tragedy?
A splendidly red-faced Benoît, played impeccably by the experienced Jeremy White, was an utter delight, while one felt for poor old Alcindoro (Eddie Wade, as Musetta's sugar daddy) – a sure sign that this is being played right. Andrew Macnair's Parpignol was brilliantly characterful, too.
The conductor, Emmanuel Villaume, is Music Director of both Dallas Opera and of the PKF-Prague Philharmonia. In La bohème, orchestral detail is everything, and Villaume encouraged the Covent Garden orchestra to its finest, wind affable and approachable, strings searing and at times positively heart-breaking. Balance between singers and pit was superbly managed so that the voices shone through. Villaume appreciates the structure of both individual acts and the opera as a whole, his coherent, intelligent tempi enabling the flow of the drama towards its tragic conclusion.
The acid test of production and performance is whether the power of Puccini's score gets through and there can be no doubting that, on this occasion, that was the case, and Puccini emerged triumphant.
Colin Clarke