United States Brooklyn Art Song Society Home IV – Bartók, Kodály, Janáček: Lucy Fitz Gibbon, Caitlin Mead (sopranos), Allison Gish, Kate Maroney (mezzo-sopranos), Dominic Armstrong (tenor), Michael Brofman, Joel Harder (piano). Brooklyn Historical Society, Brooklyn, 7.2.2020. (RP)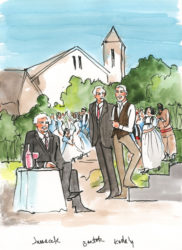 Bartók – Village Scenes Sz.78
Kodály – Four Songs
Janáček – Diary of One Who Disappeared
For the fourth concert in the Brooklyn Art Song Society's Home series, a survey of song and piano literature that explores nationalistic impulses in music, the focus shifted to Czech composer Leoš Janáček and the Hungarians Béla Bartók and Zoltan Kodály. All three came of age when the culture and customs of people who lived off the land were disappearing as industrialization and urbanization radically and permanently upended ways of life that had existed for centuries.
Kodály and Bartók made their first forays into the countryside to collect and preserve folk music in 1905 and published a collection of Hungarian folk songs the following year. It was not only folk music, however, that influenced their compositions, but also that of the French Impressionists, especially Debussy. These styles and sounds liberated both men from the constraints of orthodoxy and led them to create their own, individual artistic voices through a synthesis of the ancient and the modern.
Bartók's Village Scenes (1924) are settings of Slovak folk songs that are evocations of village life with a particularly jaundiced view of marriage, although there was more than a hint of Gershwin in 'Lad's Dance' with its jazzy, syncopated rhythms.
Soprano Lucy Fitz Gibbon was a fireball in the Bartók songs, creating vivid characters and images with her sparkling voice, facial expressions and outstretched arms. In 'Wedding', Gibbon's wild shrieks punctuated an envious woman's description of another girl's wedding day, but the other songs brought out a more subtle display of emotions. Especially dreamy and poignant was a lullaby sung by a mother to her young son, who promises to stay with his mother always or until he marries, while her hope is that the cold earth does not claim him
Kodály's Four Songs for voice and piano were composed between 1907 and 1917. They evidence not only Kodály's interest in folklore and nature but also his fascination with Greek antiquity; the second song, 'Nausikaa', was inspired by a character in the Odyssey who assists Odysseus on his voyage home. I generally enjoy mezzo-soprano Kate Maroney's fine voice and probing interpretations, but on this occasion her performance fell flat, perhaps because she was frequently looking down at her music.
It was the music of his native Moravia, as well as speech inflections and birdsong, that fired Janáček's imagination. He matured late as a composer, and his distinctive musical voice only emerged when he was in his forties in his opera Jenůfa. Composed in 1919, sixteen years after the opera's premier, Diary of One Who Disappeared is scored for tenor, mezzo-soprano, a trio of female voices and piano.
In Diary of One Who Disappeared, Janáček set the tale of a young farmer who wrestles with the seductive powers of a gypsy girl who gazes at him as he works in the fields. Mesmerized by her, the lad's lust matures into love, and he ultimately abandons his home and family to be with her and their son. The story is partly autobiographical in that it mirrors Janáček's obsession with Kamila Stösslová, who was married and thirty-eight years younger than he. Their relationship remained platonic, but it prompted a remarkable outburst of creativity in the final years of Janáček's life.
The work straddles the divide between song cycle and opera, but tenor Dominick Armstrong's volcanic performance tipped the scales towards the latter. His blistering dramatic intensity and the power of his voice captured the passion, urgency, dread and courage of the young man. Armstrong wasn't always at full throttle, however; he could also sing in softer, radiant tones, as when the young man mused over the sleepless nights spent thinking of the girl or tenderly bid farewell forever to his parents and sister.
Kate Maroney's forthright manner made the gypsy more demanding than alluring, although there was an element of danger in her flashing eyes. The trio of Lucy Fitz Gibbon, Caitlin Mead and Allison Gish sang from the rear of the hall. Their voices, soft and shimmering, blended perfectly as they evoked the moment when the farmer sees the woman's naked breasts for the first time.
Michael Brofman, BASS's founder and artistic director, and Joel Harder, who heads a graduate program in collaborative studies, were the excellent pianists. All three composers invested the piano parts with as much drama and emotion as they did the vocal lines, which Brofman and Harder captured with impressive technique and an unalloyed passion for the music they played so brilliantly.
Rick Perdian
For more information on the Brooklyn Art Song Society, click here.