United States Susan Kander, dwb (driving while black): Karen Slack (soprano), Rosanna Butterfield (cellist), Eric Plewinski (percussionist) / Robert Wood (conductor). UrbanArias, Tonal Park Studio, Takoma Park, MD. Premiered on 30.4.2021 and available to stream. (RP)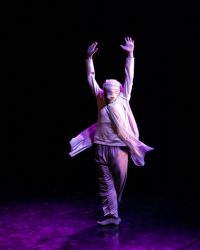 Production:
Director/choreographer – Du'Bois A'Keen
Creative director – Camry A'Keen
Libretto – Roberta Gumbel
Cinematographer – John Paul Dia
Dancers – Yeman Brown, Nicole Morris, Tweet Kay
Soprano Karen Slack has decided to focus on stories that matter now. Few are more relevant than dwb (driving while black) by Susan Kander and Roberta Gumbel. Kander was inspired to create the opera by conversations that she had with Gumbel about the latter's anxieties over her teenage son getting his driver's license. It had been intended that Gumbel, who is a singer herself, would perform the work, but she wasn't Kander's first choice as a librettist. Nonetheless, Gumbel turned out to be the ideal person to put her deeply personal story into words.
Kander's music has been heard around the world, and she has received commissions from Opera Minnesota, Opera Theater of St. Louis, Lyric Opera of Kansas City and Columbus Opera. Gumbel, who is on the voice faculty at Kansas University, has performed in opera, concert and musical theater. Their guiding principle in dwb was to create a work of an intimate nature for Black singers to perform. Anna Deavere Smith, a pioneer in solo performance art in which she addressed contemporary issues and social justice, served as their inspiration.
The opera was developed at the University of Kansas School of Music and premiered in January 2019 by Gumbel and New Morse Code. A video of that production was co-presented by Baruch Performing Arts Center, New York, and Opera Omaha last year. (For review, click here.)
Gumbel's libretto captures in vignettes the mother/son relationship from his birth to when he is old enough to get his driver's license. The minor indignities that his parents endure pale in comparison to the news bulletins of harassment and false arrests that Gumbel weaves into the narrative. There is anger in the boy over his father's death. He is often belligerent, which is normal behavior for a kid but can be fatal for a young Black man in an encounter with the police.
Kander's score for dwb is an endless variety of textures, timbres and pitches from the cello and percussion, enriched by balloons, toy piano, foot tambourine, temple blocks and other noise-makers. In setting Gumbel's words, Kander displays her innate sensitivity to text and an ability to craft musical lines that express the myriad of emotions which the Mother experiences. Kander and Gumbel's greatest achievement is to pierce the noise and frenzy of the 24/7 news cycle to shed light on what it is to be Black in twenty-first century America.
This new film version was produced by UrbanArias, an anti-racist, anti-discriminatory opera company that works to create diversity, equity and inclusivity in all aspects of the creative process. It strives to tell the stories of today's America through collaborations and partnerships that serve the communities represented in the stories it tells. Robert Wood, founder and artist of UrbanArias, conducted the performance.
Du'Bois and Camry A'Keen, the team behind A'Keen Brand, a modern creative agency and production company, were responsible for the film's concept. Du'Bois A' Keen is a creative director, choreographer, producer, author and filmmaker, while Camry A'Keen combines the creative with a career in science. She's a researcher at the NYU Center for Genomics and Systems Biology. Their vision for dwb incorporates elements of modern dance, music video production and intimate storytelling to bring the audience into the Mother's mind, where flights of fancy combine with stark reality.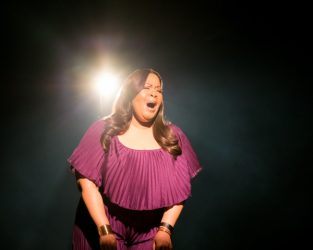 Karen Slack has appeared with opera companies across the US, including the Metropolitan Opera, Lyric Opera of Chicago, Washington National Opera, San Francisco Opera and Atlanta Opera, and has sung everything from Verdi to jazz. As the Mother in dwb, Slack expressed joy, heartbreak and fear though her sumptuous voice. The most beautiful phrases that Slack sang were as simple as could be: she spun out streams of pure sound as if she were singing to herself rather than to her son or a microphone.
Visually, there was a touch of the surreal to Slack's character, heightened by three masked, androgynous dancers in white who paid witness and reacted to the story. There were also dream sequences where she appeared in a towering white wig and a puff of orange with a long flowing train, as if Ru Paul was channeling Catherine the Great.
It was how the Mother saw herself, not who they see, as her father sang to her every morning when she was a girl. It was the same sense of pride and self-worth that she sought to instill in her son. She couldn't trust that others wouldn't jump to the conclusion that he was just a young Black thug instead of the embodiment of all her love and dreams.
Rick Perdian
To watch OperaAria's dwb (driving while black), click here.