Austria Cilea, Adriana Lecouvreur: Soloists, Chorus and Orchestra of Vienna State Opera / Asher Fisch (conductor). Livestreamed from Vienna State Opera on 29.10.2021 (directed by Dominic Kepczynski) and on demand for a limited time. (JPr)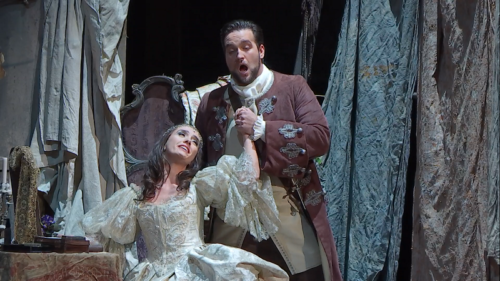 Production:
Production – Sir David McVicar
Stage design – Charles Edwards
Costume design – Brigitte Reiffenstuel
Lighting design – Adam Silverman
Choreography – Andrew George
Chorus director – Stefano Ragusini
Cast:
Maurizio, Count of Saxony – Brian Jagde
Michonnet – Nicola Alaimo
Adriana Lecouvreur – Ermonela Jaho
Princesse de Bouillon – Elīna Garanča
Prince de Bouillon – Evgeny Solodovnikov
Abbé de Chazeuil – Andrea Giovannini
Quinault – Ilja Kazakov
Poisson – Angelo Pollak
Mademoiselle Jouvenot – Ileana Tonca
Mademoiselle Dangeville – Patricia Nolz
After a recent La traviata this is another staging of an opera I am very familiar with having seen Sir David McVicar's Adriana Lecouvreur when it was first put on at Covent Garden in 2010 and now for the fourth time. Repetition is inevitable in these reflections on what I saw and heard, and this Adriana Lecouvreur has certainly travelled widely since then as it was originally a co-production with Barcelona's Gran Teatre del Liceu, Vienna's Staatsoper, San Francisco Opera and L'Opéra National de Paris and has also been put on at the Met. Francesco Cilea's 1902 opera is undoubtedly flawed with a couple of major longueurs in a timeless tale of mistaken identity, illicit romance, political ambition, intrigue, deceit, jealousy and betrayal.
Adrienne Lecouvreur (1692–1730) was a French actress who was regarded as the greatest of her time. She was a friend of Voltaire and had a turbulent love life and a suitably mysterious death. Cilea's opera – the third of only five he composed – followed the huge popularity of verismo operas in the late-nineteenth century. Undoubtedly because of this there are so many references – intentional or otherwise? – to familiar works by other composers of the time. This might be Massenet's Manon, Mascagni's Cavalleria rusticana, Leoncavallo's Pagliacci or any number of Puccini's operas (including his own Manon Lescaut), with perhaps more than a hint of Wagner too. (Notably Adriana Lecouvreur seems to have her own leitmotif which is frequently repeated.) Having heard Verdi's La traviata so very recently it certainly must have inspired the heroine's sad death at the end of the opera, though she dies now not through TB but because of the poisoned violets her love rival sends her!
What about those longueurs? Act III tends to amble on a bit with the full Judgement of Paris ballet – which is given pastiche, prancing and mannered eighteenth-century choreography by Andrew George – and Maurizio, Count of Saxony's interminable wartime exploits ('Il russo Mencikoff').
McVicar evocatively shows the artifice of the theatre and those involved in it. Those involved are venerated and adulated when in the spotlight on stage but are only too human when the lights have gone out and the curtains close. Charles Edwards's sets and Brigitte Reiffensteul's costumes are full of exquisite detail and for the first act we are backstage in a baroque theatre and – with the bust of Moliere (referenced in the libretto) on the prompt box – devoted stage manager Michonnet comments in the wings as 'his' Adriana performs in Racine's Bajazet in the background. The sumptuous villa by the Seine in Act II still seems something of a theatre set and for Act III we are part of the audience watching the drama unfold on and off the stage. During the heart-wrenching denouement members of the acting troupe – in McVicar's genuine coup de théâtre – walk to the front of 'their' stage to pay homage to the passing of the diva.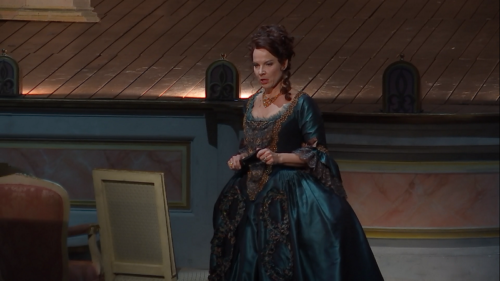 I had thought that recent La traviata was well cast but Vienna State Opera presented the depth of talent all opera houses should aspire too and – for me – it seemed something of a coup to have Elīna Garanča's role debut in the pivotal – though comparatively small by her standards – role of the vengeful Princesse de Bouillon. Garanča brought the Princess to vivid life as someone who would prove a potent threat to Adriana or any would-be rival for the affections of Maurizio. She was haughty, seductive but anxious and insecure about her lover's affection. Garanča excelled in two showstopping contributions, her second act 'Acerba voluttà, dolce tortura' as she impatiently awaits Maurizio and the great Act II confrontation with Adriana when she gloats over making her reveal her own true feelings for the Count. This will remind you of the great Amneris/Aida 'cat fight' over Radamès, especially when Adriana faints when the Princess suggests Maurizio has been seriously wounded in a duel. Garanča's voice was lush, dark, and compellingly dramatic throughout and she dominated every scene she was in.
Ermonela Jaho's slight frame does not allow her to command the stage as the divaish diva some can be. Nor do Adrianas get a chance to warm up onstage as it is straight into her character's impassioned opening aria 'Io son l'umile ancella' about her being a servant to her dramatic art. At one point the line she sang was translated as 'My voice is but a breath of air' which exactly describes Jaho's consummate vocal control of her glorious soprano voice. There is an engaging fragility to it which is useful for many of the somewhat vulnerable heroines she sings, Adriana Lecouvreur included. She was at her very best in her Violetta-like final aria, when she is deranged and trapped in the character of Melpomene, the muse of tragedy before she breathes her last. This was another very significant role debut.
In a complete contrast to Jaho, Nicola Alaimo was physically imposing as Michonnet. He engendered tremendous sympathy as someone who is a father-figure to Adriana and absolutely adores her, but who in his heart of hearts has more than just paternal love for her. Alaimo sang impressively throughout and wasn't there something of Tonio (or even Canio?) from Leoncavallo's Pagliacci about his character especially when he reveals in the first act how he has loved Adriana for five years ('Son cinque anni che l'amo').
I have heard Brian Jagde sing Maurizio at Covent Garden in his role debut, so his robust tenor sound was familiar to me. As I have written in previous reviews, the first Maurizio was Enrico Caruso who undoubtedly would have been more Italianate than Jagde is. Nevertheless, he was 100% committed to an unsympathetic character who reminds me more of Puccini's Pinkerton the more performances of the opera I see. Maurizio will seduce anyone who can be of advantage to him and realises the error of his ways much too late to save Adriana. I was listening through loudspeakers, yet however ardently Jagde sang, I did not think his voice sounded as fresh as it might. Of course, he could not make the hokum of his Act III aria interesting, and I doubt Caruso could either!
Evgeny Solodovnikov gave his firmly sung Prince a certain regal dignity even though the was engaged in his own amorous antics and brought an ominous sense of 'what I have I own' to the return of a lost bracelet – which plays a significant part in the plot – to his errant wife at the end of Act III. Andrea Giovannini was convincing as the foppish Abbé, a total sycophantic, willing to connive with both the Prince and the Princess in their machinations. There were also some telling contributions from Ilja Kazakov (Quinault), Angelo Pollak (Poisson), Ileana Tonca (Mlle Jouvenot) and Patricia Nolz (Mlle Dangeville) who act as Cilea's Greek chorus and comment from time to time on all the evolving intrigues.
Asher Fisch, the conductor, and the incomparable musicians of the Vienna State Opera Orchestra treated the music as if it were a first-rate score from a first-rate composer (which is debatable). There were any number of virtuosic solo contributions. Fisch took considerable care to avoid any sense of ennui; the music raced on, passionate, polished and luxurious sounding, notably in the Act II intermezzo. As all the best conductors of this opera will do, Fisch ratcheted up the tension almost unbearably in Act IV as Adriana relives her life on the stage and dies in Maurizio's arms.
Jim Pritchard