Germany Dresden Music Festival 2023 [3] – 29.5.2023, Semperoper, Dresden: 'Nils Landgren & Friends': Nils Landgren (trombone, vocals), Viktoria Tolstoy (vocals), Ida Sand (vocals, keyboard), Joel Lyssarides (piano), Simon Oslender (Hammond organ), Wolfgang Haffner (drummer), Thomas Stieger (bass). (MC)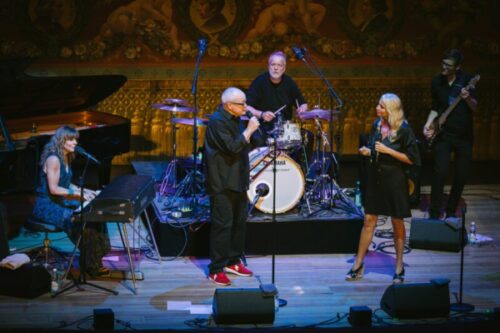 Works included: 'I Should Run'; 'Now is Not the Time'; 'Since I Fell for You'; 'Burning'; 'Calling You'; 'Get Here'; 'Same Old Story'; 'Love is Real'; 'Can't Help it'; 'As Long as You Love Me'
Dresden Music Festival concerts are primarily classical music events, nevertheless each season intendent Jan Vogler includes different types of music. Of particular interest to me was the set by Swedish trombonist, singer and producer Nils Landgren presenting his special eclectic blend of R&B, funk and jazz. As experienced at previous Landgren sets at the festival in Dresden it was difficult not to be energised by the fellowship of Landgren's considerable and enthusiastic following.
The set's title 'Nils Landgren & Friends' referred to Landgren's hand-picked band who are frequent collaborators (drummer Wolfgang Haffner, pianist Joel Lyssarides, bass guitarist Thomas Stieger with Simon Oslender playing Hammond organ). Featured too was Swedish vocalist Viktoria Tolstoy and Ida Sand also Swedish providing vocals and keyboard.
Renowned for his metallic red Yamaha trombone, Landgren's set contained songs and solos plus a substantial encore. All performed with his characteristically unruffled stage presence from which he radiates an irresistible energy. Hitting the spot was Landgren with the renowned number 'Get Here' a nostalgic and soulful ballad, best known in Oleta Adams's version, and perfect for Landgren's distinctive, husky warm tone, supported by Ida Sand's background vocals.
Mellow, warm and clear Viktoria Tolstoy's voice demanded attention and, yes, she is the two-times granddaughter of the great Russian novelist. Standing out was Tolstoy's singing of 'I Should Run' written by Ida Sand which despite its lyrics has an upbeat, carefree mood, and also lovely bluesy rendition of 'Since I Fell for You' an intense love song made famous by Nina Simone.
Making a memorable impression was singer songwriter Ida Sand with 'Now is Not the Time' her own song, sung with real assurance and utmost sincerity. Turning up the temperature was 'Burning' another Ida Sand number with a bass guitar solo from Thomas Stieger.
All the instrumentalists had the customary solo section to display their virtuosity. Standing out was Oslender's Hammond organ and Haffner's extrovert drumming, together with his humorous solo for two toy hammers.
Concluding the set was a reprise of the catchy 'Same Old Story' a B.B. King cover from the album 'Creole Love Call' by Landgren & Joe Sample. This is typical Landgren material, catchy, fun and undemanding with a foot tapping groove – the sort of piece that endears him to his fans. For an encore Landgren and his friends gave 'Love is Real' beginning with the words 'If we meet again' creating an apt ending to Landgren's magical set.
Dresden Music Festival 2023 [4] – 30.5.2023, Kulturpalast, Dresden: David Garrett Trio (David Garrett [violin], Franck van der Heijden [guitar], Rogier van Wegberg [bass]) and mixing desk.
The only previous occasion I have seen David Garrett perform was at Dresden Music Festival 2016 when he played the Tchaikovsky Violin Concerto with the Israel Philharmonic Orchestra conducted by Omer Meir Wellber at the Frauenkirche. At this concert Garrett seemed far more comfortable with the intimacy of playing as a trio with his friends, and closer to his audience.
Since March 2023 the David Garrett Trio has been on an extensive worldwide tour featuring works from 'ICONIC' his recent album on Deutsche Grammophon. Now the 'ICONIC' tour is in Germany and Garrett with his miked violin is accompanied by guitarist Franck van der Heijden and Rogier van Wegberg playing bass. There was also a mixing desk with a technician on the side of the stage, no doubt doing its magic supporting the sound. For atmosphere the auditorium lights were turned down with the stage illuminated by red lights on the back wall, and many candles at the front of the stage. For most of his time on the stage as a trio Garrett was the one spot lit.
Garrett's programme was selected to reflect the miniatures, lollipops and encore pieces that were especially prevalent in the early to mid-twentieth century known as the 'golden age', from legendary violin virtuosi such Arthur Grumiaux, Jascha Heifetz, Fritz Kreisler and Yehudi Menuhin and before that from George Enescu, Joseph Joachim and Pablo de Sarasate and Eugène Ysaÿe. Once much loved by audiences, the violin miniature has fallen out of fashion. On 'ICONIC' I notice that Franck van der Heijden and David Garrett arranged many of the works.
Unfailingly lyrical, accessible and memorable Garrett's programme of some 22 miniatures plus an encore piece each lasted some four minutes or so. Likely I felt the works would be too sweet toothed for my taste, and this would not normally be my concert choice. Nevertheless, I am so glad I did attend and even relished the toothsome melodies while soaking up the joyous atmosphere sat amongst the large number of Garrett's fans present. Garrett took all these works in his stride, concentrating on beauty of sound rather than bouncing around the stage accentuating his showmanship.
My personal favourites in these violin arrangements were Largo (Winter) from Vivaldi's The Four Seasons, the traditional Irish folk song Londonderry Air (Danny Boy) and Mozart's Rondo Alla Turca (Turkish March) from his Piano Sonata No. 11. I hoped that Garrett might include a few of my most admired miniatures in his programme, notably Elgar's Salut d'Amour and Chanson de Matin. No such luck this time. I should have known, as they weren't included on the 'ICONIC' album. All the concert programmes were snapped up by Garrett fans as souvenirs. The list below is my best guess at identifying each of the works that Garrett played; almost all are from his album 'ICONIC'.
As demonstrated by the large attendance Garrett has a strong fan following and in between each song he answered questions with humour supplied by audience members. Undoubtedly Garrett's interactions go a long way to establishing a connection with his audience and he can certainly be applauded for breathing new life into such beautifully melodic works of the repertoire.
Works included:
Manuel M. Ponce – Estrellita (Little Star)
Gluck – Orfeo ed Euridice: Mélodie
Dvořák – Romantic piece, Op.75, No.1
Paradis – Sicilienne
Vivaldi – The Four Seasons: Winter, RV297: Largo.
Saint-Saëns – Danse Macabre
Saint-Saëns – Le carnaval des animaux: Le Cygne
traditional – Londonderry Air (Danny Boy)
Dvořák – Songs My Mother Taught Me
Mozart – Rondo Alla Turca
Shostakovich – Prelude from 3 Violin Duets
J.S. Bach – Violin Concerto No.2 in E major, BWV1042: III. Allegro assai
R. Schumann – Träumerei from Kinderszenen, Op.15
Traditional – Greensleeves
Fauré – Après un rêve (After a dream)
Stephen Foster – Jeanie with the Light Brown Hair
Schubert – Ave Maria
Raff – Cavatina, Op.85 No.3
J.S. Bach – Violin Concerto No. 2 in E major, BWV1042: III. Allegro assai
Paganini – Moto perpetuo, Op.11
Kreisler – Schön Rosmarin (Lovely Rosemary)
Michael Cookson