Spain Verdi: Simon Boccanegra, Orchestra Comunitat Valenciana, Chorus Generalitat Valenciana, Evelino Pidò (conductor), Valencia's Palau de Les Arts, 27.3.2014 (JMI).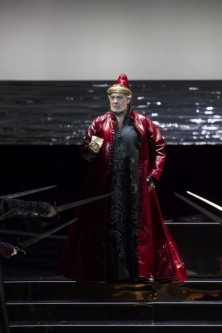 Cast:
Simon Boccanegra: Plácido Domingo
Amelia Grimaldi. Guanqun Yu
Jacopo Fiesco: Vitalij Kowaljow
Gabriele Adorno: Ivan Magri
Paolo Albiani: Gevorg Hakobyan
Pietro: Serguei Artamonov
Captain: Valentino Buzza
Maid: Chiara Osella
Production: Valencia's Palau de Les Arts
Direction: Lluis Pascual (original)
Leo Castaldi (revival)
Sets: Ezio Frigerio
Costumes: Franca Squarciapino
Lighting: Albert Faura
Valencia's regular opera season comes to an end with this Verdi opera. However, there is the upcoming Mediterranean Festival in June which will feature performances of La Forza del Destino and Turandot under the baton of Zubin Mehta. I will not miss the appointment.
This production of Simon Boccanegra premiered in March 2007 under Lluis Pascual. I could not see it at the time and therefore can't tell whether it has aged well or not, but it is not an interesting production, much less a brilliant one. Everything takes place in dark environments with the somber sea aways present at the back of the stage. It's a minimalist production with an almost bare stage except for some stands  for the Council scene and some mirrors for the Grimaldi mansion in the first act. Costumes respond to the historical era of the action, but they're not the best work that I have seen from Franca Squarciapino.
The stage direction is unconvincing. The chorus is static on stage and only a few extras occasionally make some movement. The direction of the actors is quite basic and characters like Paolo or Gabriele Adorno are rather colorless; obviously, Superman Domingo does not need to be told what to do in his character. The pivotal scene of the Council  was too flat.
This opera in the revised 1881 version has always held great appeal for the top conductors, and there are good reasons for this. The scene of the Council, to which I referred above, and the last act are among the best by Verdi. A great conductor is needed to do justice to this score, and I'll only refer to three of them. First, there's the great Claudio Abbado, to whose memory these performances in Valencia are dedicated; through his version I discovered and learned to love this splendid opera. Then there is Riccardo Muti, a Verdi conductor par excellence in recent years, whose reading of Boccanegra reaches sublime heights. Finally, I would mention Christian Thielemann, who rarely conducts the Italian repertoire but has chosen to do this opera next June in Dresden.
Simon Boccanegra is more than an opera: it's a fundamental work by Giuseppe Verdi and requires a top conductor. Evelino Pidò is one of the best specialists in the bel canto repertoire, but this opera, especially in the final version, falls clearly after that period and enters more deeply into what we can call drama in music. Mr. Pidò's reading here was insufficient to the demands of the score. Everything was controlled, everything in its place, but there was no dramatic strength, and it seemed more Donizetti than Verdi. The first part of the opera was particularly bland; things improved in the second half, but his conducting never flew high. The orchestra gave a decent performance, but I have seen better work from this excellent group.
Doge Boccanegra was played by Plácido Domingo, who made his debut in the character four years ago. I was impressed then  ̶  how could the 69-year-old singer  offer such intensity as a performer and such an exceptional vocal freshness  ̶̶  and I now have to repeat myself. He is a true miracle of nature, difficult to understand and even more difficult to see repeated. Still, he's a tenor, as he himself knows  perfectly and at no point pretends otherwise, singing in a very natural way. I found  his voice has darkened somewhat over the last years and the low notes now sound better than four years ago. What has not changed is the freshness of his timbre and the strength of his performance. Physically, he is in exceptional shape; I prefer not to think what might happen to me if I tried to emulate the death scene with that fall on stage.
One can't really compare him with the great Simons from the past or with the very few outstanding performers today: Plácido Domingo creates his own interpretation and he is most convincing. Great singers have always been scarce and great artists even more so. He is one of the very few in opera history who is both.
Soprano Guanqun Yu was back in Valencia in the role of Amelia Grimaldi. As on previous occasions, she offered a large and atttractive voice but rather impersonal singing.
Bass Vitalij Kowaljow gave a solid interpretation of Jacopo Fiesco. The current panorama of bass singers is dreadful, so it is not surprising that he has become one of the most sought-after performers today. One missed here a more important voice and a more important lower register, but there are not many alternatives.
Tenor Ivan Magri as Gabriele Adorno exhibited both the positive qualities and the defects one has experienced in the past. His tenor is attractive, but his singing is somewhat expressionless and monotonous.
Gevork Hakobyan was Paolo Albiani, and he was no more than serviceable. Sergey Artamonov was a luxury in the part of Pietro.
José Mª. Irurzun