United States Zoll, Hindemith, Brahms: Joshua Bell (violin), Atlanta Symphony Orchestra, Robert Spano (conductor), Symphony Hall, Woodruff Arts Center, Atlanta, 29.5.14 (DA)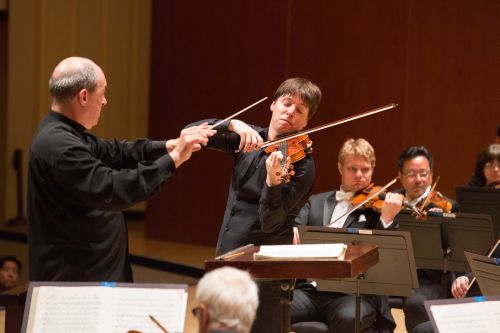 Zoll: Asimov at Star's End
Hindemith: Mathis der Maler Symphony
Brahms: Violin Concerto in D Major, Op.77
A Mule, a Plan, and a planet called Gaia? I've never read Isaac Asimov's science fiction, but now at least I can say I've heard one young composer's take on the Foundation books. Charles Zoll, a graduate student at McGill but a native of Tucson, Arizona, was the winner of last year's iteration of the Rapido! Composition Contest. It's a national competition based in Atlanta that, among other things, promises as its prize a commission to write for the Atlanta Symphony Orchestra. And here was the result.
Charmingly introduced by Zoll in a pre-filmed interview with conductor Robert Spano, Asimov at Star's End is a roughly twelve-minute piece that shows a young composer getting to grips with what an orchestra can do, seeing what might be possible, and where his ears could take him. The work takes its cues strongly from the fiction, as in a section near the start when horn cackles interrupt a static scene in which soloists have a good deal of freedom, illustrating the human agency liberated within that Plan. I did wonder whether we might have had some titular pointers on the big screens that had showed the interview, to help the uninitiated, but there was plenty to enjoy in the music alone. On this evidence, Zoll is at his best when dealing with ideas that are self-consciously out-there, when he works on instinct to think of instrumental combinations that might go well together. Funky rhythms might have been brought out by the slightly staid but never less than properly committed conducting and playing, and one or two sections felt ungainly. But there were some great moments here, especially in the calm fade for marimba and maracas (I think) that slowly ebbs the piece away.
Hearing Paul Hindemith's Mathis der Maler symphony straight after Zoll's new work certainly brought out the strangeness in a work we hear too infrequently. Based on music from the opera of the same name, Hindemith's symphony (premiered by Wilhelm Furtwängler, no less) comes in three movements, each of which is depictive of the drama. Spano and the ASO made little attempt to bring together lines that tend to seem awkwardly disjunctive, but in Hindemith's music that is often the point. While the orchestra lacks the heft and depth of tone that best bring out the troubled core of this work, their clarity meant the performance never stinted on brightness in the Engelkonzert or nastiness in the Versuchung des heiligen Antonius. The Grabelgung, a depiction of Christ's entombment, was touchingly done, gently paced and not without a sense of hope, a hope amply fulfilled in the blazing brass Alleluja that rounds off the work.
Hindemith had also featured in a series of chamber works that prefaced the main event, his lovely Morgenmusik for two trumpets, horn, and trombone concluding a concert that I caught just a few minutes of. Audience members are invited to sit in the orchestra's seats while a few players introduce shorter pieces. It seems a popular invention, and certainly a worthwhile addition to the regular routine.
The other work I heard then was a rather iffily played brass arrangement of a Brahms chorale prelude, which looked forward to the main event on the evening's program. Joshua Bell's solo work in the Brahms concerto was par for the course: impeccable, usually tasteful, long of line, and never pushing the envelope too far in terms of novelty. At least he interpolated his own cadenza for the first movement, a flitting buzz of distorted themes, rather than relying on Joachim's. In a concerto that often sees the orchestra take a dominant role, Spano's reticence was surprising. This was nice enough, but the businesslike orchestral work left it all somewhat lacking in drama and character.
David Allen