United Kingdom Puccini: Madam Butterfly: Soloists, Chorus and Orchestra of Welsh National Opera / Andrew Greenwood, Venue Cymru (North Wales Theatre), Llandudno, 6.4.2017. (RJF)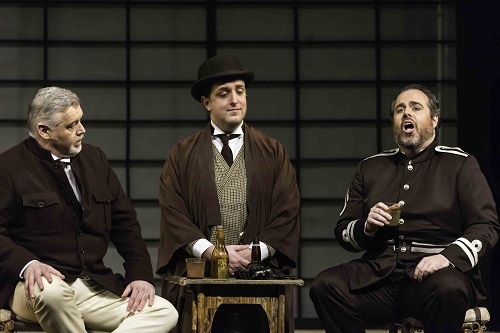 Cast:
Lieutenant Benjamin Franklin Pinkerton, – Jonathan Burton
Goro, marriage broker, – Simon Crosby Buttle
Suzuki, a servant – Rebecca Afonwy-Jones
Sharpless, the American Consul – David Kempster
Cio-Cio-San (Madam Butterfly) – Linda Richardson
Her Cousin – Meriel Andrew
Her Mother – Monika Sawa
Her Aunt – Carolyn Jackson
The Imperial Commissioner – Martin Lloyd
The Bonze – Richard Wiegold
Prince Yamadori Alastair Moore
Kate Pinkerton – Sian Meinir
Production:
Original Director – Joachim Herz
Revival Director – Sarah Crisp
Designer – Reinhart Zimmermann
Costume Designer – Eleonore Kleiber
Chorus Master – Stephen Harris
Original Lighting Designer – John Waterhouse
Musical Preparation – Stephen Wood, Russell Moreton
Staff Director – Christopher Moon-Little
Language Coach – Paula Quaglia
Production Manager – Robert Pagett
Stage Manager – Julia Carson Sims
It was the March 2013 season that WNO last paraded this production in Llandudno and October 2009 before that. If the adage of its not broken don't fix it is applicable, I often wish it applied, as here, more often in opera. Nearly forty years old this Joachim Herz production can stand alongside the likes of Covent Garden's La bohème directed by John Copley and English National Opera's Rigoletto directed by Jonathan Miller as being a banker that portrays a composer's intentions and satisfies the audience who get the message and flock to the box office. There were few vacant seats in Venue Cymru for the two performances this visit. It simple set is an added advantage of looking apt as well as being superbly functional. It is also, I guess, easily, and therefore cheaply, storable between outings.
The evening started well musically with Andrew Greenwood wholly conversant with both the music and the idiosyncrasies of the theatre acoustic. At no point, throughout the evening did he overdo the orchestral dynamics whilst always supporting his singers yet bringing out the drama of the music as only a former répétiteur and chorus master can. He had the advantage of principals well up to their task, albeit American tenor Jonathan Burton was not up to the high standard set by local boy Gwyn Hughes Jones in 2013 and whose beefy tenor has gone on to make an impact at some very auspicious operatic addresses. Cheshire's Linda Richardson was vocally and histrionically outstanding in the title role, her voice soaring or agonising as the words and situations required; her acted portrayal matching her vocal strengths. Both acted and vocal characterisations were similarly present in David Kempster's avuncular Consul. His every movement and vocal nuance added to the intimacy or drama of the scenes in which he appeared. His movement to take up a contract in Denmark will leave WNO with a casting gap to fill in the baritone repertoire where he has been a regular and dependable voice in recent years. Rebecca Afonwy-Jones' Suzuki was not the most convincing actress as Suzuki, but her vocal contribution was strong and distinctive. Simon Crosby Buttle was a smarmy Goro and the other minor parts were all well taken.
Using Julian Smith's conflation of the three versions of the opera that Puccini contrived it is appropriate that the original production was by Joachim Herz with whom he worked closely. I did, however, wonder if the revival director had abbreviated the vigil the women make as they vainly await sight of Pinkerton's ship. Or maybe I have seen too many Butterflies! Certainly this performance justified the attendance and applause at the conclusion.
Robert J Farr