United Kingdom Puccini: La bohème: Soloists, chorus and orchestra of Welsh National Opera / Manlio Benzi (conductor). Venue Cymru (North Wales Theatre), Llandudno. 5.4.2017. (RJF)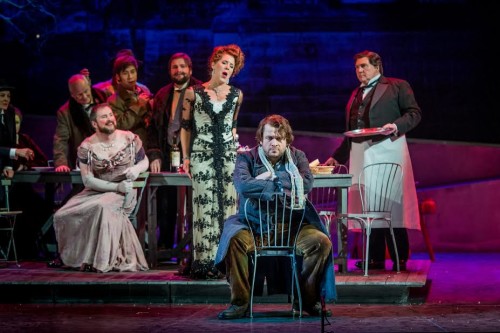 Cast:
Mimì – Marina Costa-Jackson
Rodolfo – Dominick Chenes
Musetta – Lauren Fagan
Marcello – Gary Griffiths
Colline – Jihoon Kim
Schaunard – Gareth Brynmor John
Benoit – Howard Kirk
Alcindoro – Martin Lloyd
Parpignol – Michael Clifton-Thompson
Customs Official – Laurence Cole
Customs Sergeant – Alastair Moore
Production:
Original Director – Annabel Arden
Revival Director – Caroline Chaney
Designer – Stephen Brimson Lewis
Lighting Designer – Tim Mitchell
Video Designer – Nina Dunn
Chorus Master – Stephen Harris
Annabelle Arden's production of La bohème was last seen in Llandudno as recently as October 2012. At that time I admired the traditional production amid the naturalness of the set aided as it was by imaginative lighting and projections that opened with the scenic effect of the roofs of Paris from the student's garret.  However, in Act IV the system hit problems with the view appearing to be hit by an electric storm as the light flickered, it was a small inconvenience compared with the ambience and sheer beauty of the snow scene of Act III, albeit the space separation of Mimì as Rodolfo explains his worries about her health was inadequate. More severe failings were on the musical side, particularly in Act I when conductor Manlio Benzi let the orchestra rip and ruin that lovely fifteen minute or so sequence of 'Che gelida manina', Mimi's response in 'Si, Mi chiamano Mimì' and then their duet 'O soave fanciulla'; one of the best fifteen minutes in Italian opera. Both singers ended up in a near shouting situation as they struggled to be heard. Benzi is not the first to find the acoustic of Venue Cymru difficult to handle, he could have gained much listening to how Andrew Greenwood, who knows the theatre, handled the climaxes in Butterfly the following night.
Thankfully Benzi handled the subsequent orchestral climaxes far better and Act II, with Lauren Fagan a tall elegant Musetta using her stage presence and vocal skill and allure to keep our minds on the story, her 'Waltz Song' was superb as was her compassionate playing of the role in Act IV as she gave up her jewels so that the dying Mimì might expire with warm hands. What the drag queen was about at the Café Momus I do not know, nor why the deceit of Musetta's patron, so that he paid the l'addition (bill), was so underplayed, it must have been a quirk of one of the directors, I certainly did not note the deficiency in 2012. As Musetta's suitor Gary Griffiths sang well and acted the role of frustrated lover to perfection along with that of would be painter among the student's larking about. Excellent singing was also in evidence from Jihoon Kim as Colline whose farewell to his overcoat was as sonorous as it was sincere.
After their abuse in Act I by the overloud orchestra I was pleased that both tenor and soprano recovered so well, she better than he. In many ways, I was disappointed with Dominick Chenes as Rodolfo. He lacked vocal brio and acting skill found in other American tenors imported by WNO in recent years. Marina Costa-Jackson as Mimì recovered well from the vicissitudes of Act I to sing and act convincingly in the two final acts. Her death scene lacked poignancy, a lack on the director's part rather than the singers? Did I blink or were Rodolfo's two despairing calls of Mimì at the conclusion missing? Unusually in this opera I left dry eyed at the end.
Robert J Farr