Austria Einem, Dantons Tod: Soloists, Vienna State Opera Chorus (chorus master: Martin Schebesta), Vienna State Opera Orchestra / Susanna Mälkki (conductor). Vienna State Opera, 3.4.2018. (MB)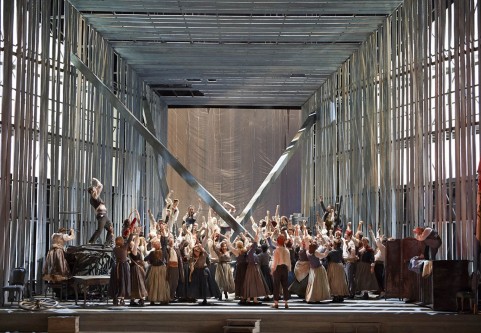 Cast:
George Danton – Wolfgang Koch
Camille Desmoulins – Herbert Lippert
Hérault de Séchelles – Jörg Schneider
Robespierre – Thomas Ebenstein
Saint-Just – Ayk Martirossian
Herrmann – Clemens Unterreiner
Simon – Wolfgang Bankl
Young Man/First Executioner – Wolfram Igor Derntl
Second Executioner – Marcus Pelz
Julie – Alexandra Yangel
Lucile – Olga Bezsmertna
A Lady – Ildikó Raimondi
A Woman – Lydia Rathkolb
Production:
Josef Ernst Köpplinger (director, lighting)
Rainer Sinell (set designs)
Alfred Mayerhofer (costumes)
Ricarda Regina Ludigkeit (assistant choreographer)
The major composer anniversary – in the strict sense, not including deaths – of 2018 is perhaps that of Bernd Alois Zimmermann. Zimmermann, alas, still needs all the help he can get, given a general silence from conservative, or rather reactionary, performing organisations. (I shall, however, shortly be reporting from an ORF Symphony Orchestra concert, including his Trumpet Concerto, 'Nobody knows de trouble I see'.) Devotees of Leonard Bernstein will doubtless hear much of his music; whatever one thinks of it, it is hardly neglected. What, though, of other composers, still less celebrated? Anniversaries can prove genuinely useful in their case. Another hundredth birthday is that of the Austrian composer – often emphatically presented as such – Gottfried von Einem (1918-1996).
If hardly the most proselytising of houses for contemporary opera, at least since Mahler and Strauss, the Vienna State Opera certainly did its bit for Einem, including two world premieres. A staging of his first opera, Dantons Tod, written between 1944 and 1946 and premiered at the 1947 Salzburg Festival, thus has its roots in tradition: never a bad thing in Vienna – although ask Mahler for a second opinion on that. Offering works, whether entirely forgotten or just neglected, a new hearing is also never a bad thing. I am genuinely grateful to the State Opera for affording me, and indeed the wider world, the opportunity to see the opera in the theatre. Alas, I cannot say that I should rush to see, or indeed to hear, it again; yet far better that than the umpteenth revival of something whose place in the repertory remains a mystery to most of us in the first place. It has its cautious advocates, moreover, not least my friend and colleague Erik Levi, who, whilst voicing reservations, nevertheless ultimately describes it as 'the most consistently impressive' of Einem's 'operatic compositions'. If so, I am afraid I certainly should not rush to hear the rest. HK Gruber, another composer I have also so far proved incapable of 'getting', is one of many appreciative voices raised in the house's handsome, invaluable programme documentation.
At the score's best, there is enough imitation Hindemith and Stravinsky to keep the musical clock ticking over. I struggled, though, to discern an individual voice. Perhaps we become too hung up on that; this was, after all, a first opera. What I found more disconcerting, though – and not in a productive way – was the seemingly arbitrary musical progress. A bit of reheated Hindemith here, a slightly Stravinskian ostinato there, some competent if predictable choral exchanges there: what does it all add up to? It does not seem to be a declaration, avant la letter de Zimmermann, of exuberant polystilism. Nor do such changes, leaving aside a great deal of frankly nondescript writing, seem to have much basis in or relationship to the libretto, whose fashioning from Büchner by Einem and Boris Blacher again seems to dart all over the place for no particular reason.
It is not overly long, though: about an hour and a half. And there are a good few occasions to be impressed by a fine orchestra, chorus, and singers – which I certainly was. I cannot imagine – although how should I know? – that this would necessarily have been Susanna Mälkki's first choice of opera to conduct, but she certainly did it proud, as did the Orchestra and Chorus of the Vienna State Opera. A full, warm sound did not detract from precision. Pacing seemed ideal, as did the attempt to integrate obvious influences within a dramatic flow. I cannot readily imagine it being performed better. The opera is similarly unlikely to have a better Danton than Wolfgang Koch, whose attention to musical line and words showed all the care, and ultimately the charisma, he would have brought to Wotan or Amfortas. Jörg Schneider's Hérault de Séchelles impressed throughout too, as did the dark-hued, forbidding Saint-Just of Ayk Martirossian. Olga Bezsmertna certainly made what she could of Lucile (Desmoulins), who threatened to become a far more interesting character than ultimately the work ever seemed quite to permit.
Alas, Herbert Lippert, as her husband, proved less than ingratiating of tone, without obvious dramatic recompense. Thomas Ebenstein seemed somewhat hamstrung by a strange, foppish conception of Robespierre (both in work and staging, I think), yet he did what he could. I could not help, however, but wonder whether the opera needed something more interventionist than Josef Ernst Köpplinger's seemingly non-ironic musical-style staging. It might actually have been a West End musical version of A Tale of Two Cities. There is nothing intrinsically wrong with setting the work where it 'should' be, but there was not a great deal to glean beyond (too pretty) period costume. Might it not perhaps have been more illuminating to consider the context in which Einem wrote the work? The initial inspiration, after all, seems to have been the failed assassination attempt on Hitler in 1944. That would surely have been something to work with – not least for a non-Jewish composer posthumously honoured by Yad Vashem as 'Righteous among the Nations'.
Mark Berry