United Kingdom Strauss, Ariadne auf Naxos: Soloists, Chorus and Orchestra of Scottish Opera / Brad Cohen (conductor), Edinburgh Festival Theatre, 7.4.2018. (SRT)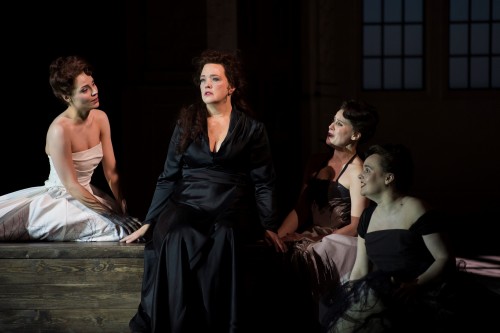 Cast:
Ariadne – Mardi Byers
Bacchus – Kor-Jan Dusseljee
Composer – Julia Sporsén
Zerbinetta – Jennifer France
Music Master – Sir Thomas Allen
The Party Planner – Eleanor Bron
Dancing Master – Alasdair Elliott
Scaramuccio – Daniel Norman
Harlequin – Alex Otterburn
Truffaldino – Lancelot Nomura
Naiad – Elizabeth Cragg
Echo – Lucy Hall
Dryad – Laura Zigmantaite
Brighella – Elgan Llyr Thomas
Production:
Director & Designer – Antony McDonald
Lighting – Wolfgang Göbbel
Ariadne auf Naxos is a problematic work at the best of times, with its hybrid structure of 'Opera' and 'Prologue', and the composer's intentional embrace of contrast rather than coherence. That can be a virtue in the right hands, though aspects of tonight showed that the contrasts can cause hazards too.
Too much of the opening Prologue was misjudged. For one thing, it was sung in English while the Opera was sung in German. Nothing wrong with that per se, and you could argue that it suits the dramatic conceit very well. Much of Helen Cooper's translation was clumsy and ill fitting, however – describing the opera as 'shit' was cheap and unbecoming – and Eleanor Bron camping it up as the servant of the 'richest man in Glasgow' wore thin pretty quickly. Nor was the physical comedy of the first half particularly engaging, with the comedians seeming threatening rather than appealing.
Nevertheless, it was anchored by a very appealing Composer in soprano Julia Sporsén, whose warm, throbbing voice exemplified all of the young artist's creativity and virility, and her scene with Jennifer France's Zerbinetta was beautifully insightful, not least because of the gender-bending implications it contained. Furthermore, it was a luxury cameo having Thomas Allen as the Music Master. His voice is a shadow of what it was, but in this brief role his lifetime of artistry oozes through every syllable, and he had by far the best diction of anyone in the cast.
Things picked up noticeably for the 'Opera' itself, anchored by Antony McDonald's shadowy set that evoked the Satis House of Great Expectations, and the singing was as fine as any I have heard from Scottish Opera since their marvellous Pelléas of last year (click here). Mardi Byers took a while to settle into the role of Ariadne but had all the richness of the part when she did so, and made a refulgent contrast to the brilliantly brittle Zerbinetta of Jennifer France, who sang her aria perfectly while simultaneously doing a striptease and swinging on a trapeze. It is a rare thing to hear Bacchus sung with any confidence at all, and to hear Kor-Jan Dusseljee sing it with such richness and security was a special treat. The three nymphs blended together magically, and the quartet of comedians sounded super, anchored by the youthful Harlequin of Alex Otterburn.
McDonald's production dressed the 'high' characters in opulent costumes, while anchoring the 'low' ones in the world of circus and cabaret, and it worked very well, as did Brad Cohen's transparent direction of the orchestra who, after a decidedly ropey start to the Prologue, conjured up all of Strauss's refulgent majesty in the second half. It was proof that, when you let the music speak for itself, there's little more that you need to do.
Simon Thompson