United States Beethoven, Prokofiev, Enescu: Seattle Chamber Music Society – Cynthia Phelps (viola), Cameron Crozman (cello), Karen Gomyo (violin), Max Levinson (piano), James Ehnes (violin), Alexander Kerr (violin), Jun Iwasaki (violin), Stephen Rose (violin), Maiya Papach (viola), Rebecca Albers (viola), Raphael Bell (cello), and Bion Tsang (cello), Illsley Ball Nordstrom Recital Hall, Seattle, 13.7.2018. (ZC)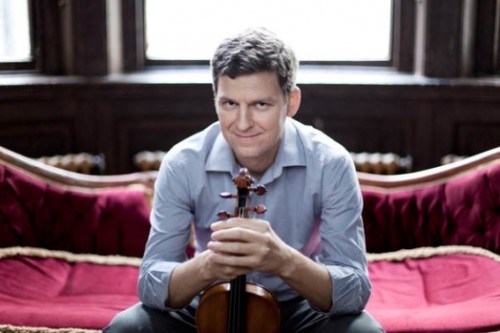 Beethoven – Duet for Viola and Cello in E flat major 'With Two Eyeglasses Obligato' WoO.32
Prokofiev – Sonata No.2 for Violin and Piano in D major Op.94a
Enescu – Octet for Strings in C major Op.7
George Enescu, who wrote his Octet for Strings at the tender age of 19, once commented that the piece was a 'transitional work' — bridging the naivete of his youth with the seriousness of purpose expected of adults. With rich scoring and exhaustive thematic development, Enescu produced a sophisticated, probing masterpiece. Rather than a few identifiable motifs, Enescu uses multiple themes that he ceaselessly manipulates for the duration. While the scoring is complex and the scope symphonic, the composer preserves the individuality of each voice.
Though played as one continuous movement, the piece has four distinct sections. The broad opening movement sets the scale, while a scherzo and slow movement provide both passion and contrast. A final waltz returns the players to the opening power. This massive work — it lasts about 40 minutes — closed out this Seattle Chamber Music Society concert. For the performance, the Society's Artistic Director James Ehnes cultivated a strong cast of musicians. Ehnes and his associates easily tackled Esescu's moods and virtuosic passages, with the eight individual voices bouncing and blending effortlessly.
The Octet was preceded by Prokofiev's Sonata No.2 for Violin and Piano, originally conceived for flute and piano, but rearranged—a wise decision. Karen Gomyo, violin, and Max Levinson, piano, opted for an intense, almost violent interpretation. Gomyo dug into passages, refusing to be lulled by Prokofiev's lyricism. Levinson, for his part, matched Gomyo with his own fiery playing. In the final movement, both musicians played with the abandon I usually associate with a concerto.
The evening began with Beethoven's short, charming Duet for Viola and Cello in E flat major, 'With Two Eyeglasses Obligato'. As a violist, Beethoven wrote the piece to be played with his friend, an amateur cellist. For this performance, Cynthia Phelps — a festival regular and celebrated principal viola with the New York Philharmonic — engaged in a pleasant, easy-going, mannered dialogue with cellist Cameron Crozman. It proved a joyful contrast to the weightier and intense works that came later on the program.
Zach Carstensen