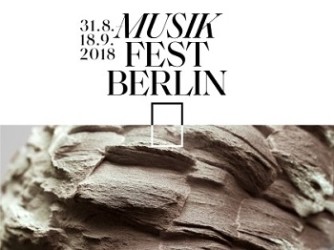 Germany Musikfest Berlin 2018 [6] – Boulez, Ravel, Ligeti, Benjamin: Cédric Tiberghien (piano), ChorWerk Ruhr, Berliner Philharmoniker / George Benjamin (conductor), Philharmonie, Berlin, 8.9.2018. (MC)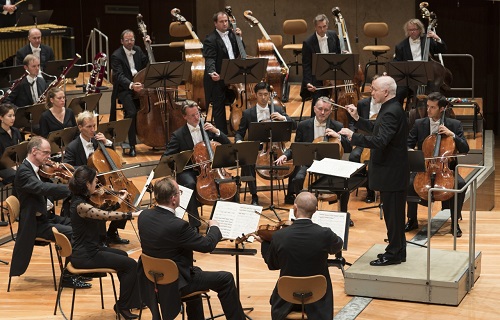 Boulez – Cummings ist der Dichter, for sixteen solo voices and orchestra (1970, revised 1986)
Ravel – Piano Concerto for the left hand (1929-30)
Ligeti – Clocks and Clouds, for twelve-part women's choir and orchestra (1972-73)
Benjamin – Palimpsests, for orchestra (1998-99, revised 2002)
It says a lot for the popularity of Berliner Philharmoniker that for a programme of mainly challenging music it attracted the largest audience at Philharmonie I have seen so far during this Musikfest Berlin. It's a shame it was one of the shortest programmes I've experienced too.
Boulez was arguably classical music's pre-eminent figure in the second half of the twentieth-century. One of his key works was Cummings ist der Dichter, for sixteen solo voices and instruments written in 1970, and revised in 1986. During a trip to America in 1952 Boulez was captivated by the work of radical poet Edward Estlin Cummings for his novel method of employing punctuation and typography and Boulez uses his text here. Although not without its challenges, Cummings ist der Dichter feels like one of Boulez's most approachable works with such innovative use of harmonies and timbre that felt startling and often sophisticated. Admirable was the way the players brought out lambent light and shaped movement so effectively. High on accuracy and expertise, the singing of ChorWerk Ruhr when combined with the instrumental playing created a magical effect.
Apart from being a work by another French composer, I'm not sure of the thinking behind including Ravel's Piano Concerto for the left hand on the programme. Nevertheless, it's a striking work that Ravel completed in 1930 for pianist Paul Wittgenstein who lost his right arm during World War One. Renowned for its technical difficulty the score is a tour-de-force and French soloist Cédric Tiberghien brought out the warmly lyrical, romantic side of the writing while the orchestra provided colourful surges of drama. This was my first look at Tiberghien who played assuredly with style and concentration that made me want to hear him perform one of the big concertos such as those by Brahms and the third by Rachmaninov.
After the interval the concert continued with Ligeti's Clocks and Clouds scored for twelve-part women's choir and orchestra. With the title borrowed from a scientific paper by philosopher Karl Popper, the score, completed in 1973, combines the composer's proclivity for intricacy mixed with rich creativity. Ligeti, the post-war modernist composer who is admired by some and feared by others, is in Clocks and Clouds using, according to the composer, 'diatonic melody and harmony, coloured with micro-intervals'. The playing of the Berlin orchestra was remarkable in its cool precision, seemingly relishing the challenges of successfully achieving the complexity of the writing. I could tell that many audience members were fascinated by the twelve women members of ChorWerk Ruhr using their individual tuning forks to assist in finding pitch. It was the persistence of the drone sound passed between the strings that I found mesmerising. Uncommonly accurate singing together with an impeccable orchestral sound merged to produce intricate detail and wide array of colours.
The final work was one of conductor George Benjamin's own compositions. Benjamin sprang to fame in 1980 with his orchestral work Ringed by the Flat Horizon that was performed at the Proms. The wave of enthusiasm quickly died down and it was some thirty years later before his acclaimed opera Written on Skin, premièred in 2012 put his name back on the map. Tonight's work was Palimpsests for orchestra with part one written to mark Boulez's seventy-fifth birthday in 2000 and then a second part completed in 2002. Palimpsests is a term to describe a page from a mediaeval or ancient manuscript from which the writing has been removed so that the page can be reused. Benjamin has stated that his Palimpsests functions 'with these different layers superimposed over each other'. With moderate concentration I found Palimpsests an accessible score which demonstrated Benjamin's astute and individual treatment of form and colour, and how contrasts flourish.
As a conductor Benjamin did all that was asked but I don't especially see him as an inspirational leader. Clearly the outstanding singers of ChorWerk Ruhr were impeccably prepared by Matilda Hofman who should take real credit. The playing of the Berliner Philharmoniker was admirable, conveying a strong sense of naturalness in this concert of complex music performing with a quiet confidence, devoid of strain and to the highest degree of precision.
Michael Cookson