United Kingdom English National Ballet's Digital Season: Five films released for rental via Ballet on Demand (click here), part of the company's new video platform, ENB at Home, between 23 November and 21 December. (JO'D)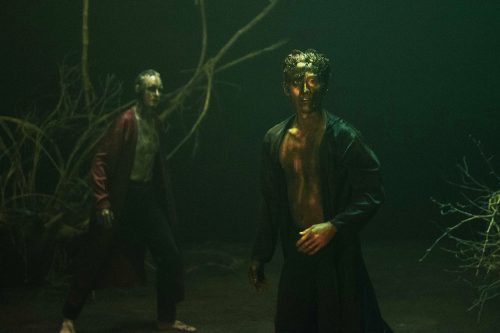 A handheld camera that moves among the dancers; cuts and edits; the use of slow motion and black and white: cinematic techniques are at the forefront of these five dance films, released between 23 November and 21 December. Credits give the title of the piece, the name of the choreographer, then add: 'A film by…'
Even the filming is filmed, for behind the scenes 'documentaries' (by Michael Nunn and William Trevitt) that follow each dance piece. Also included in these are interviews with choreographers and dancers, sometimes on the subject of dance and film. Nowhere is there an attempt to convey the sense of a live event in an auditorium. This is film as film.
As for the dance, it focuses on what Jason Kittelberger, Assistant Choreographer to Sidi Larbi Cherkaoui on Laid in Earth, calls 'the current rep' that Artistic Director, Tamara Rojo, has slowly added 'more and more of' to English National Ballet's own repertoire.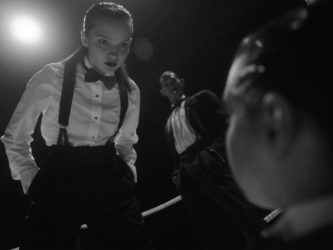 In the interviews, the classically trained dancers make frequent reference to the challenges of the contemporary choreography. 'You have to be friends with the floor,' says Ken Saruhashi in the documentary on Arielle Smith's Jolly Folly. As an afterthought he adds: 'In ballet we have to be grounded as well.' 'Like the ocean!' exclaims Fernanda Oliveira when describing the movement style of Russell Maliphant's Echoes.
The camera leans in on Stina Quagebeur's studio-set Take Five Blues (released on 23 November), a dance competition that mixes the classical and the contemporary and leaves the men on the floor, the women upright above them. Black and white and facets of light through haze give a Soviet aesthetic to Yuri Possokhov's quartet, Senseless Kindness (to music by Shostakovich). Close-ups, and perhaps the influence of Pasolini, mark Sidi Larbi Cherkaoui's Laid in Earth. Designer Michael Hull's dappled light has always been intrinsic to the work of Russell Maliphant. For Echoes, the camera only needs to film it.
Most obviously cinematic of all is Arielle Smith and Amy Becker-Burnett's shimmering homage to the 'silent' films of Charlie Chaplin, Jolly Folly. Down to its closing credits, which run to the digital recreation of the crackle of celluloid passing through a projector.
And what of the dancers? In this instance they often take second place to the visual effects, their movements cut up, cut short. Along with what they do it is what they say in the interviews, about the choreography, about the lockdown, that counts. But they are all there: Alison McWhinney and Francesco Gabriele Frola, Precious Adams and Erina Takahashi. Rhys Antoni Yeomans dances Jolly Folly as if to the manner born.
One of the most interesting 'dance' moments comes in the documentary after Senseless Kindness. 'Use your shoulders,' Yuri Possokhov tells his dancers in rehearsal. 'Because shoulders give you movement. But you're just arms.' As he speaks Possokhov demonstrates. A former dancer with the Bolshoi Ballet, the Royal Danish Ballet and San Francisco Ballet, he shows how much a dance training can remain inside a body that is no longer sleek and young.
John O'Dwyer
23 November: Take Five Blues
Choreography – Stina Quagebeur
Filmmaker – Shaun James Grant
Music – Bach's Vivace and Paul Desmond's Take Five
(arranged and performed by Nigel Kennedy)
Costume designer – Stina Quagebeur
Dancers – Aitor Arrieta, Matthew Astley, Fernando Carratalá Coloma, Henry Dowden, Shiori Kase,
Katja Khaniukova, Rentaro Nakaaki, Angela Wood
30 November: Senseless Kindness
Choreographer – Yuri Possokhov
Filmmaker – Thomas James
Music – Shostakovich Piano Trio No.1
Music director and Conductor – Gavin Sutherland
Musicians – Matthew Scrivener (violin), Garry Stevens (cello), Julia Richter (piano)
Costume Design: Federica Romano
Dancers – Francesco Gabriele Frola, Emma Hawes, Isaac Hernández, Alison McWhinney
7 December: Laid in Earth
Choreography – Sidi Larbi Cherkaoui
Filmmaker – Thomas James
Music – Purcell's Dido and Aeneas, arranged by Gavin Sutherland, with new compositions by Olga Wojciechowska
Music director and Conductor: Gavin Sutherland
Musicians – Matthew Scrivener (violin), Garry Stevens (cello), Julia Richter (piano)
Guest Singer – Flora McIntosh (mezzo-soprano)
Costume design: Dries Van Noten
Dancers – Precious Adams, Jeffrey Cirio, James Streeter, Erina Takahashi
14 December: Echoes
Choreography – Russell Maliphant
Filmmakers – Michael Nunn and William Trevitt
Sound designer – Dana Fouras
Video designer – Panagiotis Tomaras
Costume designer and Supervisor – Stevie Stewart
Dancers – Fernanda Oliveira, Fabian Reimair, Isabelle Brouwers, Eireen Evrard, Giorgio Garrett,
21 December: Jolly Folly
Choreography – Arielle Smith
Filmmaker – Amy Becker-Burnett
Music – Klazz Brothers – Classic meets Cuba: Symphonic Salsa (Cuba Danube/Cuban Sugar/Kubanischer Marsh)
Design – White cyc
Costume design – Arielle Smith
Dancers – Georgia Bould, Joseph Caley, Julia Conway, Daniel McCormick, Ken Saruhashi, Francesca Velicu,
Erik Woolhouse, Rhys Antoni Yeomans