United States Various: Augustin Hadelich (violin), San Francisco Symphony / Esa-Pekka Salonen (conductor). Davies Symphony Hall, San Francisco. 17.6.2021. (HS)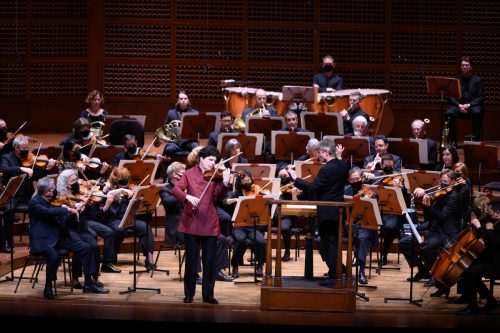 R. Strauss – Serenade in E-flat major
Daniel Kidane – Be Still
Brahms – Violin Concerto in D major
Violinist Augustin Hadelich is more than a flashy fiddle player. Oh, sure, he can dazzle by tossing off the most challenging of passages as if they were easy, and the tonal variety he draws from his 1723 Stradivarius makes it seem like a jewel glinting in the light. Hadelich delivered a polished, intimate take on the Brahms Violin Concerto and this Davies Hall concert was San Francisco Symphony's first live one to include woodwinds and brass.
Hadelich's performance included a superb cadenza of his own making. Brahms did not actually write out a cadenza for its traditional appearance near the end of the first movement, rare among major violin concertos. Joseph Joachim, the violinist who debuted the work and to whom Brahms dedicated it, supplied a cadenza, and it has become the one heard most often. An impressive list of virtuosos have also written their own, including Fritz Kreisler, Nigel Kennedy and Joshua Bell. Ruggiero Ricci alone penned 16.
Hadelich's contribution plays to his strengths. He did not embroider the familiar themes and gestures of the concerto's first movement with show-off variations. He developed them like a composer might in a symphony, using strands of the music already heard to create something new, yet making it fit into the language of the whole piece.
Hadelich, who can play double stops and triple stops effortlessly, uses them to flesh out the melodies as if his violin could channel the whole orchestra playing along with him. The cadenza begins softly, caressing phrases from the opening theme, reassembling them into something fresh. He waited until the cadenza reached a climax before inserting finger-busting runs, then cooled things off to finish with a tenderness that led seamlessly into the orchestra's gentle return for the final measures.
This concert also marked music director Esa-Pekka Salonen's return to the podium since he led a special concert in early May exclusively for invited medical heroes of the pandemic. The orchestra gave off an energy that had not been present under a series of guest conductors.
This held true even in the ensemble's long opening statement in the opening Allegro non troppo. If Salonen emphasized the 'non troppo' part with a stately tempo, the music never dragged, and it set up Hadelich's sweet, simply stated entrance beautifully. The interplay between soloist and orchestra, heartfelt as it was, might have benefited from a little more restraint, as the orchestra something seemed two or three decibels too forceful in the outer movements to let us hear all the delicate details in Hadelich's playing.
The Adagio, however, was absolutely magical, with just enough hesitation here and there to let the music breathe. In the finale, the sense of rhythm in Hadelich's double stops and the orchestra's pace created a lively spark.
Hadelich's encore, after an enthusiastic ovation, took an unexpected detour into a sort of boogie-woogie in 5/4 time: 'Louisiana Blues Strut: A Cakewalk', a sample of down-home fiddle virtuosity written in 2002 by Coleridge-Taylor Perkinson, among the many previously undervalued Black composers getting their due these days in classical concerts. Hadelich made it swing.
The program began by celebrating California's recent lifting of mask requirements with a piece written for an ensemble of instruments that require players to expel air. Even though Richard Strauss was still in high school in 1881 when he wrote the Serenade in E-flat major, it showed occasional glimpses of harmonies and gestures that we might recognize as Straussian as it ambled along at a moderate pace.
In a direct nod to our shared year of solitude, Salonen included a contemporary work, giving the US debut of an ambient-music piece by the young British composer Daniel Kidane. Written in late 2020, it reflects on what was going through his mind as he sheltered in place from the pandemic last year. The Manchester Camerata and conductor Pekka Kuusisto (a San Francisco Symphony collaborative partner) debuted the piece in a January video. Unfolding slowly, it created a palpable sense of ennui with slowly shifting chords and sustained pedal tones, some of them played on bowed crotales. The final measures, a wistful violin-crotale duet, achieved a measure of beauty.
Hadelich, Salonen, Brahms and the orchestra then snapped us out of the ennui.
Harvey Steiman
For more about San Francisco Symphony click here.