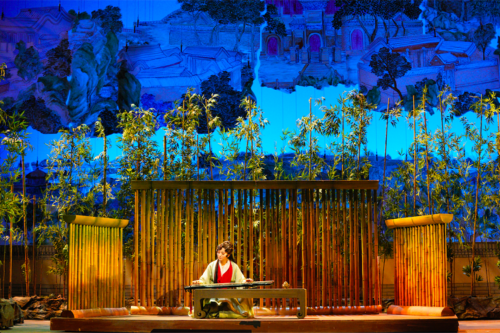 United States Bright Sheng, Dream of the Red Chamber: Soloists, Chorus and Orchestra of San Francisco Opera / Darrell Ang (conductor). War Memorial Opera House, San Francisco, 14.6.2022. (HS)
Production:
Director – Stan Lai
Libretto – David Henry Hwang
Production designer – Tim Yip
Lighting – Gary Marder
Revival Choreographer/Dance Master – Colm Seery
Chorus director – John Keene
Fight director – Dave Maier
Cast:
Dai Yu – Meigui Zhang
Bao Yu – Konu Kim
Lady Wang – Hyona Kim
Princess Jia – Karen Chia-ling Ho
Bao Chai – Hongni Wu
Granny Jia – Sabina Kim
Aunt Xue – Guang Yang
Monk/Dreamer – Francis Jue
Maid – Gabrielle Beteag
Stone (voice)/Eunuch – Victor Cardamone, Edward Graves, Timothy Murray
Flower (voice)/Lady-in-Waiting – Gabrielle Beteag, Elisa Sunshine, Esther Tonea
Back in 2016, the opening weekend of the San Francisco Opera season featured the world première of Dream of the Red Chamber, composer Bright Sheng and librettist David Henry Hwang's setting of a novel centered on palace intrigue and a mythical, 3000-year-old love. The 1791 novel by Cao Xueqin brims with all the makings of a juicy opera, including clashing clans, colorful characters, yearning lovers, human frailty and deaths. With a mostly Asian cast, it played to sold-out houses in a city with a big population of Asian heritage.
The opera toured Hong Kong and mainland China the following year, but it never gained a foothold in major opera houses. For this revival, which opened Tuesday, Hwang and Sheng made some cuts to streamline a bulky first act, but the plusses and minuses of the 2016 première remain. Among the positives, the primary singers, mostly new to San Francisco Opera, boasted gorgeous voices and plenty of presence as they performed before strikingly beautiful scenery by designer Tim Yip.
And, oh yes, it finished with an unforgettably haunting final scene.
Sheng's musical language combines long, lyrical vocal lines against instrumental accompaniment with just enough pungent harmony, glissandos and Chinese percussion to create a spicy western/eastern mélange. Sheng clearly loves the voice, writing lots of sustained high notes to show off the beauty of the sopranos and tenors in their high range. Well-crafted arias, duets, instrumental interludes and dramatic scenes ebb and flow with assurance, especially in the second act.
The 75-minute first act has its moments, even if it still plods through the business of introducing the eight major characters and basic plot points. There's a touching scene when the teenaged lovers meet. Dai Yu, a young woman taken in by the wealthy Jai family after her mother's death, plays a gentle tune on the qin (a sort of Chinese zither), and Bao Yu, the spoiled childlike son of the clan's leader, combines his lyric tenor with her silvery soprano in a sinuous duet.
Later, an erotic (if fully clothed) dream sequence finds Bao Yu in the titular red chamber, tempted by Dai Yu and by Bao Chai, the lovely daughter of a visiting auntie from the even wealthier Xue clan. In the dream he favors Dai Yu, swayed by their connection over poetry and music.
In between these highlights, there is lots of declamatory singing and a clangorous final scene that fills the stage with family and onlookers. Bao Yu's sister, an emperor's concubine who has been promoted to princess, arrives to encourage a match between her brother and Bao Chai to help settle the family's imperial debt. A slow-moving septet allows all the characters to express their thoughts. If it was meant to evoke the great bel canto ensembles, it falls short on melodic richness.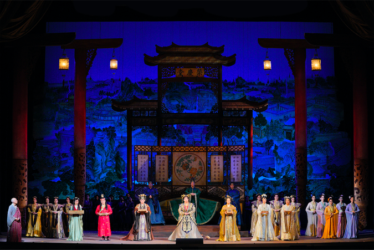 The 60-minute second act, as the plot thickens, pays off with a series of musical rewards. Banished to the other side of the lake, Dai Yu burns poems she and Bao Yu wrote together, walking slowly across the stage before a scrim showing the poems in Chinese characters. Tensions rise, characters die, and in the end, Bao Yu thinks he is finally marrying Dai Yu, only to lift the veil and learn that he has been tricked by the Xues: he has married Bao Chai. Imperial soldiers storm in to confiscate property to satisfy the imperial debt and burn the estate, to appropriately raucous music.
A monk narrates the story, beginning with the tale of a stone, left behind from the construction of heaven, that nurtured a flower with its dew for 3000 years. Stone and Flower wish to fulfill their love by being reincarnated as humans. The monk warns them against it, but they travel through a magic mirror to corporeal life. At the end we learn the monk is actually Bao Yu, telling his own life story. Wistful, meditative music and the monk's sadness bring the proceedings to a sensitive close.
Playing the speaking role of the monk with charm and dignity was Francis Jue, a San Francisco native with a long Broadway résumé who played the Chinese foreign minister in a recurring role on TV's Madam Secretary.
Women occupy the pivotal roles, and this cast boasts some impressive voices. Chengdu-born soprano Meigui Zhang, who was in San Francisco Opera's Merola training program in 2018, lavished creamy textures and sustained beauty on Dai Yu's high-lying music. Korean tenor Kona Kim, who has sung lead roles at Glyndebourne, matched her tone-for-tone, and bounced around the stage with agility.
Korean mezzo-soprano Hyona Kim as Lady Wang and Taiwanese soprano Karen Chia-ling Ho as Princess Jia reprised their roles from the première cast. They acquitted themselves well, as did Chinese soprano Hongni Wu as Bao Chai, Korean soprano Sabina Kim as a sympathetic Granny Jia and Los Angeles-born mezzo-soprano Guang Yang as the scheming Auntie Xue.
Singaporean conductor Darrell Ang shaded Sheng's music well, punching the big moments and finding delicate textures for more sensitive phrases. He held it all together when the stage was full and lots was happening musically – no easy task.
As at the première in 2016, the results were a mixed bag. Despite some stretches that could have moved along better, the big moments were worth savoring, both for their creative staging and lyric singing from beautiful voices.
Harvey Steiman