22/02/2018
Kokoschka's Doll and The Art of Love, incorporating Einsamer Gang will be performed in Oxford and Newbury
It is well known that in addition to the fourteen songs by Alma Mahler published in her lifetime, several dozen more – perhaps as many as one hundred – were written and have been lost or destroyed. One of those 'lost' songs, Einsamer Gang (Lonely Walk), has recently been discovered and will be given its UK premiere performances by Rozanna Madylus and Counterpoise at the Wagner 1900 conference in Oxford (April) and at the Newbury Spring Festival (May). Read more
22/02/2018
PUSHKIN – THE OPERA
STAGED WORLD PREMIERE GIVEN BY MOSCOW'S NOVAYA OPERA AT GRANGE PARK OPERA, SURREY: 11-12 JULY 2018 Read more
16/02/2018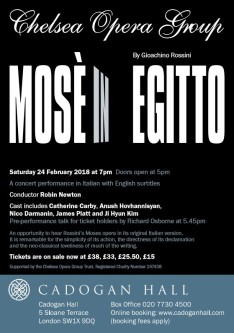 Chelsea Opera Group present a concert  performance of Rossini's Mosè in Egitto (1818-19) at the Cadogan Hall, Saturday 24th February 2018
Read more
16/02/2018
Dartington International Summer School & Festival Announces its 70th Anniversary Programme
Internationally-renowned Dartington Summer School & Festival has released the course programme for its 70th Anniversary Summer School and Festival, curated by the pianist Joanna MacGregor, that will run from 28 July to 25 August, 2018. As usual, the Festival will be centered around Dartington Hall, the 14th century Grade1listed country estate located in Totnes, Devon. Read more
14/02/2018
2018 Blossom Music Festival – 3 July to 2 September
This summer, the 2018 Blossom Music Festival will travel into its second half-century with concerts by the Cleveland Orchestra and others. The festival's open-sided pavilion, located adjacent to the Cuyahoga Valley National Park near Cuyahoga Falls, Ohio, provides a very different acoustic from the orchestra's regular season home at Severance Hall, and gives the ensemble a chance to work with a more expansive sound.
12/02/2018
Major new international singing competition launched by Glyndebourne
Website http://www.glyndebourne.com/
UPDATE: 
AND THE WINNER IS … SAMANTHA HANKEY
The first winner of the Glyndebourne Opera Cup was decided tonight (24 March) as the new international singing competition reached its closing stage at Glyndebourne.
Mezzo-soprano Samantha Hankey, 25, from the USA, was crowned the overall winner, receiving £15,000 and the guarantee of a role within five years at one of the top opera houses represented on the competition jury. Read more
06/02/2018
Dai Fujikura Portrait
Wigmore Hall, 36 Wigmore Street, London W1U 2BP
Saturday 17th February 2018, 7.30pm
Box Office: Tickets are available priced from £15 – £37 from https://wigmore-hall.org.uk/.  Ticket bookings are subject to a £2 booking fee.
Twitter: @wigmore_hall, @AvexRecitals, @daifujikura
02/02/2018
LA OPERA IN 2018/2019 Read more