Spain Verdi, Attila (concert performance): Liceu Orchestra and Chorus / Speranza Scappucci (conductor), Gran Teatre del Liceu, Barcelona, 6.4.2018. (JMI)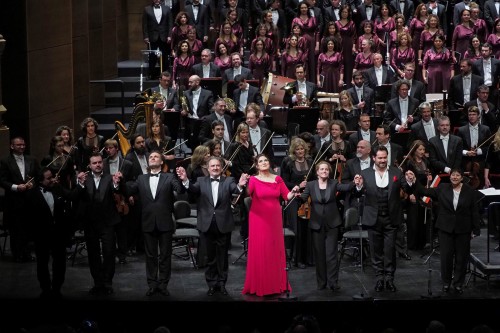 Cast:
Attila – Ildar Abdrazakov
Odabella – Anna Pirozzi
Ezio – Vasily Ladyuk
Foresto – José Bros
Pope Leone – Ivo Stanchev
Uldino – Josep Fadó
In recent days I've attended performances of two Verdi operas from his so-called galley years: Il corsaro in Valencia and Attila last night at Barcelona's Liceu. The results could not have been more different. From a rather mediocre evening in Valencia, I moved to the brilliance of Barcelona, ​​where everything worked perfectly: impressive musical direction and an appropriate and superb cast.
The first pillar on which the success of this concert was based is the musical direction of Speranza Scappucci, who was making her debut at the Liceu. Her conducting was vibrant and full of energy; she took perfect care of the singers and drew an excellent result from both orchestra and chorus. The Vienna Staatsoper was not wrong in putting her in the pit of such a prestigious house, nor was Valery Gergiev mistaken when he brought Ms. Scappucci to the Mariinsky a couple of years ago to conduct Attila. I hope that we will see her conducting opera again soon in Spain.
The Liceu cast featured interpreters of great interest, especially with regard to the main protagonists, Attila and Odabella. It was a true feast of bel canto, a genre to which this opera belongs, although the Verdi seal gives it his own peculiarities.
Bass-baritone Ildar Abdrazakov as Attila was splendid. There is no doubt that he is the best possible interpreter of the King of the Huns today, and a true successor to the great Samuel Ramey of the 1980s and '90s. He knows the score well (it's not in vain that he sings it almost every year in the Mariinsky). Obviously, the high point of his performance was, as it always is in this opera, the aria and cabaletta of Act I, where he got one of the biggest ovations I can remember in the Liceu; it was practically at the level of the one that Sondra Radvanovsky got last month in Andrea Chenier. The ovations and shouts led him to offer an encore of the last verse of the cabaletta. His voice is beautiful, he sings with great expressiveness, he has outstanding breath control and he only needs a little more volume in the middle to reach the level of Samuel Ramey, for me the greatest Attila of the last forty to fifty years.
Odabella is one of the most difficult parts written by Verdi, and requires an authentic dramatic soprano of agility; she also has to reach a high C in the Prologue and faces a very difficult aria in the first act. Anna Pirozzi, her interpreter, came to the Liceu following her success as Aida in Madrid. In the program notes, Jaume Tribó recalls Ghena Dimitrova in performances of this opera in Barcelona in 1984, and offers a tribute to the Bulgarian soprano, who was indeed a true reference in the character. I would have to say that Anna Pirozzi equals Ghena Dimitrova. Her Prologue was spectacular, and she had no problem reaching a powerful high C; she also shone in her Act I scene, where she sang with exquisite taste. In ensembles she excelled in a special way. In short, she was a great Odabella.
I had not seen baritone Vasily Ladyuk since he won the Operalia contest in Madrid almost thirteen years ago. That promising young baritone has not had the career that one expected, and I was surprised that the Liceu included him in this cast. I must say that it has been a pleasant surprise: his interpretation of the Roman general Ezio was remarkable in terms both of singing and performing. He was especially good in his Act III aria, where he received a huge ovation. His voice is appealing, and I hope we will see him here again soon.
Foresto was sung by José Bros, who once again displayed his excellent phrasing and impeccable diction. He was at his best in Act I, but fell a bit short in the most dramatic moments. Bass Ivo Stanchev as Pope Leone and tenor Josep Fadó as Uldino were well suited to their supporting roles.
José M. Irurzun