Czech Philharmonic conducted by Semyon Bychkov (Chief Conductor & Music Director) at the Batbican Centre, London, on 15 and 16 March 2022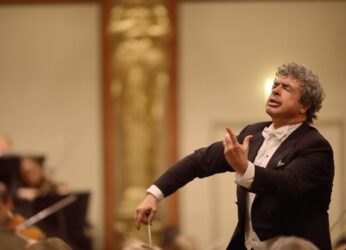 On 15 and 16 March, the Czech Philharmonic return to London with their Chief Conductor and Music Director Semyon Bychkov for the first time since 2019. Forming the centrepiece of their two evenings at the Barbican Centre is Smetana's iconic Má vlast (My Homeland), a cycle of six symphonic poems which has become inextricably linked with both the history of the Czech Philharmonic and that of the Czech Republic. Also being performed at the Barbican are Dvořak's Symphony No.8, Janáček's Glagolitic Mass with City of Birmingham Symphony Chorus and Rachmaninov's Piano Concerto No.1 with Yuja Wang, Czech Philharmonic 2021-22 Artist-in-Residence.
The Orchestra's gave its first full performance of Má vlast in a brewery in Smíchov in 1901. In 1925, Chief Conductor Václav Talich chose Smetana's cycle for the Czech Philharmonic's first live broadcast, and five years later, its first recording. During the Nazi occupation, when Joseph Goebbels demanded that the Orchestra perform in Berlin and Dresden, Talich programmed Má vlast as an act of defiance. In 1945, Chief Conductor Rafael Kubelík conducted the work as a 'concert of thanks' for the newly liberated Czechoslovakia and 45 years later, chose the work once again to mark Czechoslovakia's first free elections. Bychkov and the Czech Philharmonic marked the 30th anniversary of this historic moment in Prague in November 2020 when they performed the full cycle and launched a new annual Velvet Revolution concert.
The Barbican dates are the culmination of the Czech Philharmonic's first international tour since the pandemic. Kicking off with a 3-concert Festival of Czech Music at the Vienna Musikverein (March 3, 4 & 6), Bychkov and the Orchestra continue to the Berliner Philharmonie, Hamburg's Elbphilharmonie and the Philharmonie Essen before arriving in the UK.  In addition to the works heard in London, the Orchestra will present Czech music by Kabeláč, Martinů and Ullmann, who was born in Těšín, now part of the Czech Republic.
A month prior to the Czech Philharmonic tour, Bychkov will be in London on 11 February to conduct the BBC Symphony Orchestra with whom he holds the Günter Wand Conducting Chair. In a concert that opens a weekend of live broadcasts to mark 100 years of the BBC, Bychkov will conduct Strauss's Burleske with soloist Kirill Gerstein and Mussorgsky's Pictures at an Exhibition, alongside the UK première of Bryce Dessner of The National's Mari. Bychkov will return to London in June to conduct the Royal Academy of Music Symphony Orchestra where he is Klemperer Chair of Conducting. The performance of Mahler's Symphony No.3 on 23 June at the Royal Festival Hall will come shortly after the first release in a new Mahler Cycle with the Czech Philharmonic to be released by Pentatone.
SPRING 2022 EUROPEAN TOUR
16 March – Barbican, London
Evelina Dobračeva (soprano); Lucie Hilscherová (mezzo-soprano); Aleš Briscein (tenor);
Boris Prýgl (bass); Daniela Valtová Kosinová (organ); City of Birmingham Symphony Chorus
Dvořák – Symphony No.8 in G major, Op.88
Janáček – Glagolitic Mass
15 March – Barbican, London
Yuja Wang (piano)
Rachmaninov – Piano Concerto No.1
Smetana – Má vlast
13 March – Philharmonie Essen
Smetana – Má vlast
12 March – Elbphilharmonie, Hamburg
Katia & Marielle Labèque (piano); Evelina Dobračeva (soprano); Lucie Hilscherová (mezzo-soprano); Aleš Briscein (tenor); Boris Prýgl (bass); Daniela Valtová Kosinová (organ)
Prague Philharmonic Choir
Martinů – Concerto for two Pianos
Janáček – Glagolitic Mass
11 March – Elbphilharmonie, Hamburg
Yuja Wang (piano)
Kabeláč – Mystery of Time
Rachmaninov – Piano Concerto No.1
Dvořák – Symphony No.8 in G major, Op.88
10 March – Elbphilharmonie, Hamburg
Smetana – Má vlast
9 March – Berliner Philharmonie
Smetana – Má vlast
6 March – Vienna Musikverein Residency
Thomas Quasthoff (narrator); Katia & Marielle Labèque (piano); Evelina Dobračeva (soprano); Lucie Hilscherová (mezzo-soprano); Aleš Briscein (tenor); Boris Prýgl (bass);
Daniela Valtová Kosinová (organ); Wiener Singverein
Ullmann – Die Weise von Liebe und Tod des Cornets Christoph Rilke
Martinů – Concerto for two Pianos
Janáček – Glagolitic Mass
4 March – Vienna Musikverein Residency
Yuja Wang (piano)
Kabeláč – Mystery of Time
Rachmaninov – Piano Concerto No.1
Dvořák – Symphony No.8 in G major, Op.88
3 March – Vienna Musikverein Residency
Smetana – Má vlast