United Kingdom Ballet Nights: Autumn Season 2023: Jamiel Devernay-Laurence (producer and compère). Lanterns Studio Theatre, London, 29.9.2023 (JO'D)
Close to the skyscrapers of Canary Wharf sits the low-rise, tin-roofed structure that is Lanterns Studio Theatre. A space for production rehearsals since 2011, between now and the end of November it will host the three diverse programmes of dance that make up Jamiel Devernay-Laurence's Ballet Nights: Autumn Season 2023.
A former soloist with Scottish Ballet and Founder and Artistic Director of this new 'platform' for classical and neo-classical ballet and contemporary dance, Devernay-Laurence also takes on the role of compère for the evening. The works he introduces on the opening night are performed by dancers from The Royal Ballet, Northern Ballet, Yorke Dance Project, Studio Wayne McGregor and New English Ballet Theatre.
The atmosphere in between the dance is of 'stand up'. There are many whoops and cheers. But there is silence for the Chopin and Liszt, played onstage by Viktor Erik Emanuel, that preface the two parts of the evening; silence for the dance as is it performed gratifyingly close to the audience on an expanse of black floor.
Programme One begins with The Royal Ballet First Soloist Melissa Hamilton, her melancholy arms, in Michel Fokine's The Dying Swan. It continues with two dancers from Northern Ballet, Joseph Taylor and Julie Nunes, fast and fluid in You Will Get Your Wants by Gavin McCraig. Amy Thake and Edd Mitton (Yorke Dance Project) demonstrate the dynamics of Kenneth MacMillan's erotically-charged pas de deux, from the ballet Isadora, in which the floor acts as a third partner. This half of the evening closes with Czárdás, a display of tap dancing and spins choreographed and performed – in glittering trousers and at dazzling speed – by The Royal Ballet Principal Steven McRae, who shares the stage with the pianist and the Bulgarian violinist, Vasko Vassilev.
After the Liszt, passionately played, at the start of Part Two, Constance Devernay-Laurence, recently retired from Scottish Ballet, performs the jetées and arabesques of the Gamzatti Variation from La Bayadère. In a new commission, London Contemporary Dance School graduate, Jordan James Bridge, contrasts these with movement that seems to go through a boneless body in waves. Choreographer Peter Leung allows the dancers of New English Ballet Theatre to show their skill as an ensemble, and women partnering each other, in All In Passing, although the piece itself goes on too long.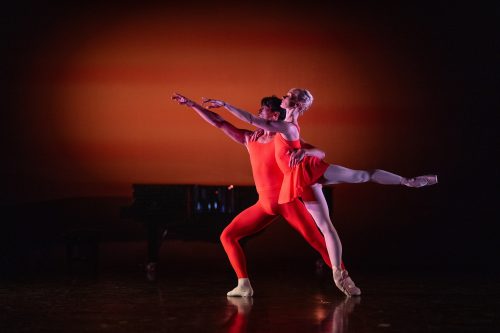 The evening ends on a strong note with Melissa Hamilton (First Soloist of The Royal Ballet) and Ryoichi Hirano (Principal of The Royal Ballet and recently a Guest Principal with Scottish Ballet) in Kenneth MacMillan's cool, contemplative, second-movement pas de deux from Concerto, to music by Shostakovich. The woman shows no awareness of her partner. She simply uses him as a barre or lets him lift her body in its fixed positions.
The second programme of Ballet Nights: Autumn Season 2023 includes work by Musa Motha, Bella Lewitzky, David Dawson and Pett/Clausen Knight. The third, a Grande Finale, lists choreographies from Joshua Junker, Robert Cohan, Yasser D'Oquendo and Marius Petipa. Dancers from English National Ballet and Rambert perform. Like a Sergei Diaghilev de nos jours, Jamiel Devernay-Laurence puts London E14 on the dance map.
John O'Dwyer
The Dying Swan
Choreography – Michel Fokine
Composer – Camille Saint-Saëns
Cello – Moira Hartley
Piano – Viktor Erik Emanuel
Dancer – Melissa Hamilton
You Get Your Wants
Choreographer – Gavin McCraig
Composer – Oliver Davis
Dancers – Joseph Taylor and Julie Nunes
Isadora (Excerpts)
Choreography – Kenneth MacMillan
Composer – Richard Rodney Bennett
Dancers – Amy Thake and Edd Mitton
Czárdás
Choreography – Steven McRae
Composer – Vittorio Monti
Violin – Vasko Vassilev
Piano – Viktor Erik Emanuel
Dancer – Steven McRae
Gamzatti Variation from La Bayadère
Choreography – Marius Petipa
Composer – Ludwig Minkus
Dancer – Constance Devernay-Laurence
New Commission
Choreographer – Jordan James Bridge
Music – Rival Console
Dancer – Jordan James Bridge
All In Passing
Choreography – Peter Leung
Music – Nicholas Thayer
Dancers – New English Ballet Theatre
Concerto: Second Movement Pas De Deux
Choreography – Kenneth MacMillan
Composer – Dimitri Shostakovich
Dancers – Melissa Hamilton and Ryoichi Hirano