United Kingdom Verdi, Bruch, Beethoven: Renaud Capuçon (violin), BBC Philharmonic Orchestra/Gianandrea Noseda (conductor),  Bridgewater Hall, Manchester, 8.11.2013 (MC)
Verdi: Nabucco overture
Bruch: Violin Concerto No. 1 in G minor
Beethoven: Symphony No. 3 'Eroica'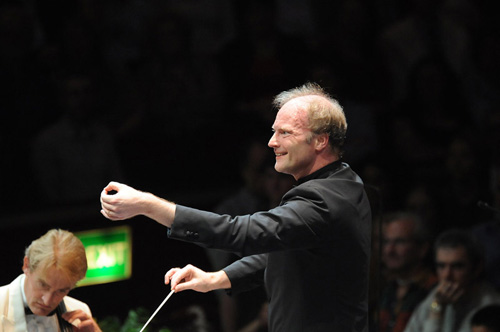 This was one of the more popular programmes in the BBC Philharmonic's 2013/14 season. Combined with the orchestra's 'Journey Through Music scheme', designed to attract young people, it was no surprise that the audience was a substantial one.
After recently attending Keith Warner's stunning production of Verdi's Nabucco at the Deutsche Oper Berlin in Verdi's 200th anniversary year, it was pleasing to have the opportunity to hear the Verdi overture again so soon. Commencing with dramatic sounding trombones and tuba followed by exuberant strings the rousing overture made a perfect opener.
Encompassing all the elements required in a Romantic concerto the Max Bruch Violin Concerto No. 1 is a repertoire staple. With its memorable and enchanting melodies Bruch's G minor inspiration, one of the most performed of all violin concertos, it was voted audience winner of the Classic FM Hall of Fame on several occasions. Over the years I must have spent numerous occasions feeling jaded by so many lacklustre performances of the Bruch but having seen Renaud Capuçon perform wonderfully on two previous occasions both in Munich in 2011 and earlier this year at the Bridgwater Hall, as I expected this gifted French soloist didn't disappoint providing a ravishing performance high on integrity, fresh and vibrantly lyrical. A player of elevated musicality Capuçon seemed attuned to every nerve and muscle of the score conveying such beautiful restraint with the sweet-toothed melodies of the glorious Adagio.
Beethoven's Symphony No. 3 'Eroica' is music of considerable concentration and as the designation suggests heroic power. Beethoven originally dedicated this progressive score to Napoleon Bonaparte before tearing up the page and replacing it with the title 'Eroica'. A warhorse of the repertory frequently performed in the concert hall I have attended half a dozen performances of this masterwork in the last couple of years. For all the wrong reasons I particularly remember a 2011 Munich performance of the 'Eroica' by the touring New York Philharmonic that felt as if this renowned orchestra had slipped into holiday-mode – such was their jaded and uninspired playing. Under the baton of Maestro Noseda, a conductor of substantial passion and probity, no lacklustre performance would be allowed to happen with this excellent orchestra.
In the opening movement containing an abundance of contrasting calm and storm Noseda provided briskly fresh tempi that felt so appropriate. The serious tread of the persuasive performed Marche funèbre was more than a mere occasion of grief; somehow it felt more like a thanksgiving for the achievements of a life full of rewards. Noseda seemed to broaden the dynamics as far as he dare and the results were stunning. Sparkling and energetic with actively sprung rhythms the Scherzo was compellingly performed. Conspicuous were the woodwind figures that felt light and precise and the well focused fanfare for three horns was splendidly unified. At the conclusion of the score after all the rhythmic vitality of such a sensibly paced Finale I felt a sense of intense satisfaction rather than a feeling of gripping drama. Overall this could never be described as a thunderous performance of blood and guts. Instead of a bottom heavy sound Noseda and his BBC Philharmonic players convincingly provided a lighter more transparent sound of glowing intensity – and how refreshing it all seemed!
Michael Cookson