Sweden Mozart, The Magic Flute: Soloists and Chorus of Gothenburg Opera, dancers, Gothenburg Opera Orchestra / Henrik Schaefer (conductor), Gothenburg Opera main stage, 1.4.2017. (NS)
Cast:
Sarastro – Johan Schinkler
Tamino – Adam Frandsen
Speaker – Mats Persson
Queen of the Night – Susanna Andersson
Pamina – Julia Sporsén
First lady – Mia Karlsson
Second lady – Carolina Sandgren
Third lady – Matilda Paulsson
Papageno – Markus Schwartz
Papagena – Anna Johansson
Monostatos – Daniel Ralphsson
A priest/First armoured man – Ingemar Andersson
Second armoured man – Peter Loguin
First spirit – Klara Nilsson
Second spirit – Kitty Chan
Third spirit – Paula Santa-Eufemia
Dancers – Johanna Byström, Julie Dariosecq, Evelina Gustafsson, Lina Räftegård, Moa Sobelius, Sara Suneson
Production:
Gothenburg Opera (2009). Sung in Swedish. Director – Rickard Bergqvist
Set and costume design – Tomas Sjöstedt
Choreography – Camilla Ekelöf
Lighting design – Joakim Brink
Translation and adaptation of libretto – Rickard Bergqvist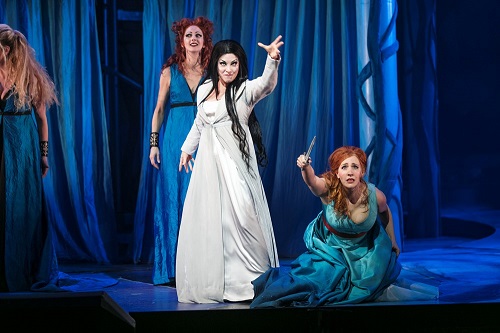 The Gothenburg Opera knows it is on to a good thing with this revival of Rickard Bergqvist's dreamlike production (previously reviewed by your correspondent in 2012). The gorgeous colours of Tomas Sjöstedt's set and costumes were beautifully set off by Joakim Brink's lighting. What most struck me on seeing this production again was Camilla Ekelöf's choreography, which touched every character and chorus member and gelled perfectly with the shifting emotions of the music.
The Gothenburg Opera Orchestra under Henrik Schaefer's baton continue to excel themselves in Mozart, matching the infectious love for the scores of Gothenburg's previous Mozart productions (most recently Idomeneo and The Marriage of Figaro, both reviewed by your correspondent). The overture to The Magic Flute is possibly Mozart's finest and it sounded fresh and glorious. Mr Schaefer's conducting and sensitive playing from the orchestra meant that they were always balanced accompanists to the singers and supported the choreography. An enjoyable touch was the use of Mozart's original whimsical twenty-one bar long cadenza for the Three Ladies in the first scene rather than the more usual two bars.
All three Ladies (Mia Karlsson, Carolina Sandgren and Matilda Paulsson) were in fine form, both in their expressive voices and comic acting. In fact, there was not a weak link in the supporting cast. Daniel Ralphsson was a suitably slimy Monostatos and the Three Spirits (sung by musical artists with a boyish timbre: Klara Nilsson, Kitty Chan and Paula Santa-Eufemia) were hand in glove in the ensembles and evidently relished their complicated choreography.
Johan Schinkler gave us a Sarastro who is a believable father to his people, and his bass had both the sensitivity and the range to carry off this difficult part in style. Previous runs of this production hadn't quite found the right singer for the role, but we need look no further now. His antithesis the Queen of the Night was a worthy foe in the shape of Susanna Andersson, whose seemingly effortless coloratura made easy work of her two big arias. Moreover, Ms Andersson convincingly acted on both the outer level (histrionics to get Tamino's attention) and the inner level (her burning hatred for Sarastro and all that he stands for).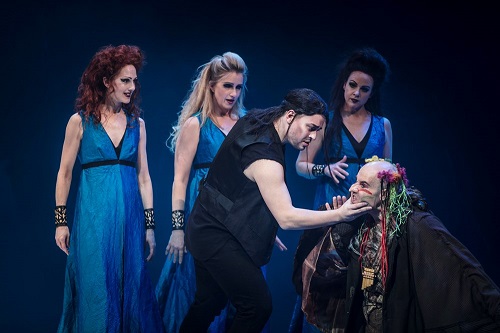 Markus Schwartz is an inimitable Papageno, with his delightful bird mannerisms and an agile, warm baritone that effortlessly delivered his wonderfully witty lines (changed but every bit as funny in Mr Bergqvist's adaptation). His comic timing was as good as ever. Anna Johansson was a sprightly Papagena, carrying off her part in their duet with style and managing an amazingly aged voice when she was disguised as an old lady.
Adam Frandsen also convinced as Tamino. His tight vibrato suits the role and he had confidence and control almost to the top of his range. He very effectively combined excellent diction with lyrical expression. Julia Sporsén was a stunning Pamina: her warm lyrical soprano was a joy to listen to and her well-rounded acting reminded the audience that Pamina is not a classic damsel in distress but a woman with her own mind and a willingness to question authority. In this adaptation Pamina joins Tamino for his trials by fire and water despite them being told that it is forbidden; the glorious musical climax of the opera becomes wholly the triumph of Pamina and Tamino, not Sarastro.
Niklas Smith