United States Rhiannon Giddens and Michael Abels, Omar: Soloists, Guest Chorus (director: John Keene). Orchestra of San Francisco Opera / John Kennedy (conductor). War Memorial Opera House, San Francisco, 15.11.2023. (HS)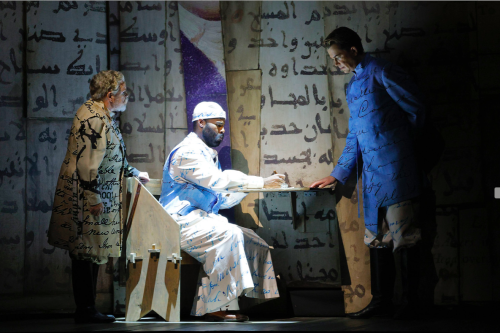 Production:
Director – Kaneza Schaal
Choreographer – Kiara Benn
Production designer – Christopher Myers
Set designer – Amy Rubin
Costume designers – April M. Hickman, Micheline Russell-Brown
Lighting designer – Pablo Santiago
Projection Designer – Joshua Higgason
Cast:
Omar – Jamez McCorkle
Fatima (Omar's mother) – Taylor Raven
Julie – Brittany Renee
Auctioneer / Taylor – Barry Banks
Johnson / Owen – Daniel Okulitch
Katie Ellen / Caller – Rehanna Thelwell
Abdul (Omar's brother) / Abe – Norman Garrett
Amadou – Edward Graves
Olufemi – Calvin Griffin
Suleiman – Kenneth Overton
Eliza – Laura Krumm
ncestral Figure – Jermaine McGhee
Guest Chorus soloists: William O'Neill, Chester Pidduck, Jessica–Elisabeth, Thalia Moore, Earl Hazell, Christopher Craig, Aleta Braxton, John Fluker, Alexander Taite, Sydnee Turrentine-Johnson, William Lee Bryan, Joanna Lynn-Jacobs, Melissa Dufort, John Fulton, Ernest C. Jackson, Jr., Angela Arnold, Wilford Kelly, Johanne Daniel (Senegalese villagers, freed and enslaved people)
It is probably a blessing that Omar took its time getting to the San Francisco Opera stage. The operatic telling of the long-suppressed story of African Muslim scholar Omar Ibn Said, who lived as a slave in South Carolina and North Carolina from 1807 to 1863, made an impact in a series of ritualized scenes featuring music by Rhiannon Giddens and Michael Abels, with eye-catching staging and glorious singing from the cast.
A co-commission, it debuted in May 2022 at the Spoleto Festival USA in Charleston, South Carolina (where the real-life Omar landed), and has since been produced at Carolina Performing Arts in North Carolina (where he lived out his life) and Boston Lyric and Los Angeles operas. It is coming to Lyric Opera of Chicago in a future season.
In the fourth of six performances at the War Memorial Opera House, it received an assured performance from all hands, including the orchestra of the San Francisco Opera, conducted by John Kennedy who led the world premiere. Two members of the orchestra, Victor Avdienko and Raymond Froehlich, were positioned in front of the conductor and played African percussion.
Giddens, a winner of a MacArthur Genius Grant and a founding member of the Carolina Chocolate Drops, wrote the libretto and the tunes. Much of this rests on folk, blues and country music styles – what she identifies as 'roots' music. Best known for composing scores for Jordan Peele films, Abels's smooth, accessible score wove in references to Arabic rhythms, spirituals, bluegrass, jazz, ragtime, church hymns and occasional nods to Gershwin. Their Omar won the 2023 Pulitzer Prize for music.
The historical Said was unusual on many counts. He was able to read and write, which few slaves could. The collection of the Library of Congress includes 42 documents in both Arabic and English that he wrote while enslaved, including the only surviving autobiography of an enslaved person written in Arabic – the thirteen-page document that inspired the opera. It was only discovered in 1995. He was actually well-known in his lifetime and portrayed in news stories as a Muslim who converted to Christianity due to a beneficent owner.
The opera started with tenor James McCorkle walking onstage wearing modern shorts and a T-shirt, as principal violist Carla Rodrigues played a wistful solo in an Arabic mode. He donned the clothing of Omar, a Muslim scholar in a part of West Africa that is now in Senegal, a nod to how much this 200-year-old story can resonate with us today.
Act I follows Omar's capture, transport on the Middle Crossing, sale as a slave in Charleston and the harsh life at the plantation of his first owner. His mother, Fatima (mezzo-soprano Taylor Raven), is killed in the raid that captured Omar, but she later reappears in his dreams in several striking scenes. We also meet Julie (soprano Brittany Renee), held as a slave in Charleston, who urges him to escape to a less-harsh plantation in Fayetteville if he can. They reunite there.
Despite an unblinking portrayal of what the three characters faced, their responses all tended toward dignity and jaw-clenching poise to survive. The Middle Passage scene is evocatively staged, and the wince-inducing racism of the slave market includes a tart performance by tenor Barry Banks as the auctioneer. But there are no dramatic confrontations, not even when Johnson (a slave owner played by baritone Daniel Okulitch) belittles Omar. In response, Omar escapes –   quietly.
The visuals are strong. A brightly clad dancer identified as Ancestral Figure, whirls and spins through scenes that refer to life in Africa, injecting energy whenever he appears. Writing in Arabic and English decorates costume fabrics. Words projected onto a scrim and on elements of the sets reinforce the importance of language. As beautiful as all this is, it cannot help but feel passive, even in a sensationally staged dream sequence in which Fatima appears to Omar atop a sixteen-foot-high dress.
All of this sets up a more-satisfying Act II, which benefits from some of the opera's most impressive music. Omar has made it to Fayetteville and, captured and jailed, he attracts attention by writing Muslim prayers on the walls. The lettering fascinates Eliza (soprano Laura Krumm), the daughter of plantation owner Owen (played by Okulitch), who buys Omar in the hope of converting him to Christianity and earning prestige in his community.
The three last scenes pay dividends after all these quiet, often touching moments. Owen and his friend Taylor (Banks) test Omar by having him write out 'The Lord is my shepherd' in Arabic. They are impressed by his ability to write (even if they do not realize he has written 'I want to go home').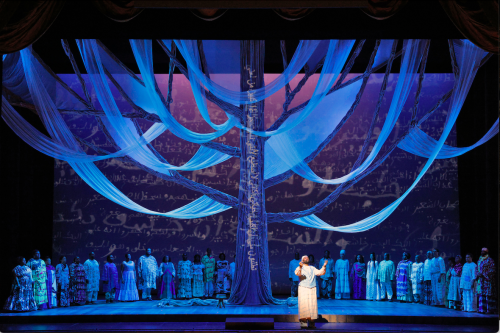 The restless music for that scene begins a slow crescendo that leads to a stunningly beautiful aria for Omar. Under a spreading tree, surrounded by a chorus, McCorkle delivered Psalm 23 in English, as vivid oratory. He also sneaked in a few references to his own life. 'He leadeth me beside still waters' alluded to the sea that carried him away from Africa. A resigned tone made 'I dwell in the house of the Lord forever' feel like he knew he would never return to that home. A long chorale on 'Amen' ends with the Arabic pronunciation, 'a-meen'.
In the final scene, Julie urges Omar to write about his experience and his faith. It was the denouement we had been waiting for and, in a hymn-like wordless chorus, eighteen singers positioned themselves around the entire opera house, immersing the audience in their sound. At the end, Omar urges everyone to honor the tenets of their faith, whatever it might be.
In an extended diminuendo to the music, McCorkle removed his costume and walked quietly offstage in his T-shirt and shorts. It was a subdued moment, almost meditative, and it hit the right tone.
Harvey Steiman