United Kingdom Puccini, La bohème: Soloists, Chorus and Orchestra of English National Opera / Gianluca Marcianò (conductor), London Coliseum, London. 29.10.2014 (JPr)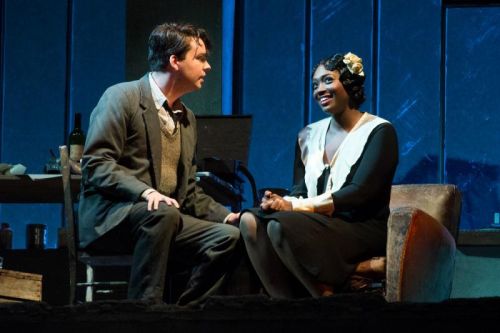 Cast
Mimì: Angel Blue
Rodolfo: David Butt Philip
Musetta: Jennifer Holloway
Marcello: George von Bergen
Colline: Barnaby Rea
Schaunard: George Humphreys
Benoit/Alcindoro: Andrew Shore
Production
Director: Jonathan Miller
Revival Director: Natascha Metherell
Designer: Isabella Bywater
Original Lighting Designer: Jean Kalman
Translator: Amanda Holden
Looking back I see that I began my review of the 2013 revival of Jonathan Miller's 2009 production of La bohème  with this sentence: 'This is what all nights at English National Opera should be like and I am lost for words, though of course I will find some, as I have very little to add beyond the simple fact – good enough on its own – that it was a great evening both for grizzled Coliseum veterans like me or those wanting to go to an opera for the first time.'
For those who want to read on without reminding themselves what I wrote earlier Sir Jonathan Miller originally explained that for him 'Puccini's operas are really rather like movies, and La bohème is the most natural and believable of them all. I want to make it as much like a movie as it could possibly be. I'm basing the artists' relationship on the movie Withnail and I – shabby, upper class boys who think squalor is very romantic.' For me there has never been enough squalor on show to link his Paris with seedy, hedonistic or drug-fuelled late-1960s' London and the bohemians still appear to be – rather than the film's unemployed actors in Camden Town – students from wealthy families on a gap year. Nevertheless, having the great good fortune to sit only a few rows from the stage I finally appreciated – more than ever before – how natural and cinematic Jonathan Miller's staging is and it is the perfect antidote to the dispiriting evening I recently spent at the London Coliseum watching ENO's The Girl of the Golden West. This was by far and away a much classier affair, musically and dramatically.
In Isabella Bywater's designs the intended movie-like realism updates the action to early 1930s' Paris and focusses on the city's demi-monde whom we recognise from the photographs taken at the time by Cartier-Bresson, Kertesz and Gyula Halász (alias Brassaï). There is also a slightly washed-out look to the colours of the costumes and there is a hint of black-and-white to the stage pictures (revival lighting by Kevin Sleep) that is all very appropriate considering their photographic inspiration. There is a basic two-part split level set that is intriguingly manhandled to show how the flatmates seem to living above the Café Momus and later it revolves to show a street scene for Act III, with 'working girls' of various types, policemen and matelots – the factory workers seem to come from Essex judging from their amusing accents!
Slightly less realistically the bohemians' lodgings appear to have only one bed and the very cramped room is connected to a bathroom with stairs from a door down to Mimì's apartment. Jonathan Millers allows us – like all the best of the current opera transmissions in the cinema – to see all the comings and goings of Rodolfo, Marcello, Colline, Schaunard, Benoit, Mimì and Musetta. In 2013 I felt I was being totally drawn into an intimate world and witnessing a slice of real life; now – mainly due to sitting even closer to the stage than I was even then – I felt I was present myself in Paris in the 1930s and part of the unfolding story … a bit like what happens to Owen Wilson's character in Woody Allen's film 'Midnight in Paris'.
There is no traditional operatic emoting and characters interact as if it was a 'straight' stage play. I benefitted from my close-up view and once again I wonder if some of this would be lost to those sitting at the back of the Balcony. You needed to look closely to see Rodolfo's antics with the lost key, Mimì blowing out her candle and how everyone interacts with one another; listening attentively when they have to, or not listening, such as when Schaunard tells the tale of how he poisoned the parrot. I am beginning to understand how Rodolfo is supposed to be a very nervous and far-from-romantic figure, longing for someone to love, but possibly sexually inexperienced. David Butt Philip – looking like a cross between Benedict Cumberbatch and Michael McIntyre – was a revelation and lived up to John Berry's introduction in the programme about how he is 'one of those rare British tenors who clearly had an exciting career ahead of him'. His Rodolfo was perfectly Italianate (even in Amanda Holden's rhyming couplet English translation), ardently expressive, secure and tirelessly powerful.
Mimì is supposed to be the experienced 'older woman' that most students throughout history have wanted to have a liaison with before they get too old. Much of the pre-publicity for this La bohème revival centred on Angel Blue's role debut as Mimì – something I predicted in my 2013 review when she sang Musetta. This Black American singer is now London-based and is the daughter of a gospel singer and has described herself as 'a very God-fearing, lovely woman' who entered beauty pageants to pay for her university studies. Initially her Mimì seemed too nice and almost as romantically naïve as Rodolfo. Angel Blue is clearly heading for Wagner – as she has admitted herself – and her big voice is still a little unwieldy and occasionally too quavery. She obviously sings from the heart but some of Puccini's long arching lines defeat her at the moment despite sympathetic support from her conductor. Angel Blue was at her very best in her Act IV death scene when she scaled down her voice as Mimì breathes her last and very believably she fades away slumped in an armchair – more credit here to David Butt Philip as he cries out her name with anguish that was heart-breaking.
However do not doubt how I was totally engaged throughout once again with all the joie de vivre, idealism, passions, fatalism and tragic arc of Puccini's characters. Although I wished a tear to come to my eye at the end there wasn't one but that is perhaps because I have seen this opera so many times that – no matter how engrossed I am in it – the ending is no real surprise!
For ENO the answer to its current financial plight would be a return to the company-spirit that memorable 'golden era' performances during the 1970s and 1980s had. It is possible because if they have fielded a finer ensemble of mainly British talent recently at the London Coliseum I have not been there. From the moment he lingered on the word 'Rent' the wonderful Andrew Shore created eye-catching vignettes as the randy landlord, Benoit, and Musetta's cuckolded companion, Alcindoro. There was no weak link and George Humphreys (Schaunard), Barnaby Rea (Colline) and George von Bergen (Marcello) were a very talented trio of personable youthful bohemians – both as singers and committed actors. As Musetta, the latter's inamorata, Jennifer Holloway was the ideal crowd-pleasing blond chanteuse – who everyone at Café Momus was in love with, including some fawning waiters. Although listed as a mezzo she also sounded as if she has the range for Mimì.
Italian conductor Gianluca Marcianò conducted in idiomatic style and with clarity and detail encouraging a nuanced, passionate performance from the superb ENO orchestra. It was all well-balanced and finely paced and the lack of cloying sentimentality – that some can bring to this opera – was in tune with Jonathan Miller's vision. Even those in the smallest roles, the children and the chorus, excelled in their brief appearances and all-round this was another great night at the London Coliseum. It is wonderful how English National Opera seem to be rising to the challenge of confronting their straightened circumstances with such an encouraging 2014/15 season.
Jim Pritchard
For information about future English National Opera performances visit www.eno.org.