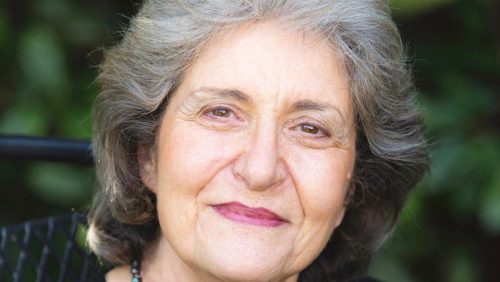 Something a little different today – Sunday 6 September 2020 – at St Mary's Perivale: not a recital but a distinguished recitalist talking about her life in music. I don't often talk about myself and I'm not very good at it says Norma Fisher, opening her talk. That is not modesty on her part. Most people find it difficult to talk about themselves, especially in an empty hall, delightful as this tiny medieval church is. I had suggested to Hugh Mather – founder and chief administrator of St Mary's project (click here) that he might invite a call-in with questions and answers to introduce some human contact into the hall. Sadly, he told me that the church was not yet set up with Zoom to allow this possibility, despite their outstanding voluntary workers from the nearby BBC studios.
This occasion recalls a BBC film lasting a little over an hour of Janet Baker – In Her Own Words in which Dame Janet gives the world an explanation as to why she retired at the peak of her career. You cannot beat these Yorkshire lasses:  intelligent, down to earth, and forthright. The film was on BBC iPlayer but has now been taken down. It ought to be brought back. With an act of parliament if necessary, amidst all the licence fee discussions which are going on about what auntie ought to be offering her hungry public.
At the time of WWII, the Germans, with some justification, looked on England as the land without music. English parochialism has much to answer for. Brexit is centre stage in this debate. When the Führer embraced Wagner, England shuddered. Sir Oswald Mosley and his second wife, Diana Mitford, were interned for the duration of the war.  Some decades later I was myself invited to tea in Bayreuth, by Wieland Wagner, with his (hated) English mother, Winifred – since Wieland judged me to be an eccentric Englishman and would therefore be sure to get on with his mother. He was right. I did.
For all her love of Adolf Hitler, Winifred Wagner was opposed to National Socialism and especially the criminalising of the Jews. She intervened successfully to have several her Jewish friends saved from the death camps. Or so she said. I didn't have the impression I was talking to a liar.
Not that I believed in Germany's National Socialism. Nor did Mosley nor Mitford if you look at the small print. The British Royal family were pressurised to distance themselves from Hanoverians (Queen Victoria also married a German and produced more children than any other British monarch) and became the House of Windsor (said also to be the present Queen's favourite residence).
Janet Baker proudly declares her indebtedness to her teacher, Hélène Isepp, and later to her son, Martin, sometimes her accompanist. Anyone who has been lucky enough to meet Janet will know the warmth of her humanity. It is there in her singing too. In the film she asks the rhetorical question where English music would be had there not been this influx of German musicians during the War.
Norma Fisher was born in 1940 in London, of Russian and Polish parents. History is always written by the winners of wars. Just imagine a history of WWII written by a Polish historian! Poland was brutalised by Germany and Russia. No wonder it is politically confused as to where it now wants to belong.
Norma seems a little surprised that her career has been predominantly in England and Germany with a very recent acknowledgement for a fairly complete recording contract with another WWII big loser, Japan.  I am not. This really does feel like a loser-takes-all life. Joyful, when you also consider the pain. [American journalist, Anne Applebaum (formerly of the Washington Post) combed the archives of Stalin's dictatorship to bring to the world the horrors of the Gulags, where more Jews had perished than in Hitler's Germany. One of the ugliest WWII stories. Her important book won a Pulitzer Prize.]
After her Polish mother had noticed Norma had musical talent and with some trials with local teachers, was persuaded to try for a scholarship at the Guildhall School of Music. And here comes Norma's first big break. Her teacher would be Sidney Harrison. There is not in the whole world a pianist who so naturally conveys the pure joy of music like Sidney Harrison. Anything from pop to Liszt Transcendental Études. Her depth and breadth of music was born.
It is tempting to write that the rest is history. But there are more details. I can see in my mind's eye how Sidney Harrison would have told Norma how much her playing reminded him of Gina Bachauer, causing Norma to hasten to the Royal Albert Hall the moment Gina played there and presenting herself in the green room after with my teacher says I sound like you. Gina was enchanted, heard Norma play and set up lessons with the Hungarian pianist/teacher, Ilona Kabos, whose husband was Louis Kentner, all of these friends living as distinguished immigrants in Hampstead, where they clubbed together to cover Norma's training and introduce her to other brethren of the fraternity, among whom, Annie Fischer (my own preferred Mozart pianist).
Sidney Harrison's chance comment was not in vain. Generosity was the very definition of Sidney's person and his music.  He was not sorry he had spoken. Norma mentions the importance of giving and taking for any performer -especially the giving. The greatest joy there is when you find you have more to give than you could have imagined, she says. (Janet Baker can be seen in a YouTube discussion with Joyce DiDonato on this very subject.) After sharing the Harriet Cohen International Music Award piano prize with Vladimir Ashkenazy, Norma went on to win second prize at the 1961 Busoni International Piano Competition in Bolzano, where William Glock was on the jury and was delighted to invite this young woman to successive BBC Proms which he was planning.
Unfortunately, Norma Fisher went on to develop an incurable paralysis in her right hand which would strike without notice. She felt she could no longer sustain a career as a soloist. But even at her peak in performance she had started to distinguish herself as a teacher. And what a lot she had to pass on! I always tell my students never to enter a competition to win it. That's not the idea at all. Enter for the EXPERIENCE. That will be valuable to you if you are wise. 
Her teaching began first in private but also at Chetham's, then at what is now the Royal Northern College of Music and later at (London's) Royal College of Music.
Throughout this talk there are excerpts played from the two volumes recently issued and remastered of Norma Fisher's BBC performances from Sonetto Classics. BBC Music Magazine tells us The Liszt works on the first disc … beginning with a superb Mephisto Waltz [No.1] are models of musical playing and technical virtuosity.  I totally agreed to that when we heard it on this afternoon. I was less convinced with the Liszt–Saint-Saëns Danse macabre. Both those composers were witty, humorous, mischief makers. The virtuosity was all there dear Norma but to the degree that the mischief got left out in the cold. Sidney Harrison would have gently reprimanded you for that lapse.
Jack Buckley
Sonetto Classics (click here) has released Norma Fisher at the BBC Vol. 1 Brahms and Scriabin and Norma Fisher at the BBC Vol. 2 Liszt, Schumann, Debussy, and Tchaikovsky (2CDs).