Poland Adolphe Adam, Giselle: Dancers of Polish National Ballet, Orchestra of Polish National Opera / Patrick Fournillier (conductor). Recorded (directed by Ewa Krasucka) at Teatr Wiekli – Polish National Opera, Warsaw, 28 and 30.11.2022 and available on OperaVision and YouTube until 26.6.2023. (JPr)
Production:
Choreography – Marius Petipa (after Jean Coralli and Jules Perrot)
Director – Maina Gielgud
Sets and Costumes – Andrzej Kreutz Majewski
Set design adaptation – Małgorzata Szabłowska
Costume design adaptation – Katarzyna Rott
Lighting – Maciej Igielski
Cast:
Giselle – Chinara Alizade
Duke Albrecht – Vladimir Yaroshenko
Hilarion – Kristóf Szabó
Wilfried – Carlos Martín Pérez
Prince of Courtland – Wojciech Ślęzak
Bathilde – Irina Wasilewska
Berthe – Marta Fiedler
Peasant pas de deux – Mai Kageyama, Diogo de Oliveira
Myrtha – Natalia Pasiut
Willi I – Yume Okano
Willi II – Mai Kageyama
As the website of Polish National Ballet explains: 'The ballet has been shown in Warsaw many times, starting in 1848 … The last two productions (1968 and 1976) were designed by the late Andrzej Kreutz Majewski, whose sets and costumes excellently conveyed the romantic atmosphere of the French masterpiece. When mounting its new production of Giselle, the Polish National Ballet decided to revive the great set designer's stunning vision. Luckily, the artist left behind detailed set and costume blueprints. What is more, the opera house's storage rooms turned out to contain elements of his original scenery. Based on the information, the opera house's craftspeople recreated Kreutz Majewski's designs after they had been meticulously adapted by Małgorzata Szabłowska (sets) and Katarzyna Rott (costumes). The production is, therefore, also a tribute to the internationally renowned Polish artist who served as the Teatr Wielki's chief set designer between 1966 and 2005.'
That it is, although thoughts turn to opera and Richard Wagner writing these words to Franz Liszt in 1852: 'Children! create something new! something new! and something new again!' Of course, he was not anticipating the current obsession with Regietheater but urging a sense of renewal. However, with classical ballet it is – more often than not – a case of 'back to the future' and it can be perceived as the equivalent of a museum exhibit with its sacrosanct choreography, music, and – as for this Giselle – the sets and costumes. Małgorzata Szabłowska, who adapted the sets, revealed that there were 'A few extant photos and sketches' to work with and how 'The backdrop for Act II is the original painted backdrop in the day, the only "living relic" as I jokingly call it'. It was interesting to hear how modern digital technology has been used to recreate the past. Katarzyna Rott, responsible for reviving some particularly colourful costumes, spoke of how she basically had only a black and white film and 'a few lines, or doodles' to work with. Interesting she said how Kreutz Majewski has the 'women look rather unreal with unnaturally large eyes' as a homage to the ballet's French origins.
The 1841 two-act Giselle was premièred in Paris and in comparison to some of the other story ballets has greater psychological depths and explores myriad themes of social class, love, betrayal, despair, forgiveness and redemption. Act I is an idyllic vision of peasant life, it is harvest time in a medieval Rhineland village; though as Giselle is pursued by Duke Albrecht of Silesia, I suspect that is where Kreutz Majewski set his Giselle. The backdrop for Act I was a little indistinct but appeared to show castle ruins atop a mountain and with a stream and bridge down below; onstage there was – all very familiar-looking – a cottage on one side, what might be a small chapel on the other, and a bench. The naïve country girl, Giselle, believes she has won the heart of the noble-born Albrecht, who disguises himself and lives among the villagers. Act II is inspired by a passage in Heinrich Heine's On Germany, about Wilis or 'young brides-to-be who die before their wedding day. The poor creatures cannot rest peacefully in their graves' and rise at midnight and lure young men to dance until they fall dead. For this act, everything is as traditional as you would expect from Kreutz Majewski for Giselle's grave in a moonlit forest glade.
Responsible for the staging was Maina Gielgud, who can be found described as 'a British former ballet dancer and a veteran ballet administrator' which undoubtedly summarises a stellar career in too few words. She aptly spoke about how ballet is at its best when 'You don't notice when the dancers are miming, acting, dancing; it just becomes one complete thing which is partly to do with the music, partly to do with the choreography, how one field goes into the other'. Overall, these were the hallmarks of this fine Giselle performance from Polish National Ballet.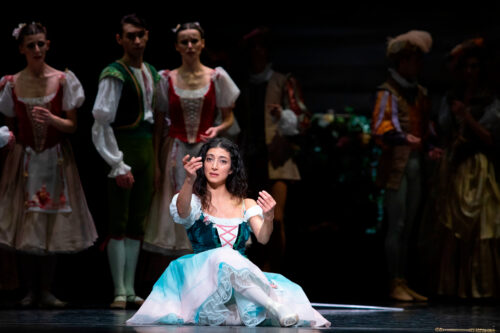 Dancing ability is not enough on its own for Giselle: in Act I, a ballerina has to be convincing as an innocent country girl who believes she has found her true love and then descends into madness at being betrayed, whilst in Act II she must seem otherworldly. Chinara Alizade, Moscow-trained and formerly of the Bolshoi Ballet, proved to be the near-perfect combination of dancer and actor the role demands. Alizade's Giselle had a lighter-than-air quality and in Act I she was caught up in a first love and exuded an affecting, childlike innocence and vulnerability, as well as an alarmingly ardent devotion to dance. When the party of nobles arrives, all is revealed about Albrecht's true identity and Giselle learns he is engaged to someone else. Giselle is plunged into 'madness', rushing around the stage in absolute turmoil because she is unable to comprehend how everything she thought was true now turns out to be false. Alizade, who had brought her character to vibrant life throughout the act, now hurled herself through a tormented dance before succumbing to a broken heart. In Act II Alizade's dancing became, if that were possible, even lighter and more ethereal: everything she did throughout the ballet seemed perfectly natural and fluid without any indication that Alizade was thinking about what her next steps were.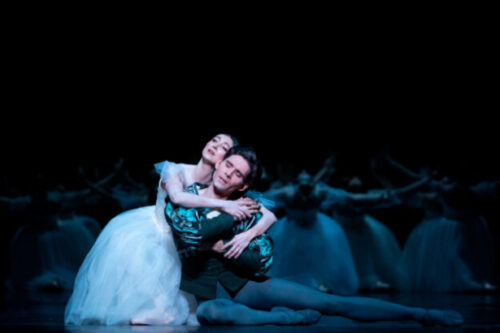 In Act II Giselle's ghost twirls round the stage as if still propelled by her passion to dance. She dances with Albrecht until dawn, at which hour the Wilis lose their power and he is saved from death. Giselle's power of true forgiveness and selfless efforts to protect Albrecht from death frees her from the Wilis and allows her spirit to find true peace. As Albrecht, the willowy Polish-Russian Vladimir Yaroshenko was a credible rake in Act I who is equally believable in his deep remorse at how his deceit has caused Giselle's death. Yaroshenko was a noble Albrecht and proved himself to be another convincing actor: he was technically adept, had a refined line and his partnering was assured. But as good as Yaroshenko's Act II sorrowful jumps were, when he should be dancing near pure exhaustion – as his character and as a dancer – Yaroshenko looked as if he could go through it again and again.
To be honest – notwithstanding the fine ensemble performance – there is little opportunity for anyone else to make an impression in Giselle. All credit to each one of the artists of Polish National Ballet who under the gaze of screen director Ewa Krasucka's cameras – often in extreme close-up – appeared 'switched on' and totally in character, whether as a peasant in the furthest background or as a Wili. Kristóf Szabó, Marta Fiedler and Irina Wasilewska caught the eye in the basically mime roles of gamekeeper Hilarion (who is besotted with Giselle), Berthe (Giselle's concerned mother), and Bathilde (Albrecht's haughty fiancée). Mai Kageyama and Diogo de Oliveira danced a charming Act I peasant pas de deux. Natalia Pasiu's haunting, imperious Queen of the Wilis made light of the technical difficulties behind her entrance steps and Yume Okano and Kageyama were just as impressive as her attendants. The corps de ballet offered an exceptional display of synchronised otherworldly movement which was a highlight of the second act. They were all supported by some fine sounding playing from the Orchestra of Polish National Opera under the supportive baton of their experienced music director, Patrick Fournillier.
Jim Pritchard