Switzerland Cavalli, Eliogabalo: Soloists, Orchestra La Scintilla / Dmitry Sinkovsky (conductor). Zurich Opera, 4.12.2022. (MF)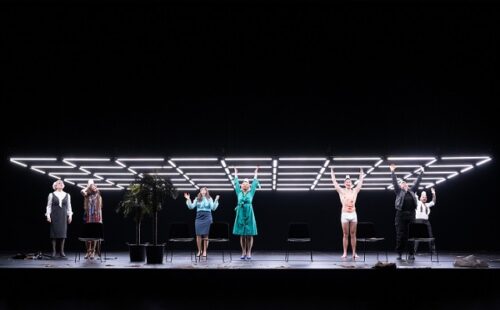 Production:
Director – Calixto Bieto
Set – Anna-Sofia Kirsch, Calixto Bieito
Costumes – Ingo Krügler
Lighting – Franck Evin
Video – Adria Bieito Camì
Dramaturgy – Beate Breidenbach
Cast:
Eliogabalo – Yuriy Mynenko
Anicia Eritea – Siobhan Stagg
Giuliano Gordio – Beth Taylor
Flavia Gemmira – Anna El-Khashem
Alessandro Cesare – David Hansen
Atilia Macrina – Sophie Junker
Zotico – Joel Williams
Lenia – Mark Milhofer
Nerbulone – Daniel Giulianini
Tiferne – Benjamin Molonfalean
Un console –Aksel Daveyan
Altro console – Saveliy Andreev
Zurich Opera Statistenverein (Extras Association)
Eliogabalo was a dynamite stick blazing at both ends. He became Emperor at 14 and was brutally murdered at 18 in 222AD. Politics did not interest him in the slightest. Instead, he showed an insatiable appetite for sexual adventures in all shapes and forms and a fascination with bizarre religious rites. The teenage ruler went down in history as a symbol of ancient Rome's decadence. His short life of excess proved fitting for the libretto of Francesco Cavalli's baroque opera. The storyline includes genderfluidity at multiple levels, hetero- and homosexuality, polygamy, assault and battery, fraud, rape, desecration, murder and self-mutilation. Eliogabalo promises nuptials left, right and centre, plots murders and in the end perishes miserably.
Calixto Bieito (who in 2018 thrilled Zurich audiences with Monteverdi's L'incoronazione di Poppea) tackles this topical work about the egomaniac power addict head-on. Less interested in logic or linear narration, he goes for the creation of strong emotional images – and he gets his point across. Although fluid in many respects, Eliogabalo's world is resolutely set in black and white. All colours are left to the women. The set (Anna-Sofia Kirsch) and costumes (Ingo Krügler) are modern without identifying a specific period and provide solid ground for Bieito's associative production.
This director is attracted by the tension between Eliogabalo's free spirit – pushed to extremes, mind you – and his utter ferocity. The figure fluctuates between cruelty, seduction, hedonism and insecure self-perception. A character torn by contradictions and looking to disrupt societal conventions. He is a precursor to Don Giovanni, both nihilists in Bieito's view. Video imagery (by Bieito's son Adria Bieito Cami) alternates with underground Fight Club boxing scenes, crass, though not explicit, depictions of sexual violence and a life-size bull. The director even includes a reference to Chekhov's gun: if a motorcycle is hanging from the ceiling, be prepared to see it ridden by the end of the act. The images may not all be equally convincing, but they are certainly brimming with emotional and artistic power.
Francesco Cavalli wrote the opera in 1668. The authorities cancelled the piece before it even premiered, as it was thought that a villain of Eliogabalo's calibre could not be saved by death but had to repent during lifetime. The world had to wait until 1999 for the premiere. Cavalli did not leave a full score, but rather mere vocal lines and a basso continuo with numbers indicating the pitch. For every rendering the score will need to be rebuilt, a task which Russian conductor Dmitry Sinkovsky carried out brilliantly. Sinkovsky not only conducts but also plays the violin and – spoiler alert! – sings a solo part. The music, as spelt out by Sinkovsky, is perhaps less catchy than that by Cavalli's teacher, Monteverdi, but nonetheless offers moments of melodic beauty, as well as plenty of suspense and edginess. Zurich opera's period orchestra La Scintilla has sparks flying on its historic instruments.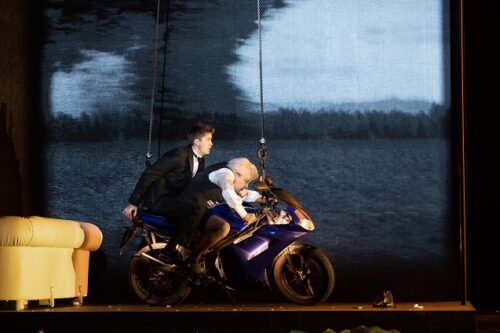 The cast reflects the work's multi-faceted complexity. The main character is a soprano role sung by a man – the rousingly versatile Ukrainian countertenor Yuriy Mynenko – who dresses up as a woman. He is accompanied by the anything but selfless wet nurse Lenia (tenor Mark Milhofer: a cross between Devil wears Prada Meryl Streep and La Cage aux Folles) and in the end loses out to his cousin Alessandro, another soprano role interpreted by second countertenor David Hansen. To complete the gender jumble, Giuliano Gordio is sung by mezzo-soprano Beth Taylor with impressive vocal dynamics. Siobhan Stagg as Anicia Eritea and Anna El-Khashem as Atilia Macrina received clamorous applause.
On opening night the audience was somewhat reduced after the interval. But the overwhelming majority who stayed celebrated the cast, orchestra and the entire production team rapturously. Overall, this was not your pre-Christmas easy listening feelgood evening, but it is unquestionably a must-see production. Eight more performances are on in December and two in early January 2023 (last chance on January 7th).
Michael Fischer