United Kingdom Prom 32 – Pejačević, Grace Williams, Holst: Geneva Lewis (violin), Ladies of the London Symphony Chorus, BBC National Orchestra of Wales / Jaime Martín (conductor). Royal Albert Hall, London, 8.8.2023. (CC)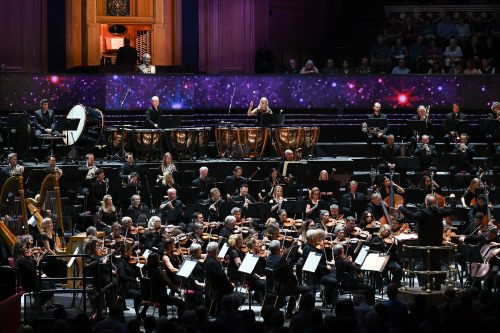 Dora Pejačević – Overture, Op.49 (1919)
Grace Williams – Violin Concerto (1950)
Holst – The Planets, Op.32 (1914-17)
The BBC NOW has already shown itself to be in fine fettle this season, with BBC Prom 22 (Prokofiev Third Piano Concerto with Isata Kanneh-Mason as soloist, and Tchaikovsky Fifth Symphony under Ryan Bancroft, review here). Ten Proms later, the orchestra still dazzled.
Lovely to see a piece by Dora Pejačević, whose music has recently been championed by both Chandos and cpo. Born into nobility (her father a Croatian count, her mother a Hungarian countess), Dora was surrounded by music in her childhood: her mother was a singer and a pianist. She received private lessons at the Croatian Music Institute, supplemented by study in Dresden and Budapest. A self-proclaimed Wagnerian, her music displays grace and charm; but deeper emotions lie below the surface. She was the first Croatian composer to write a piano concerto. She died of kidney failure in 1923 a month after giving birth to a son.
The Overture in D minor, Op.49, was intended as a concert opener. It is dramatic, its initial jittery energy coming from a chain of syncopations. Brightly scored, the score requires real discipline from its players, and the BBC NOW responded with perfect crispness of attack. Strings in particular were disciplined. In a sense, this is the perfect Proms piece: melodic, immediately appealing, briskly rhythmic. There is a certain nobility to some of the aspirational string phrases, to balance, woodwind pipe pastorally at times.
The recording on cpo, incidentally, is worth seeking out: Howard Griffiths conducting the Brandenburg State Orchestra, Frankfurt and coupled with the wonderful Piano Concerto (with Oliver Triendl as soloist). Rob Barnett's review of this disc over on Music Web International is worth reading (here) for his thoughts on what (or who) the music sounds like; I certainly agree there is a Beethovenian slant here.
Back in 2004, when I spent some time exploring the Lyrita catalogue, one of the great discoveries for me was the music of Grace Williams. MWI has some in-depth resources for her music (here), which I link to at the bottom of my review of her Second Symphony, Fairest of Stars and Ballads (Lyrita SRCD327).
Written in 1950, Williams's Violin Concerto begins with a slow movement (marked 'Liricamente'); the final two movements are linked, an Andante sostenuto leading to an Allegro con spirito.
To be honest, it is difficult to choose which is the greatest discovery: Williams's concerto, or the playing of New Zealand born Geneva Lewis. At only 25, Lewis is a BBC New Generation Artist who has studied at the New England Conservatory and who currently is with Mihaela Martin at the Kronberg Academy. She plays a composite violin by Giovanni Battista Guodagnini from around 1776; her sound is stunningly beautiful, The first movement of Williams's concerto is really a rhapsody, and it was precisely the sense of music on the fly that Lewis and Martín caught so perfectly. Melodic lines were tenderly sculpted by the soloist as woodwind flickered around her. Some of Williams's scoring is ultra-delicate, and how the players of the BBC NOW relished the challenge. Moments of lush Impressionism sat against passages of astringency, themselves against moments of real simplicity. Lewis gave a perfect account of the cadenza, her tuning incredible. Williams prepares the music for the cadenza proper by starting with solo violin against a sustained horn note; again, at the end, cellos play while the violin sits clearly still in cadenza mode. It is a fascinating take on integrating the cadenza into the movement proper, and Lewis and Martín clearly understood it perfectly.
The Andante sostenuto that follows mines specifically Welsh music for material, specifically the hymn tune Yr Hen Dderby. A keening oboe shadows the violin's long line before the two instruments alternate gestures. The melodies here seem to last forever in a heavenly unfolding, and Lewis's sweet tone was perfect. Expansive and utterly beautiful, this is music that is utterly cherishable, as was this performance. Neither Lewis nor Martín put a foot wrong; the finale, in contrast, is characterised by a sort of astringent yet witty demeanour. Lewis and Martín laudably allowed the music space to speak, to their eternal credit. The performance remains on BBC Sounds, and should, I humbly suggest, be eagerly sought out.
Finally, Holst's The Planets, a Proms favourite if ever there was one. Nary a year goes by without its presence being felt. It is a masterpiece, although it does not always appear as such. Here, it most certainly did in a performance of razor-sharp clarity and power. 'Mars' was overpowering, and rightly so, but it was the detail that made it count, crescendos and diminuendos perfectly judged, horns absolutely on form. In 'Venus,' it was the balancing of the wind chords that was so impressive. A disproportionate amount of detail was audible; this was no run-of-the-mill outing for Holst's masterpiece. Gossamer-light articulation characterised 'Mercury' while, for all its 'big tune', 'Jupiter' was notable for its fantastical, colourful edge. Martín allowed the modernity of Holst's writing in 'Saturn' to really register, the trombones highly impressive in their weight. 'Uranus' moved from lightness to diablerie. Finally, the iconic 'Neptune' with its offstage female chorus, in one of the upper boxes, the singers walking away at the end. This was truly beautiful, the control of the BBC NOW's wind instruments in pianissimo a real contributory factor to the movement's success.
Both Martín and Lewis were making their Prims debuts on this occasion. Let's hope it is a combination that returns, and soon.
Colin Clarke