United States  CCM Ballet Ensemble Spring Dance Concert: Jiang Qi and Michael Tevlin (directors), University of Cincinnati College-Conservatory of Music, Cincinnati, OH. 24.4.2015 (RDA)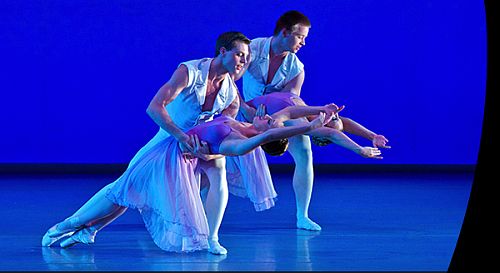 Glazunov: Raymonda, excerpts
Liu Sanzang: Chiaroscuro
Anthony Krutzkamp: Similar
Michael Tevlin: Prelude to Tomorrow
Stravinsky: Les Noces
For the College-Conservatory of Music's Ballet Ensemble's spring dance concert at Corbett Auditorium, a troupe of gifted, energetic University of Cincinnati students began with excerpts from Alexander Glazunov's Raymonda (1898}, originally choreographed by Marius Petipa and given an elegant restaging by Deirdre Carberry. Four soloist couples showed vibrant dancing in the Hungarian-flavored Pas de dix, and the excellent principals, Gabrielle Gulan and Jake Elwell, did fine work in their pax de deux.
After a pause came three shorter contemporary works. Similar, with minimalist music by Chad Lawson and Brian Crain, was immaculately choreographed by guest artist Anthony Krutzkamp as a set of duets that examines the vagaries of a couple's relationship. Performing barefoot and adopting a kinetic language combining classical ballet and modern dance, three couples intertwined erotically and acrobatically, with a sharp gestural vocabulary amid an emotional gamut of rejection, attraction and reconciliation. In one of the evening's finest, moments, Katelyn Somers and Daniel Wagner, dressed in casual clothes and isolated in their own pool of light, elicited generous applause for their precise and emotionally-charged duet.
Chiaroscuro, with music by Liu Sanzang, and choreography and costumes by guest artist Tian Tian, embodied a strong Chinese aesthetic, portraying the interconnectedness of yin and yang. Beautifully lit by Joe Neumer, the brief but substantial sequence for eleven dancers had a hypnotic effect, as the aural and visual elements supported the at times hieratic, yet universal choreography.
Prelude to Tomorrow, gracefully choreographed by Michael Tevlin to music of Rachmaninoff, provided the joyful finale to the first half of evening. A handful of couples paired off, dressed in pastel costumes while dancing against a gorgeous starlit sky created by Jeremy Dominik.
This portion of the program was the ideal showcase for C-CM ballet hopefuls, many of whom graduate and quickly move on to fill positions in dance companies around the country. The diversity of styles required—each its own world—provided a challenge that these young stars-in-the-making met beautifully.
After a brief pause, the ensemble took the stage for Igor Stravinsky's Les Noces, accompanied by the C-CM Chamber Choir, four pianists (including faculty member James Tocco), six percussionists, and a hardworking vocal quartet: Megan Slack, Hillary Grobe, Stephen Carroll and Simon Barrad, all under the unflagging direction of Earl Rivers.
Andre Megerdichian's choreography, with its angular, zigzagging patterns, effectively responded to the percussive score, which captures the gossipy goings-on of a 19th-century Russian village preparing for a wedding. The dancers acquitted themselves in their precise execution of the demanding movements, and the singers did equally well with the implacably rhythmic, high-lying vocal writing, all while maintaining balance with the accompanying musicians. One minor complaint: better costuming might have helped. The black shorts, skirts, pants, and tops—side-lit throughout—tended to blend into the black backdrops. But one could hardly ask for more than seeing this ensemble end the evening with Stravinsky's vivid 1923 ballet—a rousing conclusion.
Rafael de Acha