Finland Sebastian Fagerlund, Höstsonaten (Autumn Sonata): Soloists, Chorus and Orchestra of the Finnish National Opera / John Storgårds (conductor), Finnish National Opera, Helsinki, 23.9.2017. (GF)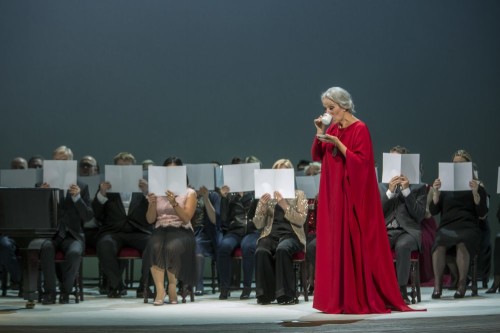 Production:
Direction and sets – Stéphane Braunschweig
Costumes – Thibault Vancraenenbroeck
Lighting design – Marion Hewlett
Set partner – Alexandre de Dardel
Direction partner – Georges Gagneré
Cast:
Charlotte Andergast – Anne Sofie von Otter
Eva – Erika Sunnegårdh
Viktor – Tommi Hakala
Helena – Helena Juntunen
Leonardo – Nicholas Söderlund
Erik – Otto Lehtonen
Soloists in the Chorus – Krista Kujala, Mari Sares, Jere Martikainen, Jarmo Ojala
Ingmar Bergman's 1978 relationship drama Höstsonaten (Autumn Sonata) has become a film classic – even though Bergman himself was dissatisfied with the result. When the Finnish National Opera commissioned a work for Finland's centenary of independence, Sebastian Fagerlund chose the script for the film, adapted for the opera stage by Gunilla Hemming. It is, like many of Bergman's works, a dark and trying drama, a chamber play taking place within the four walls of a vicarage, where Eva and her husband Viktor are living. They also take care of Helena, Eva's sister who is seriously handicapped and can hardly speak. Their mother, Charlotte, who is a celebrated concert pianist touring the world's great venues, has announced that she will pay them a visit for the first time in seven years. Eva and Victor have lost their three-year-old son Erik and Charlotte has also lost her male friend Leonardo.
When Charlotte appears, all she talks about are her new clothes. Her main interest is herself, her career and her admiring audience, which is present at some distance, but later on enters the room and takes part in the conversation. Leonardo also appears in flashbacks. There is a certain surrealism about the proceedings. Charlotte is annoyed when she learns that Helena, whom she had put in a nursing home, now lives at the vicarage. The relationship between Eva and Charlotte is uncertain and tentative. Do they even like each other? Eva grew up with a frequently absent mother, and in the second act their conversation becomes more and more heated. Eva accuses Charlotte of having pressured her to have an abortion when she was 18. After long and aggressive discussions they part company for the night and Charlotte, alone with her audience, apologises for everything she has done wrong.
The next morning Charlotte leaves and Eva begins a letter to her mother in which she regrets the dispute and claims she has wronged her. Charlotte on the other hand has obviously already forgotten about her apologies.
This is a masterly libretto, deviating in several instances from Bergman's script. The emotions are strong and after 2½ hours one is quite exhausted as a listener and onlooker. Sebastian Fagerlund has created a colourful score that powerfully comments, underlines and punctuates the text. The music is not melodious, but it is expressive and full of feeling. Where I am in two minds is about the design of the vocal parts. In the first act, these stood out as rather wooden and foursquare. Hearing the work might well make me change my opinion – as can happen fairly often with unknown music. In the second act, when the drama increased, there was more life, more expression, the temperature rose, the tempo quickened and a great deal of the dialogue was spoken. In the second act there is also a scene filled with light, joy and happiness. The paralysed Helena comes out of her room and speaks of a holiday in Bornholm, where Leonardo kissed her – and she was utterly serene. There are many psychological layers to this story and I do hope it will be released on DVD in due time for further analysis. Chances are that this will happen, since this performance was broadcast live the on Finnish television.
The work has many merits besides the libretto and the music. The role of Charlotte was tailor-made for Anne Sofie von Otter, who was seen for the first time in an operatic role in Finland. It is a strenuous role, not least mentally, and she expressed every facet of the complicated feelings provoked during the disputes. Noble and aloof, she gradually weakened, but ultimately never changed.
Eva's character is entirely different: she is vulnerable, uncertain, vacillating, and Erika Sunnegårdh impressed me greatly in this role. She was a late starter, making her operatic debut when she was 38 in the title role of Turandot. It was a sensation and she soon sang at the Met and many other big houses. Vocally she was not at her best in the performance I saw, but the identification with the role character was so tangible, so involved, that one could feel all her pain, all her frustration. The other roles were rather limited in scope, but Tommi Hakala was a believable Viktor and Nicholas Söderlund did what he could with the fairly anonymous Leonardo. Helena Juntunen had her big number in the second act and was irresistible in her red dress. Colours elsewhere were – not surprisingly – rather subdued. Chorus and orchestra were splendid under the direction of John Storgårds. New operas tend to be played for a limited period and then, more often than not, never again. I sincerely hope that Höstsonaten will survive somewhat longer. In the best of worlds, YLE, Finland's public service radio and television broadcasting company, will produce a commercially available version of this work.
Göran Forsling