United Kingdom Mozart, Don Giovanni: Soloists, Chorus and Orchestra of Welsh National Opera / James Southall (conductor). Theatre Cymru, Llandudno, 19.4.2018.(RJF)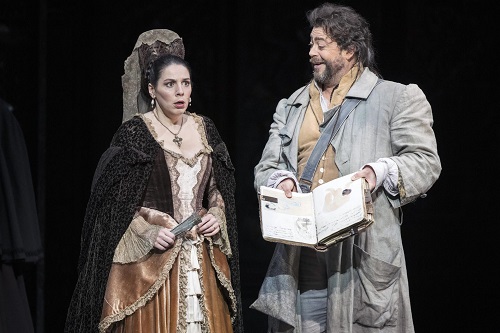 Cast:
Don Giovanni – Gavan Ring
Leporello – David Stout
Donna Elvira – Elizabeth Watts
Donna Anna – Emily Birsan
Don Ottavio – Nico Darminin
Masetto – Gareth Brynmor John
Zerlina – Katie Bray
Commandatore – Miklós Sebestyén
Production:
Original Director – John Caird
Revival Director – Caroline Chaney
Designer – John Napier
Assistant designer – Yoon Bae
Lighting designer – David Hersey
Costume designers – John Napier and Yoon Bae
Choreographer – Kate Flatt
Fight director – Kevin McCurdy
Revival fight director – Samuel Davies
By 1785 Mozart had moved from Saltsburg to Vienna via Munich. He did this to enlarge his opportunities as by then his strengths as an opera composer were widely recognised and the genre was to remain central to his ambitions. In 1786 he commenced collaboration with court poet Lorenzo Da Ponte to realise the immensely popular Le nozze de Figaro with its taut plot and integrated music. The work was immediately widely acclaimed and was produced in Prague with unprecedented success. Bondi, the Manager of  Prague Opera, keen to capitalise on Mozart's popularity in the city, commissioned a new opera from him for production the following autumn. Mozart returned to Vienna and sought the cooperation of Da Ponte for the provision of a suitable libretto. Although Da Ponte was working on librettos for two other composers he agreed to set the verses of Don Giovanni for Mozart.
Don Giovanni was well received in Prague. However, for a production in Vienna the following year there were problems. The tenor couldn't sing his Act II aria 'Il mio tesoro' and Mozart substituted the aria 'Dalla sua pace', better suited to his abilities in Act I. The role of Elvira was to be sung in Vienna by a protégée of Salieri who demanded a scena for herself. Mozart added the accompanied recitative 'In quail eccessi' and aria 'Mi tradi'. Common performance and recorded custom, as here, is to incorporate the Vienna additions into the Prague original. However, perhaps as a result of the origins of the libretto, added to the insertions of the Vienna scenes, a performance can sometimes seem a hotchpotch with dramatic cohesion lost. The production and set needs to be capable of quick change from one often-short scene to the next, whilst the producer needs to accommodate the intimate with the more public group situations. This production, first seen in 2011 was criticised by some as old fashioned. Since that time, I have seen several productions and films of the opera and I have to say that the sets and direction in this production allow swift movement between the numerous situations in the opera. Yes they might seem dark and chunky, and get moved about a lot, but the overall effect allows the cohesion of the story to emerge.
Under conductor James Southall and facilitated by the easy movements of the set and costumed in period, the performance moved with dramatic cohesion and in a manner that defeats some renowned musicians and designers. Adding the singers – nicely balanced as to whether new to their roles or vastly experienced – and I state early on this was one of the most enjoyable performances of this work my wife and I had attended, or seen, for some considerable time.  The baritone pair of Gavan Ring as a masterful Don Giovanni, and David Stout as Leporello, played to each other's' strengths and fully realized their roles in as good a manner – as singers and actors – as I have seen. As Don Ottavio, the wimp suitor of Donna Anna, Nico Darminin was a little over parted needing some more mellifluousness to his tone. Similarly, Emily Birsan as his would-be wife was rather tentative in their opening duet but came fully into her own to sing an excellent 'Non mi dir'. As Donna Elvira, the sexually thwarted would be partner of Giovanni, Elizabeth Watts was also superb as actress and singer. Of the two young lovers, Katie Bray as Zerlina was especially delectable in her treatment and succor of Gareth Brynmor John's cruelly beaten Masetto. He too – after being duffed up by Giovanni – showed plenty of vocal and acting promise for the future. Miklós Sebestyén seemed to lack a little of his characteristic sonority. As to the overall production, I really would have preferred a table for Don Giovanni's mickey taking of Leporello in the final scene and, perhaps, a few more flames as he is taken to hell.
 Robert J Farr