United Kingdom English National Ballet's Voices of America (choreography by Azure Barton, William Forsythe and Jerome Robbins): Dancers of English National Ballet, English National Ballet Philharmonic / Gavin Sutherland (conductor). Sadler's Wells, London, 12.4.2018. (JPr)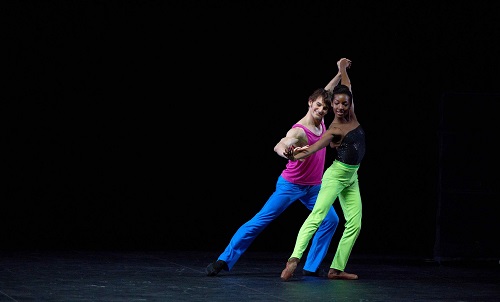 Fantastic Beings
Choreography – Aszure Barton
Music – Mason Bates's Anthology of Fantastic Zoology
Costume designer – Michelle Jank
Dancers included – Erina Takahashi, Isaac Hernández, Begoña Cao, Junor Souza, Crystal Costa and Ken Saruhashi
Approximate Sonata 2016 
Choreography and lighting design – William Forsythe
Music – Thom Willems
Costume design – Stephen Galloway
Dancers – Alina Cojocaru and Joseph Caley (1st and 5th Sonata); Tiffany Hedman and James Streeter (2nd Sonata); Jurgita Dronina and Isaac Hernández (3rd Sonata) and Precious Adams and Aaron Robison (4th Sonata)
The Cage 
Choreography – Jerome Robbins
Music – Igor Stravinsky's Concerto in D for string orchestra
Recreation – Perry Silvey
Scenery – Jean Rosenthal
Costumes – Ruth Sabotka
Dancers included – Begoña Cao (Queen), Jurgita Dronina (Novice), James Streeter (Man), Matthew Astley (1st Intruder)
Playlist (Track 1,2) 
Choreography and costume – William Forsythe
Music – Peven Everett's Surely Shorty & Lion Babe's Impossible (Jax Jones remix)
Dancers – Joseph Caley, Aaron Robison, Aitor Arrieta, Ken Saruhashi, Barry Drummond, Henry Dowden, Joshua McSherry-Gray, Giorgio Garrett, Rhys Yeomans, Erik Woolhouse, Daniel McCormick, Noam Durand
It is strange for ballet to be so much in the news as it has been recently and also that English National Ballet should be the focus of that attention rather than The Royal Ballet. Naturally I have nothing to add to this discussion except to suggest that no unhappy company dances –  as ENB did here – with such confidence, easy fluency and technical strength that was such sheer joy to watch. Voice of America is a mixed bill but does exactly what it sets out to do. Artistic director Tamara Rojo describes in the programme how it is 'a celebration of the neo-classical style, born out of America, featuring three generations of American choreographers.' The four contemporary works we see build to the crescendo of William Forsythe's first new ballet in Britain for 20 years. Playlist (Track 1,2) proved well worth the wait, drew whoops and hollers, and deservedly bought many in the audience to their feet to acclaim it.
It was the second time I had seen Aszure Barton's Fantastic Beings which was created through collaborating with a large group of ENB's dancers over a seven-week rehearsal period in 2016. I still believe what I thought then that perhaps there are just too many ideas and it overstays its welcome a little. For the most part the 20 dancers wear the same greenish looking unitards and there is crepuscular lighting. I could be accused of finding meaning where none exists but presumably there are various 'Fantastic Beings' shown during their evolution. This seems confirmed by a large blinking and teary eye of a 'supreme being' seen as the audience enters the auditorium and near the end when under some falling stars everyone seems transformed into hairy ape-like creatures. These are a bit like those you can see in 2001 – A Space Odyssey or the recent reimagined Planet of the Apes movies. As before there are several nice solos, pairings, lots of rapid skittering, as well as, constantly changing spatial patterns. Fantastic Beings was ebulliently danced to Mason Bates's rumbustious, percussive score (Anthology of Fantastical Zoology) – played consummately by the English National Ballet Philharmonic – with a power of unanimity that was impressive and continued to be so as the evening unfolded.
The first of two pieces by living doyen of modern dance, William Forsythe, was Approximate Sonata 2016 recently reworked for Paris Opera Ballet from his 1996 original and set to a muted electronic score by his long-time collaborator, Thom Willems, which pulses and pauses. We see some hints of Balanchine in his style both here and in Playlist (Track 1,2) as there are the off-balance extensions of familiar ballet positions, much athletic virtuosity and – as evidenced by the new work particularly – considerable speed and propulsive force. Four couples in rehearsal clothing take part into an intriguing sequence of meditative duets which seems to be deconstructing – through its hint of improvisation – the creation of classical pas de deux. There is a strange intimate beauty to Approximate Sonata 2016 and it succeeded because of the fine performance it got. This was led by the welcome return to ENB of the always graceful Alina Cojocaru (partnered by Joseph Caley) and showcased the increasingly impressive Precious Adams dancing with Aaron Robinson. He was later one of the standout performer in Playlist (Track 1,2) and seems to have fully embraced the opportunity to work with Forsythe.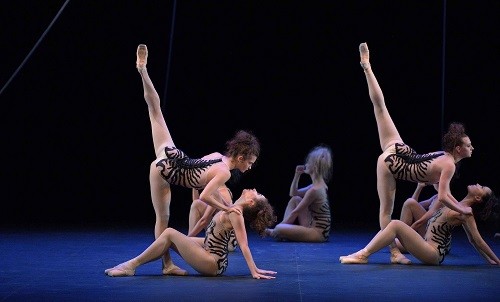 Danced as part of the Jerome Robbins Centennial Celebration marking his 100th birthday his 1951 The Cage sees more 'fantastic beings' and a hive of 12 predatory female insects led by a Queen who consider males of their species as prey. We are drawn into a scenario familiar from the antics of the ghostly Wilis from Giselle. Soon two males are brutally despatched, though one gets to mate first with the Novice, the new-born whose indoctrination into the insect sisterhood is the basis of The Cage. Stravinsky's Concerto in D for string orchestra – given another accomplished performance from a small ensemble under conductor Gavin Sutherland – sombrely accompanies the murders. Looking Amazonian in their fright wigs the dancers appeared to relish Robbins's mix of girlish embraces, war dances and savagery. The way Jurgita Dronina dispatches James Streeter's Man needs to be seen to be believed though apart from these two the ballet's other solo roles – including Begoña Cao's Queen and Matthew Astley's 1st Intruder – are fairly thankless ones. But it didn't matter as The Cage proves an interesting discovery particularly now in the 2018 era of #MeToo and dispelled any thoughts that it is now just a museum piece.
Then there is that finale to Voices in America that I certainly never expected as William Forsythe – 68 years young – gets down with the kids. He combines Peven Everett's jazz and neo soul (Surely Shorty) and a Jax Jones remix of R&B duo Lion Babe's Impossible to showcase 12 male dancers with their names on their t-shirts. It is a dizzying exploration of classical ballet technique that morphs into a macho dance-off (think Jerome Robbins's Jets and Sharks in West Side Story) with much leaping and pirouetting. Most importantly they seem to be having great fun and that party mood quickly spreads to the audience. This is a great company achievement and I cannot remember them dancing better than they did here or throughout this Voices of America. Even if most suspected there is no point they need to prove, it at least clearly confirmed the exceptional depth of talent English National Ballet currently has throughout it ranks.
Jim Pritchard
For more about ENB's current and future performances click here.