United States The Glimmerglass Festival [1] – Rossini, The Barber of Seville: Soloists, The Glimmerglass Festival Orchestra and Chorus /Joseph Colaneri (conductor), Alice Busch Opera Theater, Cooperstown, 20.7.2018. (RP)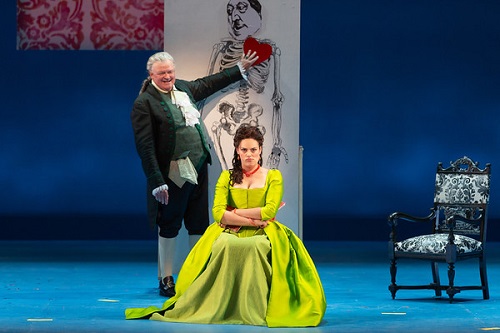 Cast:
Count Almaviva – David Walton
Rosina – Emily D'Angelo
Doctor Bartolo – Dale Travis
Figaro – Joshua Hopkins
Don Basilio – Timothy Bruno
Berta – Alexandria Shiner
Fiorello – Ben Schaefer
An Officer – Maxwell Levy
Figaro's Assistant – Rock Lasky
Production:
Director – Francesca Zambello
Set Designer – John Conklin
Choreographer – Olivia Barbieri
Costume Designer – Lynly Saunders
Lighting Designer – Robert Wierzel
Hair & Makeup Designer – Dave Bova
Continuo – Christopher Devlin
Chorus Master – Katherine Kozak
Undoubtedly Francesca Zambello and John Conklin will be taken to task by some for not developing probing, original insights into The Barber of Seville, creating visual spectacles or updating the action to someplace like modern-day Yemen for their new production for the Glimmerglass Festival, but not by me. (Having seen their 1992 Lucia di Lammermoor at the Metropolitan Opera, I have no doubt that they are up to the task.) Instead, they resorted to those old standbys, fidelity to the score and adhering to the sensibilities of the era in which this comic masterpiece was created. And what a winning combination it was.
The action remained in Seville, and to underscore the point they spelled it out, literally, letter by letter. Architectural renderings of the city in blue provide the backdrop for the comedy. Costumes suggested the late eighteenth century, including those of the male commedia dell'arte troupe who do triple duty as singers, stagehands and props. Set elements were few: the balcony beneath which Count Almaviva serenades Rosina, a mobile barber shop, a few pieces of furniture and, of course, thunder, lightning and rain.
The wit was instilled by photos of Rossini (albeit in his old age, rather than his youthful prime when he wrote this opera) and other contemporaries, quotes from the playwright and signs that pointed out the obvious, such as an approaching storm. There was a touch of the modern with the branding, FIGARO Inc., summing up the barber's portfolio of money-making endeavors. Bright red, white and blue barber poles served as the franchise's logo, while red velvet bags of money repeatedly appeared out of thin air to grease the palms that kept his schemes afloat.
Zambello gathered a cast that was tailor-made for their roles, and they made it all seem so natural and effortless. Joshua Hopkins in the title role came through the audience tossing off opera's most famous entrance aria with aplomb. Hopkins' baritone is full and free with high notes that ring effortlessly, and his Figaro was a dashing scamp.
Emily D'Angelo's Rosina was pert, petulant and cunning. Her voice, a burnished, coppery mezzo-soprano, is a perfectly even column of sound, and there is laughter as well as fire in her deftly dispatched coloratura. Only in her mid-twenties, D'Angelo is a wonder, but then perhaps I am not the best judge, as it is just the type of voice that I fancy.
As her suitor, David Walton displayed a slender tenor with a silvery sheen and impressive agility; there was never even a hint of strain in his elegant singing. In any of Count Almaviva's guises — serenading student, drunken soldier, nasal-voiced music teacher or dashing count — he too was a winner.
The veteran of the cast, and its anchor, was bass-baritone Dale Travis as Don Bartolo. Whenever Travis was on stage, I just thought what a talent, what a pro, and how generous a performer he is. There is nothing as delightful as a pompous, proud old codger who does not take himself too seriously, and he was cut from that cloth.
As Don Basilio, Timothy Bruno's virile and luxuriant bass gleefully gave voice to the powers of rumor and slander. Later, he was more than happy to accept one of those bags of cash in exchange for his acquiescence to Figaro's ploy to hoodwink Don Bartolo. Rounding out the male cast was the Fiorello of Ben Schaefer, another fine young baritone to put on my watch list.
The Berta of Alexandria Shiner, with her huge ring of keys and a glint in her eye, was equal parts servant and women's prison warden, sneezing every time she takes a sniff of her snuff. In the Act I Finale Shiner's voice sailed into the auditorium, and I have never so eagerly awaited Berta's Act II arietta as I did at this at this performance. She didn't disappoint; whether full-throttle or scaled-down, Shiner has both the voice and personality to turn even a supporting role into a star turn.
Eleven-year-old Rock Lasky as Figaro's silent assistant does too, and he never sings a note. How does a kid that young know how to capture so much wisdom and cynicism in side-long glances and shoulder shrugs?
The sounds that emerged from the pit were just as graceful and electrifying. The overture was played without any distracting stage gimmicks. How wonderful it was to anticipate the curtain rising. Conductor Joseph Colaneri knows how to make a Rossini Rocket take flight and, once airborne, the tempos never flagged.
Opera doesn't get much better than this.
Rick Perdian
The 2018 Glimmerglass Festival runs through 25 August 2018, for more information, click here.