United States 2019 Opera Saratoga Summer Festival – Gordon, Ellen West: Soloists, The Opera Saratoga Orchestra / Lidiya Yankovskaya (conductor), Opera Saratoga, The Spa Little Theater, Saratoga Springs, NY, 12.7.2019. (RP)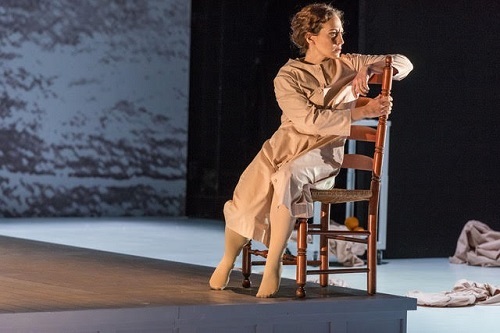 Production:
Director and Choreographer – Emma Griffin
Sets – Laura Jellinek
Costumes – Kay Voyce
Lighting – Josh Epstein
Wigs and Makeup – Sondra Nottingham
Cast:
Ellen West – Jennifer Zetlan
Poet/Ludwig Binswanger/Husband – Keith Phares
Orderlies – Penelope Kendros, Nicholas Martorano
'I love sweets,—
heaven
would be dying on a bed of vanilla ice cream …'
The opening of Pulitzer Prize winner Frank Bidart's poem 'Ellen West' would transport many into a state of bliss, but it is actually a cry of despair from a woman suffering from anorexia nervosa. Ellen West (1888-1921) is the pseudonym of one of Ludwig Binswanger's patients at his Swiss sanatorium. Bidart's poem, which serves as the primary source for Ricky Ian Gordon's opera, juxtaposes fictitious accounts of her personal struggles with the doctor's actual clinical observations of his patient, who committed suicide days after being released from his care.
When Gordon lost his partner to AIDS in 1996, he turned to books and poetry to help him through the grieving process. He happened upon Bidart's Ellen West, written in the mid-1970s when the writer was coming to grips with the death of his mother. In 2015, Gordon, who has also struggled with eating disorders, turned to Ellen West to fashion a chamber opera. Bidart not only granted Gordon the rights to the poem, he also wrote a prologue and epilogue to frame the story. Their deep connection with Ellen West is ever present in the opera, which received its world premiere at Opera Saratoga last month.
To a large extent, it was Emma Griffin's vision that made Ellen West work as a theater piece. She set the drama in a sparsely furnished entry hall and room that had a Nordic, claustrophobic feel. The action, however, frequently spilled out onto the bare stage. Griffin inserted two mute orderlies into the story, androgynous creatures who functioned not only as stage hands but also as observers and participants in the drama. They too had obsessive thoughts and fears that revealed themselves in compulsive, repetitive behaviors.
Ellen West's interior monologues spanned her obsession with the ideal body image (blond and willowy) and a complex relationship with food to musings on Maria Callas' physical transformation from an awkward, overweight opera singer to an elegant, swan-like creature with diminished vocal powers. These scenes were bathed in washes of lurid pink, magenta and green light, a simple but effective way of signaling that we were entering the world of Ellen West's innermost thoughts and feelings.
The opera is scored for five strings and piano. In the talk prior to the performance, Gordon explained that the C bell of the glockenspiel takes the place of the asterisks in the text. Its reverberations, he explained, are akin to those of Tibetan temple bells and impart a mystical, spiritual element to the work. In the Callas scene, Gordon wove passages from Puccini's Tosca into the score to great effect. It came as a surprise that the instrumental interludes that connected the scenes contained some of the most arresting music of the entire opera.
Like Bidart's 'Ellen West', Gordon's opera is at its core a dramatic scene for soprano. Although he composed a few arioso-like passages for Binswanger, the character's music is primarily accompanied recitative. Keith Phares delivered his various characters' narratives in a clear, penetrating, powerful baritone. His sensitivity to textural nuances was exceptional, and his dramatic instincts sure. But compelling as Phares was in his various roles, they were all largely superfluous; I could imagine Binswanger's clinical notes being projected or even read to much the same effect
The opera belongs to the title character, and soprano Jennifer Zetlan's portrayal of Ellen West was spellbinding. She was fearless vocally and dramatically in portraying the whirlwind of complex and unfathomable thoughts and emotions that course through West's mind. Each scene exhibited a different facet of Zetlan's artistry, culminating in the final one, where Ellen West was giddy with joy and eating with abandon, knowing that she would soon be dead.
The combination of strings and piano was ideally suited for the intimate nature of the work and the acoustics of The Little Spa Theater. Conductor Lidiya Yankovskaya maintained a perfect balance between the instruments and singers throughout. Born of necessity, the window through which orchestra and conductor could be seen heightened the undercurrent of voyeurism inherent in witnessing a story so personal.
Ellen West is not the perfect opera, if such a thing exists. Musically, however, it finds Gordon at his best. In Ellen West, he found a character who resonated with him at a deeply personal level and, through the fusion of words and music, gave her life. She is a fascinating creation.
Rick Perdian