United States Puccini, Tosca: Soloists and Chorus of the Seattle Opera, Seattle Symphony / Kazem Abdullah (conductor), Seattle. Subscriber access 4-27.6.2021, and streaming 25-27.6.2021. (ZC)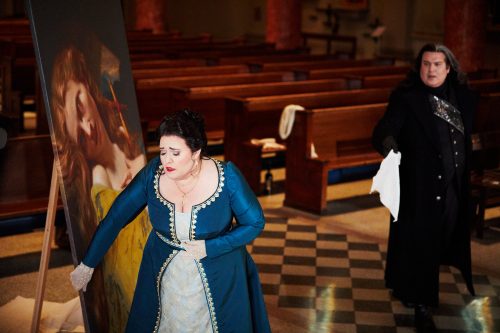 Production:
Director – Dan Wallace Miller
Video director – Ken Christensen
Production designer – Christopher Mumaw
Costumes – Liesl Alice Gatcheco
Lighting – Duane Schuler
Chorusmaster – John Keene
Cast:
Angelotti – Adam Lau
Sacristan – Matthew Burns
Cavaradossi – Dominick Chenes
Floria Tosca – Alexandra LoBianco
Baron Scarpia – Michael Chioldi
Spoletta – Andrew Stenson
Sciarrone – José Rubio
Shepherd boy – Ellaina Lewis
Jailer – Ryan Bede
In Seattle, COVID-19 is receding, and arts organizations are looking ahead to a new season in the autumn with in-person performances. But even with hopes that the future will include a return of the familiar, innovation is still abundant. Take, for instance, Seattle Opera's latest production of Puccini's Tosca.
This warhorse has been staged many times at McCaw Hall, most recently in 2015, and refreshing a classic like Tosca can be challenging. Luc Bondy's hyper-sexual production for the Metropolitan Opera in 2009 stirred strong feelings among viewers who had grown accustomed to the beloved opulence of Franco Zeffirelli's version. Seattle's latest Tosca isn't a live version or even a recording of a past staging. It is a produced film of the opera set at an iconic Seattle location that makes use of cinematography and a rich soundtrack – and soon to be available for streaming.
The star of this production is Seattle's iconic St. James Cathedral. Act I of the opera is set entirely within a church which is enough reason to use St. James as a set. Its imposing architecture, ornate interior and almost ominous sense of place make it a good substitute for the first act's intended setting – the Church of St. Andrea. Action unfolds in nearly every prominent spot in the church. Angelotti scoops life-replenishing water from the baptismal font to quench his thirst. Scarpia stomps around in the cathedral's side chapel, now transformed into his office. Even the stunning Shrine of the Blessed Virgin Mary becomes a prison cell, where the final tragic moments of the opera are set into motion.
These set pieces are brought together with visually interesting cinematography by Dan Wallace Miller and Ken Christensen to help tell Floria Tosca's tale. The most famous of the opera's set pieces is the Te Deum that closes Act I. On stage, the Te Deum is a study in excess with enormous chorus, canons and tons of extras needed for the high church spectacle. COVID restrictions on large groups made it impossible to stage a spectacle at St. James. A little creativity – worm's-eye angles and tasteful projections behind Scarpia – delivered the goods for this famous scene. Scarpia and Tosca's confrontation is brought off to great effect because of the cinematography.  By viewing the action off-center, we become immersed in the tension as Tosca negotiates for Cavaradossi's freedom. Scarpia's malevolence is highlighted with mid-range shots that capture Michael Chioldi's rage-filled performance. Finally, shots that center Tosca in the frame – while a projection of Cavaradossi being tortured is cast on the wall behind her – foreshadow the tragic inevitability of events yet to come.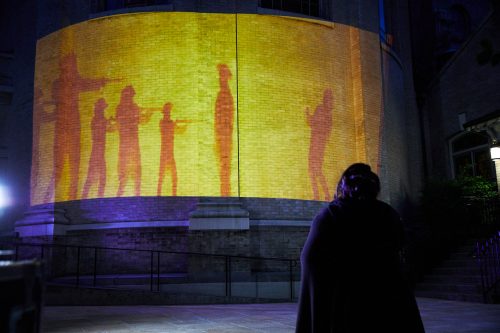 Supporting the strong camerawork and the iconic location is an exemplary soundtrack featuring some of the brightest singers working today. Alexandra LoBianco's mighty Tosca vacillates between emotional extremes: we feel both the longing and irrational jealousy she aims at Cavaradossi as well as her hatred for Scarpia. Cavaradossi's idealism is captured by the wonderful tenor Dominick Chenes whose sweet-sounding voice contrasts with LoBianco's volatile performance. Making his Seattle Opera debut, Michael Chioldi presents a Scarpia oozing a menacing bite. Adam Lau's Angelotti and Matthew Burns's Sacristan deserve mention as well: both singers make the most of their roles. Lau has appeared regularly with the Seattle Opera in recent years, while Burns makes his Seattle Opera debut.
The only obvious weakness in the film comes in some of the acting, in particular the lip-syncing which was too meek. During a live performance, singing loudly enough to fill an entire concert hall has its own exaggerated effect. Bodies heave with breath and faces become distorted. The physicality required to sing opera provides an emotional dimension which was lost in this film version.
Seattle Opera's production of Tosca, which is available to stream starting on 25 June, is a worthy substitute for a staged version. It isn't perfect, but there are enough good things happening for the film to appeal to most opera lovers as they await live performances later this year.
Zach Carstensen
For more information on streamed performances, click here.