United States SongStudio: Renée Fleming (host & artistic director), Anthony Roth Costanzo (countertenor), Hartmut Höll (piano) and Isabel Leonard (mezzo-soprano). Carnegie Hall, New York, 17-22.1.2022. (RP)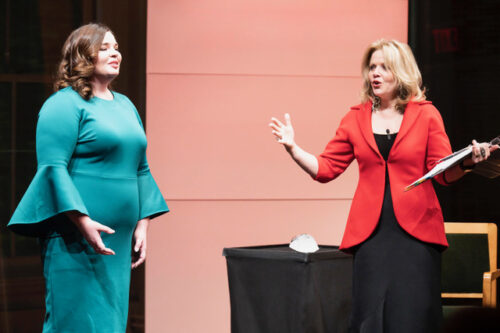 Performers:
Kathryn Henry (soprano) / Artyom Pak (piano)
Tamra Grace Jones (soprano) / Francesco Barfoed, (piano)
Mer Wohlgemuth (soprano) / Pierre-Nicolas Colombat (piano)
Kyrsten Chambers Jones (mezzo-soprano) / Chun-Hsin Liu (piano)
Deepa Johnny (mezzo-soprano) / Matías Ferreyra (piano)
Daniel Moody (countertenor) / Gracie Francis (piano)
Laurence Kilsby (tenor) / Ella O'Neill (piano)
Richard Pittsinger (tenor) / Liza Armistead (piano)
Joseph Parrish (baritone) / Elias Dagher (piano)
Yue Wu (bass-baritone) / Tongyao Li (piano)
SongStudio is at the apex of fascinating and rewarding musical experiences in New York, at least for practitioners and lovers of song. Under the leadership of Renée Fleming, the six-day program of lectures and masterclasses, culminating in a recital, is a window into tomorrow's world of song. This year, ten pairs of rising collaborative artists displayed not only their musical and interpretive skills but also their intrinsic curiosity and daring.
The participants are at different stages in their training, and some have already launched professional careers. The masterclasses, however, are a great equalizer. The final recital isn't nearly as rewarding as watching some of the world's most accomplished and renowned musicians pass the torch to a new generation of singers and pianists in the masterclasses.
Countertenor Anthony Roth Costanzo, mezzo-soprano Isabel Leonard and pianist Hartmut Höll, in addition to Fleming, conducted masterclasses. I attended those with Costanzo and Höll as well as the recital. My focus was primarily on the singers, which in no way reflects on the phenomenal work of the young pianists.
Constanzo's ability to explain the physiology of the singing was remarkable. He zeroed in on a technical glitch or vocal tick immediately and suggested a fix that yielded results every time. His charm and wit are essential tools in his ability to communicate as a singer and a teacher. His teacher of 23 years, Joan Patenaude-Yarnell, was in the audience.
Höll similarly advised pianists on the physicality of creating sound and was quick to illustrate his suggested phrasings and voicings at the piano. Turning to the singers, he advised on textual nuances when singing in German that only a native speaker with a love of language can perceive, let along articulate. He is plainspoken, however. When advising a pianist not to release the pedal at a certain point in Johannes Brahms's 'Immer leise wird mein Schlummer', he quipped 'clean up in the kitchen, not here'.
And as for the singers and their songs…. Tenor Laurence Kilsby opened the recital with a stylish and witty performance of three songs by Francis Poulenc in immaculate French, and brought a special charm and wistfulness to Franz Schubert's 'Im Frühling', which he sang in the masterclass with Höll. Soprano Tamra Grace Jones continued in the French manner with the three songs of Claude Debussy's Fêtes galantes I, as did bass-baritone Yue We, who captured the sensuality and languor Henri Duparc's 'Phidylé'. The exceptionally rich and effortlessly produced lower range of his voice is quite striking.
With her crystalline soprano, Mer Wohlgemuth gave spectacular performances of Anton Webern's 'Drei Lieder' and Arnold Schoenberg's 'Erwartung'. She and pianist Pierre-Nicolas Colombat introduced the works, providing insights into how both composers saw themselves as the end of the German Post-Romantic tradition and not the revolutionary vanguard of the twentieth century. The Schoenberg performance illustrated their point: the leap from Richard Strauss's 'Die Nacht' to 'Erwartung' is not that great.
Countertenor Daniel Moody gave an exquisitely etched, poignant rendition of Franz Schubert's 'Am tage aller Seelen' in the recital, but his singing of Joseph Phibbs's 'The moon is dead' during the masterclass with Costanzo was exceptional for its precision and otherworldliness.
Similarly, although mezzo-soprano Kyrsten Chambers Jones sang a particularly vivacious, sensual 'La Flûte de Pan' from Debussy's Chansons de Bilitis in the recital, observing Erich Korngold's 'Schneeglöchen' bloom under the guidance of Höll was perhaps more indicative of where her talents lie. Höll advised that Korngold is not Hugo Wolf, and the words are not nearly as important, so sing, sing, sing. She took his advice to heart, which resulted in soaring phrases and much fuller, vibrant high notes.
Joseph Parrish has personal style and a very beautiful baritone voice. His penchant for drama was readily displayed in both Gustav Mahler's 'Wo die schönen Trompeten blasen' and 'Aus! Aus!', but with Costanzo's guidance he evidenced a remarkable range of vocal color and brought truth and simplicity to Leslie Adams's exquisite setting of Edna St. Vincent Millay's 'For you there is no song'.
With stage presence to burn, tenor Richard Pittsinger displayed a mastery of Baroque style in 'Tis Nature's Voice' from Henry Purcell's Hail, Bright Cecilia; and equal ease in Benjamin Britten's evocative 'At Day-Close in November' from the cycle Winter Words, to poems by Thomas Hardy.
The alluring, rich-voiced mezzo-soprano Deepa Johnny introduced me, and I suspect many others, to the songs of Alberto Hemsi, whose life's work was the collecting, preserving and promotion of the music of Sephardic Jews. Her performance of three of his songs revealed a deep connection to this colorful, exotic music which she performed with such flare.
Both in the masterclass with Costanzo and in the final recital, soprano Kathryn Henry sang Undine Smith Moore's 'I want to die while you love me'. The smile and warmth in Henry's voluptuous voice made this most romantic of songs something wonderful. When Henry discovered it, she found an encore for life.
Rick Perdian
For the complete program of SongStudio Young Artists recital, click here.