United Kingdom Scriabin, Schoenberg: Robert Taub (piano), Alison Wells (mezzo-soprano), Kokoro Ensemble (Maxine Willis [flute], Liz Drew [clarinet], Kate Turnbull [violin], Judith Preston [viola], Lionel Handy [cello], Jonathan Beatty [piano]) / Mark Forkgen (conductor). Sherwell Centre, University of Plymouth, 12.3.2022. (PRB)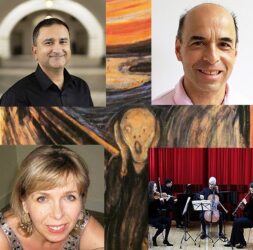 Scriabin – Étude in C sharp minor, Op.2 No.1; Étude in D sharp minor, Op.8 No.12; Poème in F sharp major, Op.32 No.1; Étude in C sharp minor, Op.42 No.5; Tenth Piano Sonata, Op.70
Schoenberg – Pierrot Lunaire, Op.21
'Expressionism: Emotions Unchained' is an ongoing week-long festival and celebration of pivotal music, visual art and film from the energetic, vibrant era of Expressionism. (Musically, Expressionism is tied to the Second Viennese School, notably Alban Berg, Anton Webern and Arnold Schoenberg.) This concert was the opening event.
Despite the inclement weather, a large audience had assembled in the Sherwell Centre on the university campus for the customary pre-concert talk and the performance. The venue, a most tastefully restored church, now houses two halls and a large foyer. The concert hall, which doubles as lecture hall during the day, has kept the original roof of the church; that affords it a near-perfect acoustic.
The talk was informal, just the right length to whet the audience's appetite, and supplied a few helpful pointers. In particular, when soloist Alison Wells introduced Pierrot Lunaire, she gave a very brief demonstration of Sprechstimme. Conductor Mark Forkgen told us how the music is actually put together, and what to listen for. Pianist Dr Robert Taub succinctly explained how Scriabin's musical style had developed, similarly to Beethoven's a century earlier; to back up a comment at the piano can save a thousand words.
Scriabin's works at the concert were Robert Taub's particular favourites, yet he approached each one with a freshness not always easy to achieve when one is familiar with the score; the adrenaline-pumping feeling of tackling some notoriously difficult writing might lose its original edge. At Taub's recital in the Musica Viva series, after three demanding Beethoven Sonatas, he had rattled off the first two études from tonight's programme as a generous encore. His playing had a tad more raw emotion and heart-on-sleeve panache, only to be expected in the context. Today, they formed the first part of an ongoing journey; the performance seemed rightly and very subtly tempered to suit the occasion.
Taub's fascinating and erudite programme notes see the first four works as dramatic examples of the composer's clear and logical passage towards the world of Expressionism, which their increasing opus numbers would appear to corroborate.
Musically, intellectually and aesthetically, this all led seamlessly to the pinnacle of Taub's contribution, Scriabin's single-movement Tenth Sonata (1912-1913). Someone new to this work might think that the composer's soundworld only embraced the early Études, Prelude and Nocturne for the Left Hand, Op.9, or Piano Concerto, Op.20. They might easily experience something of a rude awakening. This audience, however, had been musically 'groomed' by the effective choice of repertoire, the pre-concert talk and programme notes, and first and foremost by the inspirational performances so far. For example, Poème, Op.32 No.1, a truly transitional work, had served its purpose by helping to prepare us. The Tenth is in closer dialogue with sonata form than some of Scriabin's other sonatas. It is technically and musically highly demanding for the pianist, but Taub is the finest advocate.
Just as Scriabin's Tenth Sonata sounds quite unlike his early works, Schoenberg's main output is often considered intimidating and inaccessible. As with late Scriabin, the combination of passion, intellect and expression is essentially the same as in Romantic music. It is only that the composers' language has changed.
Mezzo-soprano Alison Wells's pre-concert talk included a simple yet relevant comment: she envied anyone who would be hearing Pierrot Lunaire for the first time. To appreciate the work, or indeed any piece like those of mature Schoenberg, it is essential to have an open mind. The work, a song cycle to twenty-one poems by Albert Giraud, is considered one of the defining works of Expressionism in music. Conductor Mark Forkgen had said how challenging the work was for the six instrumentalists and vocalist. Indeed, its first performance in 1912 in Berlin came after forty rehearsals – virtually unthinkable today.
The Kokoro Ensemble is the dedicated new-music ensemble of the Bournemouth Symphony Orchestra. Musicians of such highest calibre guarantee the performance to be spellbinding from start to finish. The players were all on tip-top form, and a special mention goes to cellist Lionel Handy. Forkgen did a sterling job in managing and enthusing his performers, with the minimum of arm-waving, just enough to maintain a perfect ensemble throughout.
It was Wells who truly brought the whole work to life, again with the minimum of fuss or affectation. The soprano made perceptive eye contact with her audience while displaying the full gamut of emotions; the effect was eerily riveting. She is not a native German speaker, but I found myself getting the gist of the text, so impressively clear was her articulation. Her earlier brief demonstration of Sprechstimme made me wonder how I would fare after some thirty-five minutes of exposure. But it was spot-on, adding greatly to the Expressionist (and expressive) aspects, and to the unmitigated success of the performance.
I had never heard Pierrot Lunaire before, and I must confess to a certain prejudice against Schoenberg's work. I surely was not the only one to emerge into a wild and windy night not only having enjoyed a most absorbing yet challenging programme, but having learnt a good deal about a period of twentieth-century musical history that would certainly not have been my go-to choice in the past. How it must have sounded back in 1912 simply beggars belief. But we are never too old to learn new tricks. The ultimate thanks go to Bob Taub and the Arts Institute, University of Plymouth, for making it all possible.
Philip R Buttall