United Kingdom Weber, Prokofiev, Brahms: James Ehnes (violin), Bournemouth Symphony Orchestra / Anna Sułkowska-Migoń (conductor). Plymouth Guildhall, 31.3.2023. (PRB)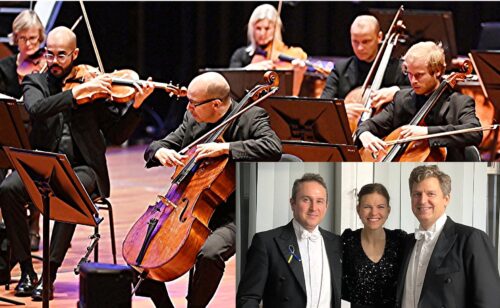 Weber – Overture: Der Freischütz
Prokofiev – Violin Concerto No.2
Brahms – Symphony No.1
When I was a young lad growing up in Plymouth, I felt very fortunate that Bournemouth Symphony Orchestra made fairly frequent visits to the city, even though it was based some 140 miles further along the south coast toward London. BSO has then gone from strength to strength and is now arguably one of the UK's top orchestras. Sadly, the annual frequency of their visits to Plymouth seems to have dwindled sharply. Well, this is neither the time nor place to debate this, so let us simply celebrate every time they call on us.
This programme, entitled 'Mighty Brahms', was the last of the three performances BSO had given on the consecutive evenings at venues dotted along the south coast. So, the orchestra, the conductor and the soloist were better acquainted with the works on offer than if this had merely been a one-off event.
Weber's well-known overture to Der Freischütz showcased right away the orchestra's impressive sound quality. The warmth and richness of the strings was soon enhanced by the glorious sound of the horns as they soared flawlessly above the lush orchestral texture. As the ensuing Molto vivace cranked everything up a few notches, the players always responded immediately. There was high respect for, and confidence in, conductor Anna Sułkowska-Migoń, whose direction was never overly fussy, nor excessively choreographed for effect. It was abundantly clear to follow, and perfectly conveyed her musical perception of each work.
The conductor won last year's prestigious La Maestra competition in Paris, and a number of equally impressive international awards. She has already collaborated with orchestras in her native Poland and abroad. She made her BSO debut in March with this programme.
When I was a student at London's Royal College of Music, we all had to participate in the First-Year Choir; Messiah was the first work we sang. I remember hearing for the first time one of the bass soloists, then a more senior student, in one of the most celebrated arias. I thought he was something special, and would become a leading international performer, both in opera and oratorio. My prediction turned out to be spot-on. I had exactly the same vibe when I watched Anna Sułkowska-Migoń here. I hope my prophesying skill has not diminished.
Let me return to the Overture. The whole BSO string section is a force majeure, and the cellos are very fortunate to have Jesper Svedberg as their Principal. I always admired his total involvement whenever he played in Plymouth as a member of the acclaimed Kungsbacka Piano Trio. The same enthusiasm and genuine love of the music lead and inspire his fellow BSO musicians, and not just the cello section. Nowhere was this more noticeable than in the Overture's closing section. He showed total commitment to the composer's thrilling score, and great rapport with the conductor. The performance definitely hit the target, just like the marksman in the opera's title.
Canadian violinist James Ehnes joined the orchestra in Prokofiev's Second Violin Concerto. Ehnes's recent orchestral partnerships include the MET Orchestra at Carnegie Hall, Gewandhausorchester Leipzig, San Francisco Symphony, London Symphony, NHK Symphony and Munich Philharmonic. In the 2022/2023 season, he continues as Artist in Residence with the National Arts Centre Orchestra in Ottawa.
Ehnes's stage presence and demeanour suggest someone thoroughly amenable and approachable, but he has been plying his trade some twenty years longer than Sułkowska-Migoń. He may be one of the best violinists around today. No pressure on the conductor, then? Well, on the face of it there was great rapport between violinist, conductor and orchestra. I believe that, had Ehnes felt any differently, he would not have delighted the large audience with Paganini's electrifying Caprice No.16 in G minor in a vociferously demanded encore.
The performance – soloist and orchestra alike – was stunning, fully idiomatic, expressive and flawless. Sułkowska-Migoń made a telling contribution. Ehnes, playing the 1715 'Marsick' Stradivarius, produced an unbelievably glorious sound, nowhere more so than in the tranquil, beautiful slow movement. I must rank this as one of the most perfect concerto performances I have heard in a very long time.
The concert's subtitle gave us a pretty good idea whose music would populate the programme's second half. In an ideal world, Ehnes would have been persuaded to stay on and play Brahms's Violin Concerto, but the First Symphony also was a most acceptable way to round off a superb musical feast.
Beethoven wrote his First Symphony at the age of twenty-nine. Mozart penned Jupiter Symphony in his early thirties. Brahms, already a well-established composer, waited until the age of forty-three with his First Symphony. The ghost of Beethoven always loomed large over Brahms, who, as a young man, felt apprehensive about producing works that might too readily beg direct comparison with his great predecessor. Even so, after the premiere in 1876, the work received the nickname 'Beethoven's Tenth'.
That is why Brahms's Second, Third and Fourth Symphonies are less of an academic challenge. The First perversely needs greater wisdom and life-experience, which tends only to come with age. This might pose a problem for any young conductor, but Sułkowska-Migoń's well-studied reading managed to combine the experience of a Furtwängler, Walter or Klemperer, with all the youthfulness of a sprightly, athletic youth. That is a real accomplishment in itself.
The orchestra and its leader Amyn Merchant afforded the conductor total conviction and playing expertise of the highest order. There were many fine moments in each of the four movements. The highlight may have been the emergence of the finale's main theme; the staggering accuracy of the string unison was truly noteworthy. Outstanding work from the horns, and individual woodwind contributions, particularly an oboe sound to die for, added to the evening's success.
I expect that I speak for everyone present when I make my regular plea for BSO to visit Plymouth a little more regularly. Meanwhile, everyone will be talking about tonight's memorable performance, especially that of James Ehnes, for a considerable time to come.
Philip R Buttall