Spain Tchaikovsky, Eugene Onegin: Symphony Orchestra and Chorus of the Gran Theatre del Liceu / Josep Pons (conductor). Gran Teatre del Liceu, Barcelona, 1 and 2.10.2023. (JMI)
Production:
Director – Christof Loy
Sets – Raimund Orfeo Voigt
Costumes – Herbert Murauer
Lighting – Olaf Winter
Choreography – Andreas Heise
Casts:
Eugene Onegin – Audun Iversen / Iurii Samoilov
Tatyana – Svetlana Aksenova / Kristina Mkhitaryan
Lensky – Alexey Neklyudov / Josep Bros
Olga – Victoria Karkacheva / Cristina Faus
Prince Gremin / Zaretsky – Sam Carl / Adam Palka
Larina – Liliana Nikiteanu / Mireia Pintó
Filipyevna – Elena Zilio / Janina Baechle
Triquet – Mikeldi Atxalandabaso
Captain – Josep Ramon Olivé
Barcelona's Liceu has inaugurated the new opera season with this masterpiece by Tchaikovsky, back on the Las Ramblas stage where it was last performed 25 years ago. Among the operas that Tchaikovsky composed, two are by far the most popular: Eugene Onegin and The Queen of Spades, both of which are being put on this season in Barcelona and Valencia.
There are two casts at the Liceu. Often, the second cast features singers who are less adept, but here the 'second' cast is that only in chronological order. Their vocal result, in my opinion, was superior to that of the previous day.
The stage production by German director Christof Loy is a co-production of the Liceu, Madrid's Teatro Real and Oslo's Den Norske Opera, where the premiere took place in 2020. The production has two parts: the first revolves around Tatyana, while the second is more centered on Onegin and his memories.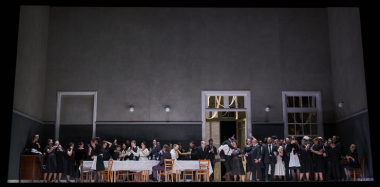 The action is brought up to modern times, with the first part taking place in a dining room in Tatyana's house, both for her big scene and for the feast. In the second part, there is a small stage enclosed by a white wall, where Lensky and Onegin duel and the party at Prince Gremin's house takes place. The costumes are all in black and white in this segment, apart from Tatyana who enters in a red evening dress that draws everyone's attention. For the final scene with Onegin, she reappears in the simple clothes she wore at the beginning of the opera. The plot is revealed adequately, and the ballet group (who are rather noisy in their movements) plays an important role.
The musical direction was in the hands of Josep Pons, the musical director of the house. It is the first time that I have seen him conducting a Tchaikovsky opera, although I have seen him leading Russian operas before. His conducting seemed correct to me, although not extraordinary, and somewhat short on inspiration. This is a purely romantic opera, but it did not always play like that here. Under his baton, the Liceu Symphony Orchestra and Chorus did well.
Onegin in the first cast was baritone Audun Iversen, whose attractive voice suits this character. He gave a solid performance and expressed Onegin's feelings well. The second Onegin was baritone Iurii Samoilov, whose career has developed at Frankfurt Opera and who confirmed the positive impression he left on me a few years ago in The Golden Cockerel at Teatro Real. His voice is appealing, well-suited to this character, and he sings with gusto.
Soprano Svetlana Aksenova as Tatyana was also good. She has an attractive voice, but it is not very powerful, and her high notes are not bright. Tatyana in the second cast was sung by lyric soprano Kristina Mkhitaryan with notable expressiveness. She is quite strong in the middle and high notes, while the low notes remain more in the shadows. Overall, she was outstanding and confirmed my reaction to her appearance in Il corsaro five years ago in Valencia.
Lensky on the first night was sung by tenor Alexey Neklyudov, who lacked power and amplitude. He did well in the always-awaited aria, 'Kudá, kudá vy udalilis'. The new Lensky was Josep Bros, whom I had not seen on stage in recent years, and I was curious to hear him again since he is not a young man. He sounded better to me than the tenor of previous times, and offered magnificent phrasing throughout the opera, especially in his great aria in Act II: an outstanding performance.
The roles of Prince Gremin and Zaretsky were sung by bass Sam Carl, who replaced the initially announced Andrea Mastroni. His voice has amplitude although it is not extraordinary, and it falls rather short on nobility. He was good in his aria. Bass Adam Palka in the second cast was fine in the role. For my taste, his voice has more quality than his colleague from the previous day, with now the right amount of nobility.
Olga, Tatyana's sister, was mezzo-soprano Victoria Karkacheva, who did well, as did Cristina Faus in the second cast.
In the secondary characters, Mikeldi Atxalandabaso was outstanding as Monsieur Triquet. There were good performances by Liliana Nikiteanu as Madame Larina and Elena Zilio as Filipyevna, as well as by Mireia Pintó and Janina Bachle. Josep Ramon Olivé was a correct Captain.
José M. Irurzun