United Kingdom Mozart, Don Giovanni:  Opera Warwick / Benjamin Hamilton (conductor), Warwick Arts Centre, Coventry, 16.1.2014 (RD)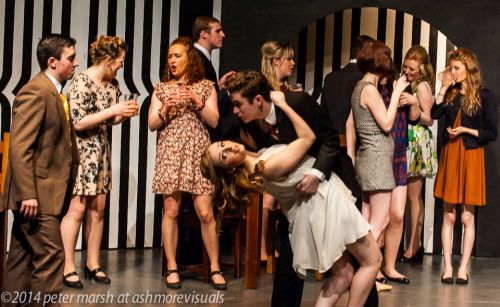 Cast:
Don Giovanni: Rory Carver
Leporello: Samuel Lom
Donna Anna: Imogen Faris,
Donna Elvira: Harriet Fletcher
Zerlina: Giulia Boggiano
Don Ottavio: Robert Grisbrook
Commendatore: Matt Bond
Masetto: Nicolas Rivard
Three cheers for Opera Warwick. It's a company that enables undergraduates to roll their sleeves up and cut their teeth on some of the key opera repertoire – Figaro, The Magic Flute, Hansel and Gretel, and now Don Giovanni in a worthy, racy production that helps open the door – should they want it – to a musical career.
All the more impressively, there's no music degree course at Warwick. Samuel Lom, their Leporello (earlier their Figaro and Papageno) studies Politics, and spent his third year in Berlin, getting musical advice via the Deutsche Oper and Musikhochschule. He also showed far the biggest potential in this lively cast.
Donna Anna (Imogen Faris, a fine singer, if not quite yet honed) studies English, Donna Elvira (the initially very funny Harriet Fletcher) is, like the director, a chemist; delicious Zerlina (Giulia Boggiano) does classical studies; her funny Masetto (Nicolas Rivard) economics. Even the conductor is a mathematician.
Maybe this contributes to a few of the reservations – see below – but not that fact in itself. One doffs one's hat at a university that can serve up – at the start of a term – such a tidy, sensible, pithily delivered, largely well sung, effortless-seeming staging of the Don; just as one was amazed by the pzazz of last year's Cinderella (Rossini) which as much about garish multicolours as this was about subdued browns.
Five set designers are credited, mostly students of art or the history of art,  though this – admittedly Mediterranean – set might have grabbed more if designed by a Spanish student. The big idea, a fiery red room intended to herald the Commendatore's final summons, rather loses its point when the last scene proves utterly un-terrifying  and Giovanni shoots himself, after the last chord  anyway,
Harriet Fletcher shone as one of the brighter lights, though Donna Elvira's crucial big aria was her damp squib: lightweight, lacking in mezzo intensity. Tenor Robert Grisbrook was a rather perky Don Ramiro last year, but his awkward Don Ottavio contributed the evening's one seriously out-of-tune vocal sequence, and he badly needs direction. Nobody seemed to get much from director Fraser Simpson, whose plot outline was strong, but whose moves and gestures were arguably thin on inspiration and heavily dependent on the actors. (Happily Lom and the very acceptable and vocally sound Rory Carver as Giovanni pulled it off capably anyway.) Managing Matt Bond's Commendatore might have helped; but Bond served up a light baritone, nothing basso. He loomed physically, but not vocally.
Microphones were the big enemies. Either these youngsters are supposed to sing or they're not. None of them (Zerlina, e.g.) actually needed it. The effect is to sheer off the character from a voice: it becomes smudged. In this it matched the orchestra. The strings were very iffy – far less good than in Cenerentola – and the woodwind characterless, rarely to the fore, so that when a ravishing sequence of clarinets and then oboes (uncredited) surfaced near the end, you wondered where they had been all evening. Mozart is not famed for dull woodwind writing.
What did work was Lom's perking up of Kit Hesketh-Harvey's translation ('bullshit', 'dickhead' 'He has an amazing head for tits in a haystack', 'He thinks he is my boss…I do not give a toss', 'nymphos and floozies' are all perfectly good material for DG & Leporello (think Amadeus). Rivard's perplexed Masetto proved the show's unexpected master of timing, and the big tiff/reconciliation with Zerlina, she both sexy and understated, was utterly brilliant.
Conductor Benjamin Hamilton's biggest success was in the quartets and ensembles: those were, without exception, held together splendidly. A tighter orchestral command overall might have made Donna Anna's coloratura stronger, for Faris is, too timidly, on the edge of something good. But the fact that the close of Act I emerged as such a big extended single sequence – very hard to pull off (like the end of Figaro) was to Benjamin Hamilton's credit too.
The mandolin and guitar playing was exquisite. Two pretty irrelevant dance sequences (that in the Overture set everything on a limp footing) were offset by two rather apt ones in black: assistant director Cletus Chan was choreographer, and he knows what he is doing. The biggest criticism of this Don Giovanni was perhaps also its biggest defence: its ordinariness. It played things straight. The biggest praise is that they staged it at all.
Roderic Dunnett