United Kingdom Strauss, Die Frau ohne Schatten: Soloists, Royal Opera House Chorus and Orchestra  /  Semyon Bychkov (conductor), Royal Opera House, Covent Garden, London. 14.3.2014. (JPr)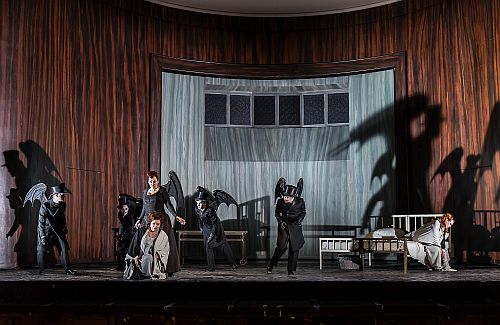 Cast:
The Emperor: Johan Botha
The Empress: Emily Magee
The Nurse: Michaela Schuster
Barak: Johan Reuter
Barak's Wife: Elena Pankratova
One-Eyed Brother: Adrian Clarke
One-Armed Brother: Jeremy White
Hunchback Brother: Hubert Francis
Spirit Messenger: Ashley Holland
Voice of a Falcon: Anush Hovhannisyan
Guardian of the Threshold: Dušica Bijelić
Voice from Above: Catherine Carby
Apparition of a Youth: David Butt Philip
First Nightwatchman: Michel de Souza
Second Nightwatchman: Jihoon Kim
Third Nightwatchman: Adrian Clarke
Voices of Unborn Children: Ana James, Kiandra Howarth, Nadezhda Karyazina, Cari Searle and Amy Catt
Production
Director: Claus Guth
Designs: Christian Schmidt
Dramaturg: Ronny Dietrich
Lighting design: Olaf Winter
Video design: Andi A. Müller
Royal Opera Chorus
Orchestra of the Royal Opera House
Conductor: Semyon Bychkov
The Royal Opera's music director, Sir Antonio Pappano, must be looking to move on soon because he has been there quite a while now and I suggest that the person the orchestra would like to take over is the Russian conductor, Semyon Bychkov. There has been nothing finer than this Die Frau ohne Schatten at Covent Garden recently – and certainly not in the German repertoire (as far as I can discern) since Lohengrin in 2009 also conducted by Maestro Bychkov. When he returned to the podium at the start Act II and he ushered the orchestra to stand they resolutely initially stayed seated with everyone appearing to be applaud him – a quite astonishing moment redolent of their respect for him.
Go for the music and for the singing but – pace Strauss fans – forget the story. Played like this I would not want to lose a note of such wonderful emotive music but I suspect on a lesser evening I would have been demanding a judicious use of scissors. Here Bychkov's forward momentum, overall pacing and balance verged on musical perfection, the playing from the Royal Opera House Orchestra (that spilled over into the Stalls Circle) was passionate, alert and nuanced throughout with exceptional virtuosic solos moments integrated into the whole from many instrumentalists, including George Ives's mellow cello and co-concert master Sergey Levitin's violin. Bychkov did not always strive for a beautiful sound because he was keen to fully exploit the full panoply of Strauss's angular sound effects in his basically hard-driven, passionate performance. If there will be anything better to be heard at Covent Garden between now and the end of this season I look forward to being there as it will be quite something. There are at the time of writing some tickets left for all performances and it will be an insult to all concerned it these are not all snapped up soon.
But what about the story? Well … this Strauss-Hofmannsthal collaboration defies summary and is an allegorical fairy tale reflecting on a loveless marriage. The Empress of a mythical realm has no shadow (which means she cannot have a child), and learns that if she cannot find one within three days, her husband (the Emperor of the South Eastern Island) will be turned to stone and her demonic father (the King of Spirits) will claim her back. She finds an unhappy mortal woman, the wife of Barak the dyer (a butcher in Claus Guth's version) with whom she is rowing. She is willing to surrender her shadow, but when the Empress has the opportunity to claim it by drinking from the fountain of the water of life (is there any chance you are still following this?) despite her own desires she refuses to spoil another woman's life and is moved by Barak and his wife's despair. She is rewarded for her selflessness and compassion with a shadow of her own.
The plot cries out for detailed symbolic analysis that I have no intention of delving into here but the director, Claus Guth, attempts this in the printed programme but this has been translated from the (I suspect) German original and is even more opaque than the libretto already is. Obviously Freud and Jung have a lot to answer for in all this complex dissection of human (and non-human) relationships. I will leave to others to decide how autobiographical the story is with regard to the state of Strauss's own marriage; : but for me, the operatic evidence he left us suggests he must have been a hen-pecked husband with a domineering wife.
In a production (originally seen at La Scala, Milan) with familiar imagery and use of Andi A Müller's video projections Claus Guth makes near-perfect sense of this ludicrously drawn-out story. Everything is confined to a psychoanalytical dream world because the Empress is similarly 'confined' to an austere private sanatorium perhaps as a result of her most recent – of a probable number – of miscarriages. During the ecstasy of the final bars of the score as the children's voices sing of hope for the future the Empress re-awakens watched over by the very same Nurse who had had been a Mephistophelean figure in her nightmares. There are three recurring mimed figures seen; two with gazelle heads representing the Spirit King and his daughter and the falcon that helped capture her for the Emperor. There are also a number of top hatted black winged angels attempting to draw the Empress back to the spirit world and some of the other characters occasionally have wings and this motif is very similar to Stefan Herheim's recent Bayreuth Parsifal, while the stage picture hints at Guth and designer Christian Schmidt's own Siegfried in Hamburg that I saw.
The use of the single wood-panelled, semi-circular, set enabled all the voices to be projected fully into the theatre. Initially at the back is the window of the Empress's private room but this often imaginatively rotates to suggest the rapid changes needed to be made between a magical realm and the mortal world. A travelator allowed for other things – including the Act II boat – to be brought on and off the stage. Throughout, Barak's Wife is the Empress's alter ego and here when Claus Guth has the Empress judged by all concerned in her dreams she lays down in front of the Wife as her shadow. (I suspect that it was deliberate that although the Empress had otherwise always been claimed to have 'no shadow' she had been casting huge ones on the walls of the sets throughout all the rest of the opera!)
Strauss wrote well for the orchestra but seems to have been a sadist towards his singers and the leading female roles seem to be involved in endless repetitions of Brünnhilde's Immolation Scene. In the role of the Empress – of course the 'Frau' of the opera's title – was the soprano Emily Magee and she sang with great emotional and dramatic conviction. As her Emperor, the tenor Johan Botha, has relatively little to do, but he sang with winning assurance, beautiful tone and ringing top notes. He perfectly internalised his character's dilemma in his Act II monologue as he believes himself to have been betrayed by his wife but accepts he does not have it in him to kill her. Johan Reuter was a believably earnest and wonderfully sympathetic Barak without entirely banishing memories of Norman Bailey in this role. Elena Pankratova was the Dyer's Wife and her voice had an insistent steely quality and – although perhaps lacking a little warmth – it seemed totally appropriate for her character. Michaela Schuster was the embodiment of evil as the Nurse getting more vocally hysterical as her plans were unravelling – she reminded me a great deal of Waltraud Meier in her prime as Kundry and there can be no higher praise. There was some splendid support from the rest of the big cast including resonant singing by Ashley Holland as the Spirit Messenger and David Butt Philip as the Apparition of a Young Man. Everyone – including a number involved in the Royal Opera's own Jette Parker Young Artists Programme – had obviously been meticulously rehearsed and perfectly integrated into the ensemble.
As far as Strauss is concerned Johann is really more my 'thing' but this was a stunning evening of Romantic Opera – and if Richard appeals to you, I urge your to go because you will never hear anything much better than this live in the theatre.
For more information about future events with The Royal Opera at Covent Garden visit http://www.roh.org.uk/.
Jim Pritchard