Canada  Arnaldo Cohen in Conversation with Geoffrey Newman
Pianist Arnaldo Cohen was born in Brazil and graduated from the Federal University of Rio de Janeiro. After winning several competitions, including First Prize at the Ferruccio Busoni International Piano Competition in 1972, he moved to London, building a reputation for captivating audiences with his unfailing musical authority and natural virtuosity. Very well known to connoisseurs of the piano, his highly-praised recordings cover Liszt, Brahms and Schumann and also include the pioneering "Brasiliana – Three Centuries of Brazilian Music."  He previously held a professorship at the Royal Academy of Music in London and has often served on international juries, including that of the International Frederick Chopin Piano Competition in Warsaw. Now residing in the U.S., he holds a piano professorship at Indiana University.  After his Vancouver concert that included the complete Chopin Scherzi, Geoffrey Newman sat down with him to discuss briefly the Brazilian piano tradition, his own interpretative style, and his thoughts on playing Chopin in particular.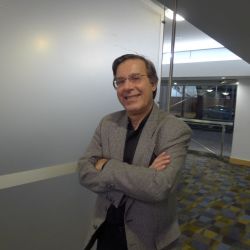 Geoffrey Newman: Growing up in Brazil, you were likely able to see the roots of classical piano performance in your country. In particular, how far back does your Chopin piano tradition go?
Arnaldo Cohen: Guiomar Novaes was the supreme Brazilian pianist and a distinguished exponent of Chopin. By 1910, she was already well known internationally and performed until the early 1970's. We also had other wonderful artists in the same era, such as Madaglena Tagliaferro, a teacher of many of our pianists, who taught at Paris Conservatoire. One of our most talented pianists was Jacques Klein, a disciple of the famous American William Kapell, who died prematurely in the early 1980's. Back in the 19th century, there was also the self-taught composer and pianist Ernesto Nazareth, an admirer of Chopin, whose harmonies served as inspiration for many popular "sort of Brazilian" ragtime pieces. More recently, there have been absolutely first-class performers like Nelson Freire and two Van Cliburn Gold Medal winners, Cristina Ortiz and Jose Feghali.
GN: Your playing seems to have a clear link to the piano virtuosos of the past. Where do you think that came from?
AC: The 'Golden Age' of the piano has always fascinated me for its honesty and freedom of expression. When I was young, I became familiar with the recordings of the older generation, like Alfred Cortot, and my father would take me to concerts in Rio to hear live performances of the great "old pianists", such as Arturo Benedetti Michelangeli, Claudio Arrau, and Rudolf Firkusny. In Europe, I had the privilege of hearing Rubinstein, Horowitz, and many others. All these great artists were role models for me—indeed, for an engineering student who decided to become a professional pianist only at age 20.
GN: Perhaps this explains the authenticity of feeling in your playing?
AC: If you listen to pianists born in the 19th century, much closer to composers like Chopin than we are, you will realize what I mean. What does being faithful to a composer really require? I believe that this means being in touch with the composer's full emotional message, and this can only be achieved by understanding what is written between the lines in the score, and not just reproducing these lines—as a photocopy machine does. I confess my difficulties in dealing with any sort of fundamentalism, including a musical fundamentalism.
GN: Were there other important musicians who influenced you early on?
AC: Someone who was very encouraging to me was not a pianist, but the great violinist Yehudi Menuhin. We played many concerts together when he was a conductor. Once he strangely asked me what my zodiac sign was. "Taurus, April 22," I said. He replied laughing, "Now I understand why we get on so well—I am also April 22." I was touched by his concern with my juvenile struggle: he knew that at the age of 19, I was majoring in three fields—piano, violin, and engineering—at university. My life was totally crazy. I did give up engineering for the piano and, as a result, I had to get a job. It was with luck that I successfully auditioned  for the position of a second violin of the Opera House Orchestra in Rio de Janeiro, and I stayed there for five years until conquering the First Prize at the Busoni International Piano Competition.
GN: This commitment must have affected your piano career?
AC: At that time, I thought "what a waste": I had to play the violin instead of practicing the piano. However, this turned out to be terribly important for my development as a musician. Even though I did not play the violin very well—I was the "Last of the Mohicans" in the second violin section—I learned so much by being in contact with an incredible variety of repertoire and musicians. I played operas, ballets, symphonies, and piano concerti. I learned how to play with great and bad conductors. Moreover, my idea of piano sound in many ways came from an understanding of the sound of a violin. I learned that the best piano playing should not actually sound like a piano!
GN: You must know Nelson Freire pretty well?  Do you think there are great differences between yourselves as pianists?
AC: I have known Nelson for a long time. He was born to be a pianist; I was born to be anything but a pianist and became one just by chance. During my late teens, I was still an amateur while Nelson, and some other wonderful artists like Antonio Barbosa, Roberto Szidon, and Arthur Moreira Lima, were already my idols. All of us are very different pianists. Music, when played by a honest interpreter, has to go through the filter of his or her sensitivity, personality, talent, technique, and intellect and, therefore, must come out with a unique personal stamp.
GN: You played the complete Chopin Scherzi for us today. It must be difficult to play these four pieces consecutively?
AC: The difficulty consists of understanding the unique dimensions of these pieces while acknowledging that they share moods within the same world. When there is no applause in between, the four Scherzi should sound like one piece with four movements. In this case, I would like to play 1-4-3-2, as they are contrasting in atmosphere, tonality, and sense of conclusion. Also, I prefer not to wait too long between them as I feel the need for a sort of continuous tension. It is like being on a magic planet and not wanting to leave—both an exciting and bewildering experience.
GN: After all these years of thinking about Chopin interpretation, what is the most important thing you would tell any young Chopin pianist who wants to be a performer?
AC: The brain should come ahead of the fingers. The approach of a pianist should be like the approach of a conductor, where anticipation is fundamental, and the physical gesture matches the musical intention. It is like giving a speech: you have to know what you are going to say before saying it. There is a huge difference between the approach of a professional and an amateur (in a good sense, as amateur comes from amare, love). The amateur's objective is mainly to receive pleasure from his own sound  while the professional must aim to produce an emotional message for others. For someone sitting in the last row of the concert hall, the pianissimo I do is for them, not for me. If they cannot hear it, they may ask for their money back!
Geoffrey Newman
Previously published in a slightly different form on http://www.vanclassicalmusic.com