United States Berlioz, Beatrice and Benedict: Soloists and Chorus of Seattle Opera, Seattle Symphony / Ludovic Morlot (conductor), Seattle, Washington, 3.3.2018. (ZC)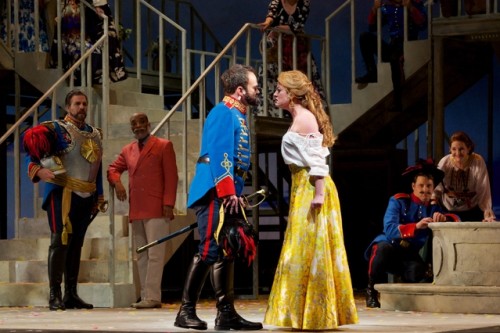 Cast:
Leonato – Marvin Grays
Messenger – Chip Sherman
Beatrice – Hanna Hipp
Hero – Shelly Traverse
Don Pedro – Daniel Sumegi
Benedict – Andrew Owens
Don John – Brandon O'Neill
Claudio – Craig Verm
Borachio – Avery Clark
Somarone – Kevin Burdette
Margaret – Christine Marie Brown
Ursula – Avery Amereau
Friar Francis – Chip Sherman
Production:
Director – John Langs
Scenery Designer – Matthew Smucker
Costume Designer – Deborah Trout
Lighting Designer – Connie Yun
Choreographer – Helen Heaslip
For the 2017-2018 season, Berlioz's comedic opera Beatrice and Benedict is receiving its Seattle Opera premiere. But in a sense, its Pacific Northwest debut is also a world 're-premiere'. Fusing Berlioz's score with Shakespeare's play, Much Ado About Nothing (on which the opera is based), the Seattle Opera created a new, English-language production (the original Béatrice et Bénédict is in French).
The opera company's general director, Aiden Lang, wanted to open up opportunities to engage with the Emerald City's arts community, and was familiar with the original opera, when he sang the role of Leonato in college. He brought on John Langs as stage director and Seattle Symphony conductor Ludovic Morlot.
Fulfilling dual missions, the opera kicked off the 2018 Seattle Celebrates Shakespeare festival, and closes out the Seattle Symphony's Berlioz retrospective. (This was also Morlot's debut with the opera company.) A strong cadre of singers, creative incorporation of the original play, and changes to infuse the lighthearted fun with a little drama made this an engaging introduction to Berlioz's operas, and a gratifying change from more standard comedic ones.
As the collaboration took shape, Lang, Langs, and Morlot agreed that changes were needed. They replaced Berlioz's clunky, French-language libretto with with Shakespeare's original words. But this necessitated a second change: singing the opera in English rather than French. Finally, while Berlioz eliminated key Shakespearean characters, Langs felt the drama would be aided by including the play's key crisis between naive lovers Claudio and Hero—when Claudio believes Hero has cheated on him with another man. Morlot supplemented this addition using music that he mined from other Berlioz works, including La damnation de Faust.
Did these changes work? Surprisingly, yes. The inclusion of dialogue from the original play added a dimension of dramatic purpose that is often lacking in comedies. Claudio's extra scenes and the new music were incorporated seamlessly. I was most hesitant about the French-to-English translation, but the result, expertly crafted by Amanda Holden, was as natural to the ears as the original.
This new production's artistic achievements also relied on the talents of a fine corps of singers and actors. Andrew Owens (Benedict) and Hanna Hipp (Beatrice) conveyed the duo's swirling emotions and confidence wonderfully and powerfully—both in song and speech. Craig Verm, who was last in Seattle singing Papageno in The Magic Flute, commanded the attention of the audience as an earnest Claudio. His counterpart, Hero, was played by Shelly Traverse, a Seattle native making her Seattle Opera debut. Amid many special moments, the Act II trio 'Je vais d'un coeur aimant' — which featured Hipp, Traverse, and Avery Amereau as Ursula — was an elegantly memorable highlight.
Intelligent and beautifully executed collaborations like this one bring new attention and dimension to the art form and are what audiences should expect from opera troupes in the 21st century. Supported by an array of quality voices, this is an opera many should hear before it wraps up its Seattle run on March 10th.
Zach Carstensen